The ad analysis experts at MediaRadar proclaim there's one ad format that has always been tailored to the user's experience: native advertising. 
They added that Google is trying to improve advertising at large to interact with users the way native ads do. The reasons Google loves native advertising, according to MediaRadar, are that it's:
Well-integrated with content.

Native ads sit within content making them less noticeable and less disruptive. Take a look at these

native advertising examples

to get a better idea of where exactly native ads are placed.

Beneficial

. Native advertising can benefit publishers, advertisers and consumers. Content consumers enjoy a better flow of content. Advertisers get higher engagement rates. Publishers can see higher CPMs and revenues.  

Useful everywhere

. Native advertising has always fit comfortably into the mix of mobile, video, and social media advertising. Social media channels present opportunities for brands to be more personal and build

brand awareness

, helping their message gain a bit of value.
Native Advertising Stats 
In 2019, there were many statistics that arose showing native advertising's growing presence and benefits. Here, we highlight some of the most staggering.
1. Native display ads produce a CTR 8.8X compared to typical display ads. 
With high click-through rates, native ads have solidified themselves as preferential for users. (Source: MediaRadar)
2. Native ads register a 9% higher lift for brand affinity and 18% lift for purchase intent than display ads.
(Source: IPG Media Lab)
3. 71% of consumers say they personally identify with a brand after viewing its native ads versus only 50% with display ads.
Brands have an opportunity to more effectively connect with consumers by opting for native ads. (Source: IPG Media Lab) 
4. Native ads receive 53% more views than traditional display ads.
Native ads are placed carefully within the context of a page, making it natural for them to be viewed. (Source: Acquisio). 
5. Native ads deliver 1% or greater CTRs for the pets, food & drink, and family & parenting categories.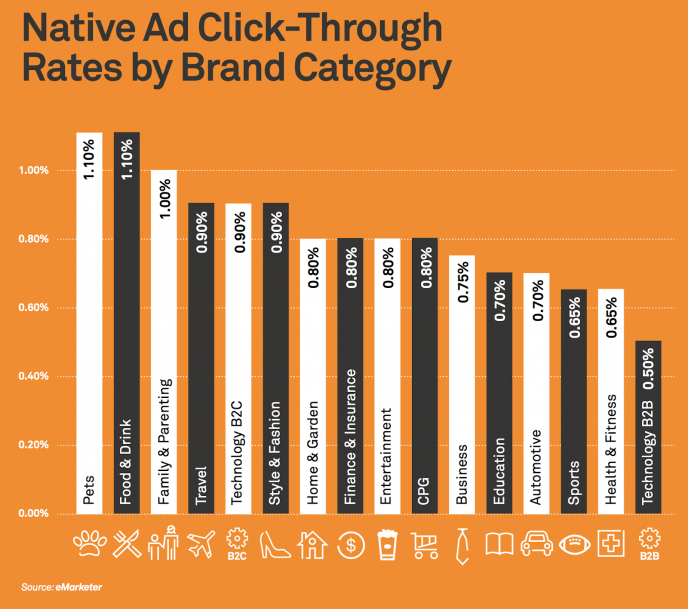 (Source: data from eMarketer, visualization from AppNexus in their 2018 Digital Advertising Stats You Need Report). 
6. Two out of three Generation X and Z consumers trust branded content more than traditional advertising.
Gen Z consumers specifically reported being open to brands using branded content as a means of trying something new to capture the attention of both existing and new consumers. (Source: Time Inc via Adweek)
7. Native video ads are predicted to increase by 24.2% by the end of 2019. 
(Source: eMarketer)
8. Compared to traditional display ads, native ads yield a 40x higher CTR. 
All trends point to a rise in the positive impact of native advertising that won't be coming to an end any time soon. The benefits of native advertising are even larger when advertisers follow native advertising best practices and optimize for success. 
The Marketer's Guide to the Major Players in Native Advertising