eCommerce has exploded over the last decade and the pandemic propelled it further forward at a record rate. In 2020, consumers spent over $861 billion online with U.S. retailers, a 44% increase from 2019. Globally, the eCommerce industry will reach $4.9 trillion this year. eCommerce generates 10% of all retail sales, with an anticipated 15% year-on-year growth rate.
Estimates show that there are more than 24 million eCommerce websites. There is a lot of competition, but with the right tactics and a strong growth strategy in place, you can bring high-quality traffic to your online store, converting new visitors into repeat customers and achieving eCommerce success.
This article covers two ways to grow an eCommerce business, regardless of the types of products or services you sell. First, I'll discuss 11 methods you can use to increase sales, followed by eight growth strategies that focus on how to grow your online store – all of which you can implement today.
11 Best Tactics to Increase eCommerce Sales
To increase your online sales, you need a game plan. Here are 11 different approaches that will put you on the winning track.
1. Run Campaigns Using Taboola
Consumers love to discover new brands and products from trusted sources. By running native ad campaigns through a native advertising platform, such as Taboola, you get to piggyback on popular publications' credibility and get your brand in front of new audiences. By doing this, you can target your ideal customer and show your content to them in an authentic, non-invasive way while they are primed to engage with it.
Taboola's native advertising campaigns help you increase your eCommerce sales throughout the entire funnel by using multiple pieces of content, as in this example:
2. Build Your Brand Awareness
Building brand awareness is about getting people to discover your brand and recognize it again in the future. To do this effectively, post regularly on social media channels, coupling organic content with paid promotions. You should have a strong SEO strategy, so when consumers search for products your content appears on the first page of results. Complement this with Taboola's brand-awareness campaigns, and you'll be well on your way to increasing sales
3. Build Your Email List and Stay in Touch
Email is still a top-performing channel. 59% of people report that marketing emails influence purchasing decisions. A robust email lead-generation strategy starts with collecting consumers' email addresses. Always include an opt-in email capture form on your site and add one during the checkout process. Boost signups by giving something in return, such as a discount code, free shipping, or other valuable offers.
Start with a couple of email campaigns per week, but experiment with the frequency to find the right balance of high open rates and low unsubscribe rates. Personalize the content and keep it interesting by including articles, videos, guides, and special offers.
JCrew, for example, gives a discount to customers who sign up:
4. Optimize for Mobile
With 59% of eCommerce sales happening on mobile devices and smaller retailers achieving a 30% higher mobile conversion rate than larger brands, an optimized mobile experience is essential.
Make your website mobile-responsive, so it automatically adapts to different device sizes. Run quality assurance (Q.A.) tests to make sure buttons are easily clickable, content displays correctly, and scrolling is a breeze. Try to streamline the browsing, search, and checkout processes with autofill suggestions to improve the customer experience.
5. Collect Reviews and Feedback
Positive reviews are worth their weight in gold for a growing eCommerce business. According to one study, reviews can increase conversions by 270%, and 97% of consumers say reviews influence their decisions. Ask for a business review right after the checkout process and include a pop-up with a clickable star-rating option to make leaving a review painless.
For product reviews, email customers after they've had enough time to try their purchases. Encourage participation with a discount offer, but make sure the customer understands you are asking for an authentic review, not trying to buy one.
Also, check if users leave reviews on third-party sites, such as Trustpilot, and highlight those on your site.
Foot Locker, for example, offers the chance to win a gift card:
6. Create Social Media Campaigns
Instead of waiting for customers to find you through a search, social media enables a proactive approach. It allows you to show your content in your prospective customers' feeds through campaigns. Video ads are the way to go – they outperform photo ads by 10-30% on Facebook and earn three times more engagement on Instagram.
Instagram, in particular, has invested heavily in its eCommerce features. Shoppable posts generate 130 million taps every month. Experiment with all the placements available: your Instagram page and stories, Instagram Live, IGTV, and Reels.
7. Market Most Popular Products
Popular products earn their high rankings for a reason. Highlight those items on landing pages, in recommendation sections, and through other communications. You'll sell more of them, especially when you show all the positive reviews others have written.
Continue to encourage purchases and create a sense of FOMO by using an eCommerce pop-up notification system that alerts visitors to how many others are buying specific products.
Here's an example using the WordPress eCommerce Notification plugin:
8. Retarget Lost Sales
Customers abandon 70% of shopping carts, leading businesses to lose $18 billion each year. You can recover some lost sales by using abandoned cart emails, reminding customers of the products they viewed.
Make retargeting or remarketing campaigns part of your lead-generation strategy as well. Use these campaigns on social media to show previous site visitors ads that feature the products they viewed. Even if this doesn't lead to a direct purchase, you'll increase brand awareness.
9. Run Promotions
Nothing sparks an impulse purchase like instant savings or a free bonus. Yes, we're talking about ecommerce promotions. Once you have a visitor on your site, the best way to help nudge them toward a sale is to offer tremendous value for the price. And, the best way to urge them to buy right now is to make that value available only for a limited time.
Consider what type of promotion would best complement the products you'd like to push. Some examples include:
Buy one, get one free

– For high-volume items that people often buy one after the other, a BOGO promotion pulls double duty: customers get each one at half its regular price, and they don't need to buy another one so soon. This promotion is also great for overstocks or to clear out last year's models or styles to make room for new stock.

Free shipping

–  If shipping charges aren't always free on your site, providing free shipping can be an excellent promotion option. Likewise, you can set up free shipping to kick in if the customer buys more than a certain quantity or value. 

Free gift

– Including a free gift with every purchase can be a fun way to add a little extra connection between your brand and your customers. It could be a simple trinket with your logo on it or a little surprise from the catalog that complements the item they're buying.

Sale price

– You can't beat the old standby. Just tacking "20% Off" next to an item's reduced price can often be all it takes to make the sale. Many ecommerce platforms offer this as a standard element in their product detail pages, allowing you to enter a "list price" and "sale price" so the customer can see how much they're saving by buying

today

.
The key to a good promotion is to look at it through your visitor's eyes: what would someone considering buying this item see as valuable? Build your promotion from the answer to that question.  
10. Improve Conversion Rate by A/B Testing
A/B testing gives you a data-backed way to improve your site incrementally and create a better overall shopping experience, resulting in increased sales. You can A/B test product photos, headlines, CTA copy and button design, product copy, page layouts, promotions, and more.
Only test one item at a time by creating two variations and send traffic to both. Use Google Analytics or a similar tool to determine which variation led to more effective conversion metrics, such as CTRs, email opt-ins, or sales.
11. Provide Excellent Customer Service
Providing good customer service is the number one business aspect that impacts consumers' trust levels. Eighty-nine percent of consumers switch to a competitor after a poor experience.
It's relatively easy to provide excellent service, and you reap the financial rewards if you do. After a positive experience, 52% of people make an additional purchase. Be polite, respond promptly, and know the customer's purchase history.
Offer service on multiple channels, including by phone, live chat on your website, SMS, and email. Support reps should also man social media, as 65% of 18–34-year-olds believe it is an effective channel.
8 Top Strategies to Grow Your eCommerce Business
Now let's explore some strategies that will show you how to grow your eCommerce business.
1. Grow Using Affiliate Marketing
Affiliate marketing enables you to expand your business's reach by allowing anyone with access to social media or a website to market your products to their audiences through dedicated affiliate links in exchange for a commission or percentage of sales. Affiliates don't have to be high-profile bloggers or trendy influencers. Anyone can do it! The fastest way to take advantage of affiliate marketing is to sign up with a company, such as ShareASale, and let affiliates on the platform promote your products.
2. Establish your Target Audience
For your eCommerce brand to flourish, you must have a clear idea about who your ideal lead is and what motivates them to make a purchase. Create buyer personas for each audience and consider factors such as age, household income, location, pain points, and interests. These will guide you when creating site content, social media posts, and lead-generation campaigns.
3. Encourage Repeat Business
On average, it costs businesses seven times more to acquire a new customer than to turn a first-time customer into a repeat buyer. Tempt customers to come back and continue shopping by sending a coupon with their first purchase, implementing a loyalty program, offering birthday gifts, and regularly promoting products of interest through personalized campaigns.
4. Offer Complementary Products
When people come to your eCommerce site with a particular product in mind, you can often entice them to purchase complementary products if they see how they work together. If your eCommerce business sells clothing, think about adding a 'Shop-the-Look' option. If you sell phone cases, include an offer that bundles together additional accessories for a lower price than buying each item separately.
Here's a Shop-the-Look example from Nordstrom: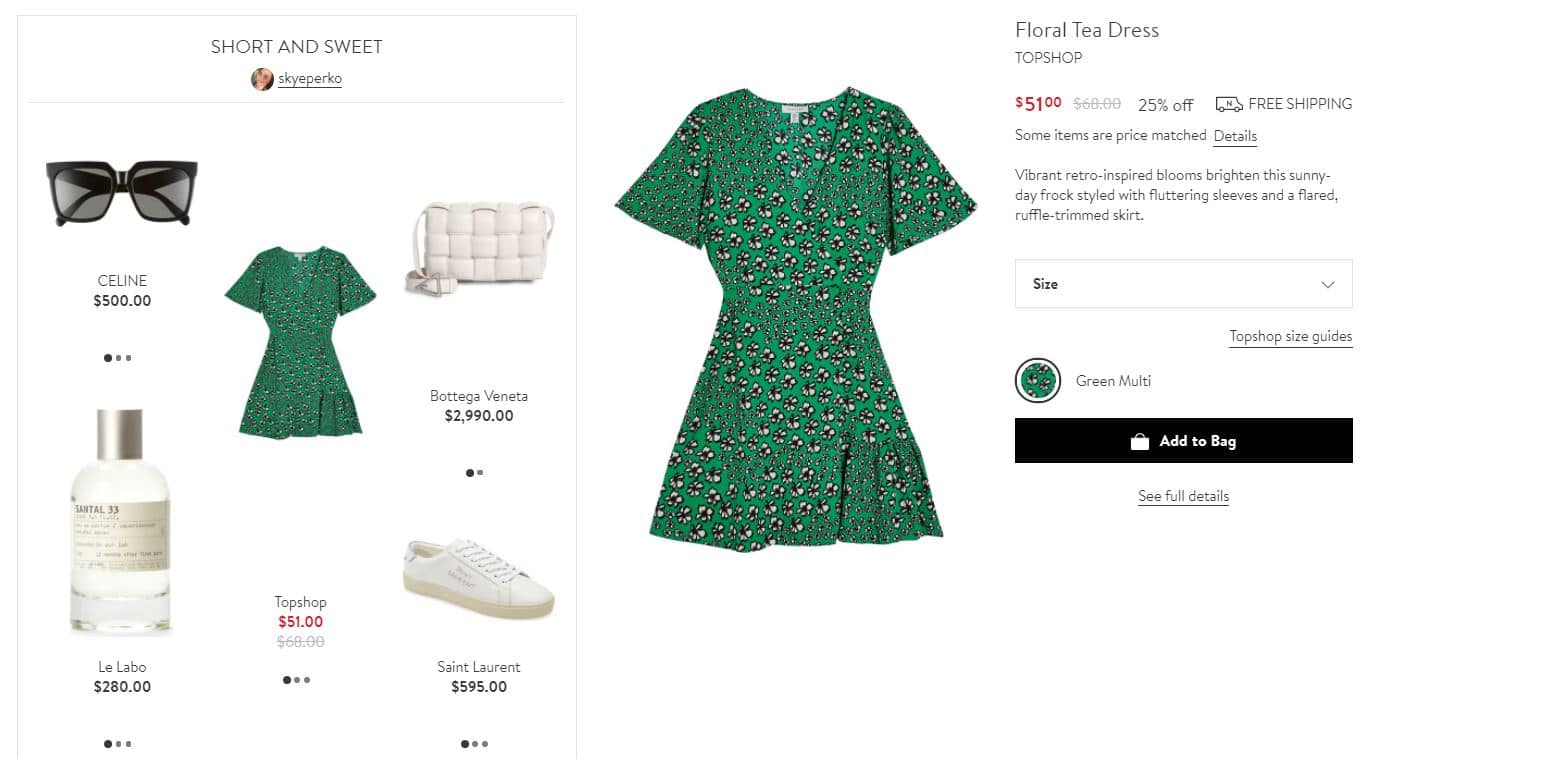 5. Offer Upsells and Cross-Sells
Upselling involves getting a consumer to buy a better, often more expensive version of the same product. A powerful way to display the benefits of the better item is to use a side-by-side comparison table so that the customer can understand the perks of the more expensive product.
Cross-selling is more about promoting related products. If your online store sells website themes and templates, there's a high chance visitors are also interested in website-hosting services or purchasing stock images. By showing related products, you increase the value of each sale. Amazon employs this strategy on every product page, and the company reports this tactic generates 35% of its revenue.
Here's how Amazon lays it out on its site:
6. Market to All Stages of the Funnel
Today's consumers don't merely buy products. They research and consider their options before making a purchase. Focusing on building an eCommerce content marketing strategy can help you attract, convert and retain customers. But, it's only going to be truly effective if you're targeting all stages of the ecommerce sales funnel:
Awareness

– prospects have a problem they need to solve and need to know you have a solution.

Interest

– prospects are familiar with you, but they're still shopping around or doing research.

Purchase

– prospects become customers for the first time.

Repeat

– customers return to keep solving the same problem or to solve new problems. In both cases, their prior experience determines if there will be a next.
Develop multiple types of content, such as how-to videos, articles explaining the product benefits, and buying guides. Then, share your content on different platforms, including your site and social media channels. To broaden your content's reach, consider running native advertising campaigns on Taboola and guest posting opportunities.
Excellent customer service also plays a significant role in how effective your marketing will be, especially when it comes to retaining customers and earning good reviews.
This is what a Taboola native advertising campaign looks like:
7. Work with Influencers
You can significantly increase your eCommerce brand's exposure and grow your business by partnering with influencers who have thousands of fans who turn to them for advice and product recommendations. Find influencers in your industry and work with them to create content that they can share to drive sales. Remember, you will need to pay them a commission or fee, but you should more than make up for the cost with the added exposure and sales.
In this example, micro-influencer Lex Ryan partnered with Zodiac Shoes:
8. Ship Globally
Technology has helped create a borderless world that extends to online shopping. 57% of consumers have purchased products from overseas retailers. Don't limit your audience to only local customers. Offer international shipping. If you can't offer free global shipping, be upfront about the extra costs so customers aren't surprised or angered.
Wrap Up
All of these eCommerce strategies are tried and tested. Some will deliver quick wins, others long-term success. Always keep your audience in mind and understand how they respond to different methods by regularly reviewing your customer and sales data. You will quickly discover which tactics work best for your business and which you should forgo.
If your eCommerce store sells clothing or cosmetics, you undoubtedly have the most competition, but we've created these great articles just for you. Read them to learn how to succeed in the fashion and beauty eCommerce industries.