The e-commerce market has grown rapidly over the last few years and is projected to hit $6.54 trillion US dollars in 2022.
Now is the time to strike and start making money through affiliate marketing.
Affiliate marketing allows publishers, small businesses, and independent bloggers to monetize their content and turn their traffic into a revenue stream. Affiliate marketers promote a merchant's goods and services with a unique affiliate link and earn a commission on the sales or leads they generate.
Becoming a successful affiliate marketer is all about understanding your audience's needs and offering them products that fill those needs. If your blog is about technology, there'd be little point in trying to sell dog supplies to your readers.
Finding the best affiliate products to promote and knowing which affiliate marketing programs to join can feel overwhelming when you're getting started. This article will guide you through the process so you can maximize your effort.
Taboola's Sponsored Content Checklist
Click here to learn how affiliate marketers are already finding success with Taboola.
What are the Best Affiliate Products to Sell?
The best affiliate products to sell and promote are the ones that will resonate with your audience, bring you the most sales, and generate the highest income.
You can select products from a few different niches as long as the connection is logical. Let's say you're a lifestyle blogger with a predominately female audience. Beauty products would be a good fit, but they tend to have low commission rates. Financial products have higher commissions.
Since women control two-thirds of global household spending, it could be a complementary niche for you and women need your advice according to the research.
Here's a look at some of the best affiliate marketing products.
1. Financial Products
Financial products are always in high demand because consumers are constantly looking for ways to save money and spend smarter.
This wide-ranging niche includes credit cards, insurance policies, mortgages, loans, and financial protection products. Affiliate marketing of financial products is worthwhile as some commissions exceed $100 per sale.
2. Dating Products
For singles, swiping left or right has become a daily task as they search for that special someone. Yet people are searching—over 40 million Americans use online dating products!
Unlike fashion or tech products that can become outdated, dating is an evergreen topic. All of the time you invest in developing content will pay off for years to come.
You could promote top dating sites like Match.com or join more niche dating affiliate programs.
Read more at our list of the top dating affiliate programs.
3. Real Estate Products
Considering that 50% of buyers found their homes online, joining affiliate real estate programs can be financially lucrative.
Although this is a competitive affiliate marketing niche, there's plenty to go around, and many programs have high commission rates. Potential home buyers need advice throughout the entire process.
Take advantage of that by recommending reputable real estate firms, banks with favorable mortgage terms, and homeowners' insurance such as Real Estate Express.
4. 
Travel Products

COVID-19 has hit the travel industry hard, but there are still opportunities to earn an affiliate income. Just choose your products wisely.
For example, data shows that short-term rentals are doing better than hotels these days. Accommodations in rural areas and on beaches and rivers are experiencing higher occupancies due to the preference for isolation and peace. 
Why not use that to your advantage? You could promote short-term rentals in different places through travel platforms like Vrbo. Don't let the commissions fool you – short-term rentals are cheaper to book than hotel rooms with similar amenities, so they get more sales.
5. Gaming Products
The gaming industry continues to grow fast as people of all ages seek high-powered computers, consoles, and mobile to get their entertainment fix.
In 2020, 2.7 billion gamers were forecasted to spend over $159 billion on games, and the games market valuation is forecasted to exceed $200 billion at the end of 2023.
So how can you earn and take advantage of that demand? Well, the gaming niche has the advantage that there are plenty of products to promote – and a good number of affiliate programs to make money from.
You could promote in-game guides for popular games like World of Warcraft, recommend high-end peripherals from brands like Razer, and endorse video game subscription services such as GameFly.
6. Fashion Products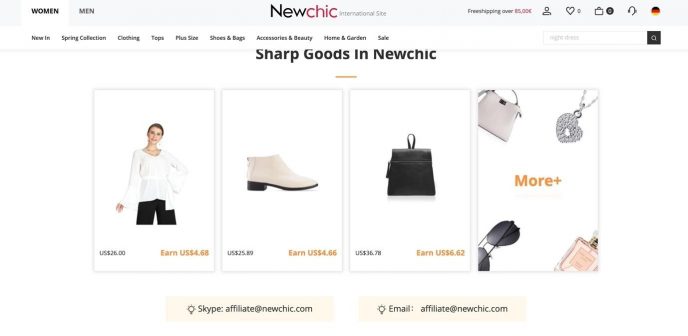 The fashion industry is lucrative as there are all kinds of brands and products available for all demographics.
You have men's clothing, women's clothing, petite, luxury, plus size, frugal, designer, and so much more. And then you also have the topical niches like slow fashion, fast fashion, outdoor clothing, etc.
Naturally, then, there are various affiliate programs you could sign up to, with commissions ranging from 2% to 50%.
You could start by recommending the products of a renowned fashion retailer like Newchic or become an affiliate partner of a niche fashion brand like Rosegal.
7. Gardening Products
From the growing popularity of indoor gardening to the beauty that a vertical garden can add to a home and its value, there's no shortage of opportunities in the gardening industry.
And thanks in large part to the Grow It Yourself (GIY) movement, even more opportunities have opened up for gardening affiliates.
You could start earning by promoting house plant subscription boxes such as the Succulents Box. But if you'd rather contribute to the GIY movement, SeedsNow has a referral program that allows affiliates to promote its non-GMO seeds to gardening enthusiasts.
3 Places to Find the Best Affiliate Marketing Products
You'll want to join a few affiliate marketing programs to find the highest paying affiliate products that align with your niche.
Investigate each program to determine which ones offer the best products, commissions, and payout structures. Although there are thousands to choose from, below are three that have excellent reputations.
ShareASale
ShareASale is home to over 3,900 merchants, with 1,000 exclusive merchants. You'll have access to brands ranging from Wayfair to the NFL Shop to WP Engine, which pays a whopping $200 per sale.
The user-friendly interface allows you to filter through merchants based on different criteria, which is vital since each sets its own marketing model (pay-per-lead or pay-per-sale), commission rate, and cookie duration.
Top platform benefits:
Reliable and trustworthy platform
Great search filters
Partner network includes many large brand names
Awin
Awin gives you access to 13,000+ merchants that are active in 11 countries. The platform is heavily geared towards financial, fashion, home, and travel brands, including industry giants such as Etsy, HP, Hyatt, and XE.
What sets Awin apart is its Opportunity Marketplace, which lets you pitch merchants with unique opportunities like sponsored content.
A WordPress plugin or Google Chrome extension makes it easy to create your affiliate links.
Top platform benefits:
Pays twice per month
Robust tools to help affiliate marketers
Minimum payout of $20
Amazon Associates
Amazon is the largest retail e-commerce company with a market share of 38.7%. It's stellar reputation benefits anyone who is part of its affiliate network, Amazon Associates.
The program uses a flat-rate commissions structure with commissions ranging from 1%-10% depending on the product's category. The cookie only lasts for 24 hours, but if a user adds any item to their cart, you'll get a 90-day cookie for that item.
Top platform benefits:
The payout threshold is only $10
Millions of products
Universal cookie gives you a commission on every item someone buys within 24 hours
How to Choose a Product for Affiliate Marketing?
When deciding which affiliate products you want to promote, consider your blog's niche and what types of items are most attractive to your readers. Ask yourself these questions to determine if the product is right for your audience:
Would I want to buy this product?
Does this product appeal to my followers?
How competitive is the market for this product?
Does the merchant pay per lead or per sale?
Can I earn a recurring commission, or is there an upsell opportunity?
Final Thoughts
While finding great products and joining the best affiliate marketing programs are essential steps, you also need to consider how you will generate traffic.
Leveraging your current readers and sharing your content on social media are the right first steps. However, implementing multiple marketing strategies will attract more consumers and increase your sales.
Using native advertising for affiliate product promotions will deliver in spades, especially considering that 90% of millennials, Gen Z, and Gen X prefer to discover new products through this format.
Additionally, native ads attract 53% more attention and increase purchase intent by 18%. If you have a budget to invest in paid advertising, native ads provide the best return on investment (ROI) hands down.
Click here to learn how affiliate marketers are already finding success with Taboola Ads.