When creating a content marketing strategy, you will need to decide if you will opt for native advertising or branded content based on your objectives. If you're not sure what separates the two, you're not alone.
Whether you're looking to raise awareness and build trust in your brand or get customers to take action, it's important to understand what native advertising and branded content are, how they differ, and when to use each one to meet your goals. Done strategically, you'll leverage the power of both and develop your brand perception, brand affinity, and sales.
Native Advertising
Let's start by answering the question: what is native advertising?
Native advertising is where ads are served on a third-party platform, usually a premium publication or social media platform. Advertisers pay publishers on a cost-per-mile (CPM) or cost-per-click (CPC) basis and benefit by reaching new audiences who already trust the publication where the ads appear. Readers naturally transfer that trust to the native ad content, making a click and sale more likely.
Native ads aren't disruptive. They blend seamlessly into the surrounding content, mimicking the look and feel of the host platform. Native campaigns provide value across the entire acquisition funnel to boost brand awareness and generate sales. Alongside the native ad widget, users see a phrase indicating it is promoted or sponsored content. In the United States, for instance, this would be as per the FTC's guidelines.
Here's an example of native ads on Fox Sports Australia: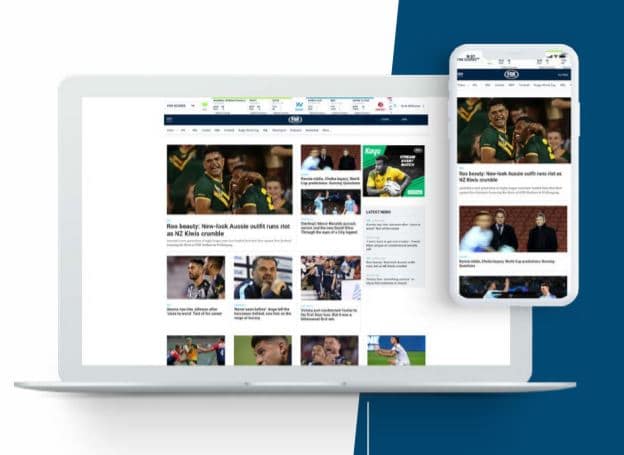 Two statistics clearly show the effectiveness of native ads:
Site visitors pay 53% more attention to native ads compared to banner ads.
The click-through-rate (CTR) of native ads is 8.8 times higher than banner ads.
There are pros and cons with the format, but follow native advertising best practices and you should achieve impressive campaign results. If you need some inspiration, make sure you check out these high-performing examples.
Branded Content
Branded content uses a storytelling approach. It aims to emotionally connect with consumers and it prioritizes relevant and value-added information over sales. Traditionally, branded content sits on a brand's blog or social media channels and appears in many formats, including videos, articles, podcasts, and infographics.
Branded content is the right vehicle to demonstrate brand values. Research shows 66% of consumers want brands to take public stands on social and political issues, and 52% will be more loyal if they agree with a brand on any given issue.
GoPro is a master at branded content. The company doesn't promote its products outright. It uses video content to emotionally connect with audiences, like in this gem featuring a firefighter saving a kitten's life.
One of the most talked-about pieces of branded content comes from 
Dove
. In this video, which garnered 50 million views in less than two weeks, the company skipped the promotional and supermodel approach. Instead, it featured real women for beauty inspiration.
Branded Content vs. Native Advertising
When thinking about branded content vs. native advertising, keep this in mind:
Branded content can be used for native-ad campaigns and, therefore, appear on a third-party website or exist only on the brand's site.
Native ads only appear on third-party sites and can use branded and non-branded content.
Here's how Babble used branded content in a native-ad campaign to increase acquisitions:
To help you to decide which best serves your purposes, let's look at the critical differences between these two content marketing practices:
Key Differences
Native advertising and branded content have distinct characteristics, but they share some marketing goals. The table below looks at six different factors to give you a clearer picture.
| | | |
| --- | --- | --- |
| | Branded Content | Native Advertising |
| Purpose | Tells a story Provides valuable and engaging informationBuilds brand awareness | Encourages brand discovery Builds brand awarenessDrives sales |
| Channels | Published on a brand-owned website, blog, or social media channels | Only published to third-party sites |
| Cost | No external costs | Paid distribution |
| KPIs | Number of leads generatedNumber of social shares and engagement Number of backlinks earned | Viewable impressions Unique site visitors CTR Conversion rates Sales |
| Extra Benefits | Increases organic search rankings | Leverages publisher trust |
| Appearance | Reflects a brand's visual language and tone | Formatted to fit the third-party platform's visual language and editorial standards |
How to Choose the Right Method
As they each have different objectives, a well-rounded content marketing strategy should include native advertising and branded content. To determine which is the most beneficial for your marketing goals, ask yourself these three critical questions:
Is There an Advertising Budget?
With native advertising, you need a campaign budget to pay for impressions or clicks. The costs vary, so research native-ad platforms in advance. If you don't have the funds, tap someone on your content team to produce branded content and share it on your digital channels.
Who's the Target Audience?
Native advertising enables you to engage with new audiences on premium publisher sites and use advanced targeting options to place your ad in front of the right consumer. Branded content is ideal for existing customers. If they engage with it or share it enough, the exposure could extend to new audiences.
Do I Need to Mention the Brand Name?
If you want to include your brand's name or push a specific product in your content, native advertising is the way to go. If your content is geared towards storytelling and building an emotional connection, branded content is a better option.
Stats on Branded Content vs. Native Advertising
As a marketer, you must base decisions on data. Here are some stats around branded content vs. native advertising:
Native Advertising Stats
The native advertising industry will be worth $402 billion by 2025
Site visitors look at in-feed native ads 25% more than banner ads
Consumers looked at native ads two times more than editorial content
70% of people prefer to learn about new products through content
When it comes to purchase intent and building brand loyalty, native ads win:
(Source)
Branded Content Stats
The following two stats show the power of combining the two:
Using branded content on a premium publisher's site (AKA a native ad) creates a 50% higher brand lift compared to content shared on the brand's channels
People trust content on premium publisher sites much more than on social media platforms
Use Taboola's Service
Taboola is a native-advertising platform proven to bring results. Brands can use Taboola to promote pure native-ad content and branded content. Here are some winning examples:
Jewelry brand Pandora partnered with Taboola to increase brand awareness and attract new audiences with ads featuring branded content. Although the goal wasn't to drive sales, Pandora ended up with a two-for-one result – traffic engaged for an average of 217 seconds per visit, and the company increased conversion rates by 130%.
Sony Pictures Entertainment wanted to create awareness and drive ticket sales for several upcoming movie releases. The company's social media tactics served the first objective, but not the second. SPE Thailand used Taboola Video to reach a wider audience, promoting its video campaign across premium publisher sites. The company surpassed both goals, racking up 194,000 completed video views and over 411,000 impressions.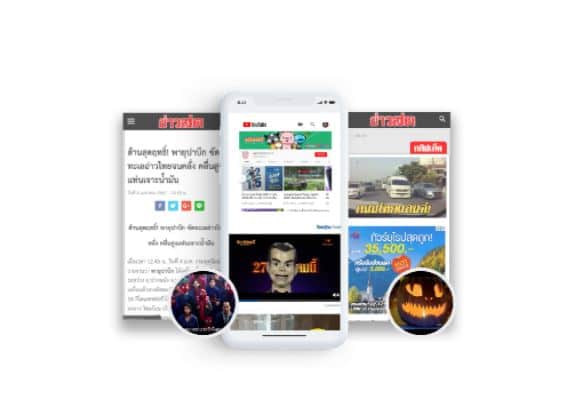 Whirlpool strategically uses branded content to provide readers with valuable lifestyle content, but its blog wasn't attracting enough high-quality traffic. Over two months, the company used Taboola to promote articles such as Top Ten Things Your Microwave Can Do. This native-ad campaign drove 20 million blog visits and generated 24,000 clicks.
Final Thoughts
Now you have a clear idea of how and when to use native advertising, branded content, and branded content for native ads. Revisit your content strategy with this in mind and start executing campaigns on Taboola. It's the best way to reach high-quality audiences, build brand awareness and increase sales.
Further Reading