Now more than ever, audiences have a tough time trusting traditional ads.
Almost half of U.S. internet users say ads feel too invasive and they wish and they wish they were less interruptive and intrusive. It's no wonder a growing number of people are using ad blockers to improve their online experiences.
So, how can brands reach their audiences in this competitive landscape?
That's where native advertising comes in. Since native ads blend seamlessly into their surrounding content, they offer a more engaging and much-needed alternative to traditional advertising.
Just look at the latest statistics on native advertising. Over 80% of news consumers say seeing ads within news content increases or maintains brand trust. That's part of why U.S. native digital display ad spend continues to increase. Meanwhile native is one of the top-performing video ad formats for U.S. brands and publishers, according to eMarketer.
The question now is: How do you build an effective native ad campaign?
Here are 17 successful native advertising examples to guide you.
1. Adidas and MediaCom 
Adidas, a leading global sportswear manufacturer, is a household name in Israel. To promote their new BOOST technology, Adidas and agency MediaCom turned to Taboola.
Taboola Creative Studio produced striking video content on behalf of Adidas, designed to educate and inform viewers about the BOOST technology and ultimately drive interest and purchases of BOOST footwear.
With Taboola, MediaCom was able to uplift CTR (click-through rate) by 50%, increase awareness, and drive sales. The product shown in the video became a best-seller. Read the full Adidas and MediaCom case study here.
2. Beko and Ingage Media
Beko, a global appliance brand, worked with agency Ingage Media to  drive traffic to its new product: the innovative Dem Tea Machine.
Ingage Media turned to Taboola to launch sponsored content across premium publisher sites.
Ingage Media and Beko saw a 75% higher vCTR (viewable click-through rate) and a high rate of first-time visitors discovering Beko's products. Read the full Beko and Ingage Media case study here.
3. Velasca
Velasca is a disruptor in the fashion industry, creating handcrafted, high-quality men's footwear in Italy and selling to a global audience with a digital-first mindset.
To increase brand awareness among new customers, Velasca launched sponsored content with aboola's Custom Audiences, targeting people who were most likely to convert. 
Throughout their native advertising campaign, Velasca saw a 15% decrease in CPA and a 25% increase in quality leads generated. Read the full Velasca case study here.
4. Square Yards
Square Yards, a technology-enabled real estate brokerage, is India's most prominent platform for primary real estate. Looking to generate new leads in the Gulf region, Square Yards turned to Taboola. Together, they used sponsored content, retargeting, and SmartBid — a tool that automatically optimizes campaign bids to drive conversions.
With Taboola, Square Yards saw a 15% higher conversion rate than other marketing channels and generated 50,000 leads. Read the full Square Yards case study here.
5. Vodafone
A part of the Vodafone Group—one of the world's foremost telecommunication companies—Vodafone Turkey offers fixed, mobile, and content services, striving to be a pioneer in digitalization technologies. Vodafone Turkey serves 24.1 million mobile and over 1 million fixed broadband customers as well as enterprises.
To reach consumers in more creative ways with high-quality content, Vodafone Turkey ran campaigns on Taboola. 
With Taboola, Vodafone decreased their cost per sale by 42% (MoM), with 11% of display channel sales. Read the full Vodafone case study here.
6. 360 Realtors 
360 Realtors is the largest real estate consulting company in India. Before working with Taboola, 360 Realtors felt limited in their ability to refine and optimize campaigns. Taboola gave 360 Realtors the resources they needed to broaden their impact and reach homebuyers searching for their ideal residence online.
As a result, 360 Realtors saw a 100% increase in traffic and a 48% increase in leads generated. Read the full 360 Realtors case study here.
7. Renault 
French car brand Renault wanted to promote its new Renault Triber, a vehicle halfway between an SUV and a minivan, to international audiences. The launch of the Renault Triber was supported by a 360° communication campaign, integrating Taboola Video to amplify the brand's message.
In the first wave of the campaign, the videos received 3 million impressions, 1 million completed views, and an average view-through rate (VTR) of 33%. During the second wave, the videos saw 1.3 million impressions in one month, including 550,000 completed views and an average VTR of 40%. Read the full Renault case study here.
8. 99Acres
99Acres is a go-to real estate portal in India, handling all aspects of consumers' real estate needs—including advertising and searching for properties.
Faced with the challenge of bringing in more quality traffic than Facebook and Google could provide, 99Acres turned to Taboola.
99Acres used Taboola sponsored content to distribute campaigns widely, optimize with retargeting, and track audiences using Taboola Pixel. As a result, the brand saw a 4% increase in lead volume per day and 55% of leads generated from retargeting. Read the full 99Acres case study here.
9. American Comfort 
American Comfort, a furniture company specializing in high-quality materials, needed to raise awareness and drive sales for a new product.So the brand tapped Taboola to launch in-feed vertical video across the open web.
American Comfort was surprised to find that Taboola's non-disruptive video experience generated high-quality leads, sales calls, and more than 130,000 completed video views in just one month. Read the full American Comfort case study here.
10. Pit Viper 
Pit Viper builds the functional, fun-loving gear that is serious about taking things less seriously. The Stable is the largest and leading Shopify Plus agency. Pit Viper works with The Stable to reach potential consumers in innovative and exciting ways.
Pit Viper was looking to increase sales within the US market by reaching audiences outside of search and social channels by purchasing inventory through a private marketplace (PMP).
The Stable launched a Taboola sponsored content campaign to promote Pit Viper product landing pages. The Stable worked with Taboola on Pit Viper's behalf through The Trade Desk to capture people who had seen or interacted with ads previously, and retarget them to achieve their ROAS goals. The Stable also used Taboola's contextual targeting abilities, to reach people who were already reading about their brand.
With Taboola, The Stable was able to achieve a 700% ROAS for Pit Viper, which was 2x their ROAS goal. Read the full Pit Viper case study here.
11. StartEngine 
StartEngine was founded with the goal of helping entrepreneurs achieve their dreams by removing funding barriers. Island Brands USA is a premium beer brand with a mission to bring better, cleaner beer to the world.
StartEngine turned to Taboola to help Islands Brands find new investors outside of search and social platforms. Together, they launched a sponsored content campaign, which ran on Taboola's network of premium websites on the open web; including news sites, blogs, online magazines and other digital properties. The campaign included Taboola's image and motion ad creative formats, which impacted ROAS for Island Brands by 113%.
Overall, StartEngine was able to achieve an overall 171% ROAS for Island Brands with Taboola, allowing them to meet their investment goals. All campaigns ran for a month and a half, and in that short amount of time, were able to drive over $34,000 in investments for Island Brands. Read the full StartEngine case study here.
12. AIG
American International Group, Inc. (AIG) is a leading global insurance organization that provides a wide range of property casualty insurance, life insurance, retirement products, and other financial services to customers in more than 80 countries and jurisdictions. In Israel, AIG is a direct to consumer company that doesn't use agents.
AIG was eager to increase demand for its mortgage insurance by educating consumers with digital strategies. AIG Israel used Taboola Video to increase awareness and retarget the visitors who view at least 60% of the video.
With Taboola, AIG Israel saw that out of five digital marketing channels, 50% of people who made a purchase after viewing this campaign started their buyer journey with Taboola. In addition, the campaign reached 400,000 people, and uplifted purchase intent by 30% in just 30 days. Read the full AIG case study here.
13. Nespresso
The Nespresso company is an autonomous globally managed business of the Nestlé Group. Nespresso is present in over 60 countries, counts over 12,000 employees worldwide and has been in Thailand since 2015.
The brand needed to reach new audiences with the distribution of advertorial content outside of traditional distribution channels like search and display. Nespresso used Taboola's discovery platform to distribute advertorials with sponsored content and reach new audiences on premium digital properties, mobile carriers and device manufacturers.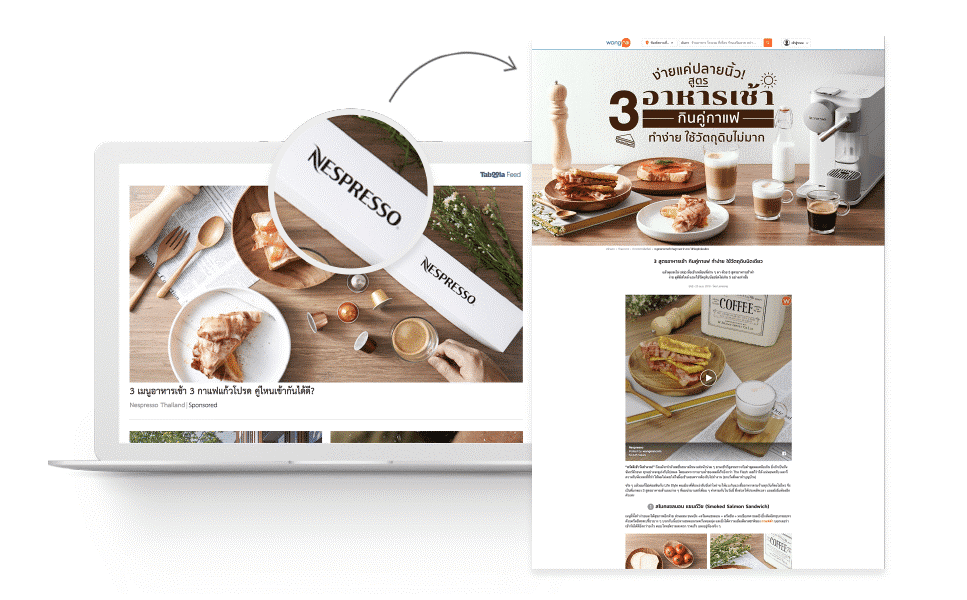 For Nespresso Thailand, 85% of traffic to advertorial pages is delivered by Taboola. They also see double the session duration and a 10x lower average cost per page view than any other channel. Read the full Nespresso case study here.
14. Sony Pictures 
Sony Pictures Entertainment (SPE) is a subsidiary of Sony Entertainment Inc., which is a subsidiary of Tokyo-based Sony Corporation. SPE (Thailand) Ltd. opened an office in April 2017 after being part of Joint Venture with Walt Disney (Thailand) for almost 20 years.
SPE Thailand wanted to drive large amounts of awareness and ticket sales for upcoming movie releases—specifically Venom (Oct. 2018), Goosebumps: Haunted Halloween (Dec. 2018) and Spider-Man into the Spider-Verse (Jan. 2019). So they worked with Taboola to reach a wider range of target and prospective audiences on premium publisher sites across tablet and mobile devices.
With Taboola, SPE Thailand has seen over 194,000 completed video views and over 411,000 impressions. Read the full Sony Pictures case study here.
15. Universal Music Group 
Universal Music Group (UMG) is the world's leading music company, operating in over 60 countries. Universal Music Germany's Marketing Labs creates—together with UMG's labels and where needed with external partners—pioneering campaigns, tools and communication channels for UMG's artists.
To promote Metallica's 2020 album release, S&M2, they were looking to reach high-quality audiences that are traditionally hard to reach on social networks in the German Market. So they turned to Taboola High Impact, Taboola's solution for brand awareness, to distribute high-quality audiences on premium publisher sites with video.
UMG saw 260,000 video impressions from Metallica music fans in just four weeks through highly impactful hero placements on publisher homepages. Read the full Universal Music Group case study here.
16. World Vision
World Vision is a global NGO that strives for the children and communities in the world's most vulnerable environments to emerge from poverty and inequality. This involves acquiring donations from interested patrons, using new digital marketing channels.
In the Korean market, digital media is heavily concentrated on certain popular search channels. For World Vision, these channels performed well, but not at the CPA desired. World Vision expanded to a variety of digital channels, one of which was Taboola. The Taboola team assisted World Vision campaign strategy, creative images, and headline variations.
The result? World Vision was able to generate over 100+ monthly renewing donations, and a 40% lower CPA than other display channels, and saw larger scale than with popular search channels. Read the full WorldVision case study here.
17. TUI Group
P6A is the digital flagship editorial brand of TUI, the world's largest tourism group. Their objective is to awaken the desire to travel through inspirational and topic-driven stories while suggesting the perfect offer or package to meet those needs.
For P6A's "Visit Britain" campaign in India, the brand aimed to drive awareness, qualified traffic, and sales. P6A began using Taboola when they didn't see the competitive pricing desired by using another discovery campaign platform. TUI's editorial brand leveraged both platforms for content distribution simultaneously.
Working with Taboola, P6A obtained more than 317+M impressions that converted into 249,820 visits to articles on P6A and TUI India. 4,329 of those users decided to visit pages that included TUI packages. This resulted in 96 bookings through TUI India, and 600 overnights. Read the full TUI Group case study here.
Effectiveness of Native Advertising
Spending on native advertising has risen dramatically for years. But, why is native advertising an effective digital advertising technique? When pitting native ads vs. display ads, the answer comes down to a few simple points: 
Native ads are non-interruptive, allowing site visitors to interact with the content naturally as they browse the page. 

Native ads are contextually relevant to the content the visitor was searching for, so they naturally stand a better chance of earning attention. (Power move: this makes native ads more valuable than traditional display ads for SEO purposes as well.)

Native ads look and feel like part of the site where they appear, so they benefit from the implied endorsement of the site or influencer whose content frames the ad. 
For more real-world examples, take a look at some native advertising effectiveness study results. 
That's it! In this guide, we've shared some native advertising examples for 2022, and there's only more to come. You've seen how other companies have handled their native advertising strategies. Now, it's over to you to get started with Taboola's native advertising.
For further reading in this area, check out these resources: