Launching digital ad campaigns can be complicated. You have to collect a ton of data, reach target audiences, and deliver relevant content — all across the right channels. Especially now that there are more touchpoints than ever before, brands need a simplified way to deliver ads at scale and cut through the noise.
That's where programmatic advertising comes in.
What is programmatic advertising? It's the process of using software platforms to buy digital ad space. With a programmatic advertising platform, advertisers can bid on available inventory, using customer data and algorithms to automatically find the most relevant, high-performing placements for their campaigns.
This is a big step up from traditional ad buying, which is conducted directly between representatives and salespeople. While traditional advertising has its perks — like building one-to-one relationships — it's also much slower, more expensive, and less reliable than programmatic digital advertising, which is backed by real-time data.
How else is programmatic advertising different? Essentially, it streamlines the ad buying process, making transactions more efficient and effective — so brands can increase traffic, conversions, and revenue across channels. In fact, programmatic digital display spend is expected to reach $133 billion in 2023 — up from $97 billion in 2021.
For those new to programmatic buying, there is a bit of a learning curve. And the field is full of alphabet soup acronyms like DSP, DMP, SSP, and RTB to name a few. Still, with the right tools and resources, you can understand the benefits, strategies, and use cases of programmatic marketing. And this knowledge will be more important than ever as the competition for attention and engagement across the web heats up.
To help you get started with programming marketing, we'll outline just what you need to know, including:
The Benefits of Programmatic Advertising

How Programmatic Advertising Works

Types of Programmatic Advertising

Programmatic Advertising Examples

Programmatic Advertising Strategies

In-Depth Info for Programmatic Experts
The Benefits of Programmatic Advertising
Programmatic advertising offers a range of benefits to marketers — whether they want to drive awareness, consideration, or conversions across the open web.
Here's a look at the biggest programmatic advertising benefits.
Saved Time and Resources
By automating ad buying, advertisers can reduce costs, saving time and money on tasks that used to require manual labor. With that saved time, advertisers can better focus on creative strategies and innovative tactics to help optimize the results of their campaigns.
Improved CPM, ROI, and Control
Brands can use programmatic advertising to automatically launch targeted ads at scale, decreasing their cost-per-thousand-impressions (CPM) and improving their return on investment (ROI). With the right programmatic buying and monitoring platform, advertisers can also adjust their CPMs in real time, ensuring that they're getting the most out of their budgets.
More Personalized Experiences
Programmatic advertising uses machine learning and data signals to find the most high-impact placements for each ad — reaching the right customers in the right place at the right time.
Advertisers, for example, can target audiences in real time based on their demographics, content interests, online behaviors, and position along the path to purchase.
Take Taboola, which lets advertisers access the world's largest readership dataset from top editorial sites. Taboola collects 1 trillion recommendations, 22 billion monthly pageviews, and 516 million daily active users. With this information to fuel their programmatic campaigns, advertisers can capture the attention of their target audiences across top publisher sites at the moment they're looking to consume new content, as with these recommended stories on article pages:
(Source)
Enhanced Brand Safety and Decreased Ad Fraud
Ad fraud was estimated to have cost businesses $65 billion in 2021 — and that number is expected to reach $100 billion in 2023. With the right verification systems and processes in place, programmatic advertising can help companies decrease ad fraud by automatically weeding out scams and identifying the most relevant ad spots.
In fact, that's why the Interactive Advertising Bureau (IAB) Tech Lab introduced ads.txt or Authorized Digital Sellers to improve programmatic media buying and prevent advertisers from accidentally buying on fake domains. Basically, publishers add an ads.txt files to their web servers, listing their authorized sellers. Programmatic advertising platforms then check those files to make sure the site and seller is legitimate.
Taking brand safety one step further, Taboola is also verified by the Trustworthy Accountability Group (TAG) and listed in the TAG Registry, giving advertisers the transparency and peace of mind they deserve in launching secure campaigns.
How Does Programmatic Advertising Work?
Now, let's get into the nitty gritty of how programmatic advertising is actually carried out. That means we have to break down the different platforms and parts of the programmatic advertising ecosystem.
Demand-Side Platform (DSP)
A demand-side platform (DSP) is a type of software that advertisers use to automatically buy targeted digital ad inventory at scale.
How does DSP programmatic advertising work? Advertisers upload their assets — such as campaign images, copy, and data — identify their targeting parameters and audience segments, and set their budgets. The DSP then uses that information to find publishers that would be the right fit for advertisers' campaigns.
Supply-Side Platform (SSP)
A supply-side platform (SSP) is a type of software that publishers use to automatically sell advertising inventory to brands, such as programmatic native and display placements. It's basically the publisher's equivalent of a DSP.
For publishers, SSPs are important because they can help find the right brand partners and most relevant ad content for their audiences — maximizing revenue and engagement.
Data Management Platform (DMP)
A data management platform (DMP) is a type of software that advertisers can use to gather, analyze, and manage their customer data. This includes first-, second-, and third-party data that might be pulled from many different online and offline sources, such as websites, email, direct mail, call centers, apps, and social media.
Once the DMP collects this data, the platform should then be able to organize it, pull insights, and activate that data to fuel new, programmatically targeted campaigns.
Ad Exchange
An ad exchange is the platform that connects DSPs and SSPs. It's basically the third-party marketplace where the actual exchange of programmatic ad inventory takes place.
Through the ad exchange, a publisher can set minimum CPMs as well as designate preferred ad formats and content types. Meanwhile the advertiser can set its bidding parameters, block certain websites, and choose its targeting criteria. The ad exchange will then match this information to find the best fit for both parties, triggering the right ads to be shown to each user.
Taboola, for example, offers flexible auction models through open exchanges and private marketplace (PMP) deals. Our platform also integrates with an expansive number of industry-leading DSPs and SSPs so advertisers and publishers can establish deals with their preferred partners.
Types of Programmatic Advertising
There are three main types of programmatic buying, each with unique features and benefits that are important for advertisers to understand.
Real-Time Bidding (RTB)
Real-time bidding (RTB) is the process by which advertisers bid on programmatic ad inventory and compete for each ad slot. Advertisers commonly bid by CPM; they'll set their highest bid through their DSP and then duke it out in real time through the ad exchange.
Since RTB happens instantaneously and automatically, advertisers can use this process to bid on many different placements at a time — increasing their reach and scale without burning their budget. As such, RTB is considered one of the most cost-effective and flexible forms of programmatic ad buying.
Private Marketplace (PMP)
Private marketplaces (PMPs) are invitation-only RTB auctions. They function similarly to RTBs, but are exclusive to certain groups of brands and ad buyers. Since that exclusivity often comes with a price, PMPs can be a more expensive option.
Advertisers might choose to use PMPs because they'll know their ads are being run on premium, high-quality publisher sites; they'll also get up-front access to valuable ad inventory. Meanwhile publishers will have peace of mind, knowing exactly who is serving ads to their readers.
Programmatic Direct
Programmatic direct is a one-to-one ad buying process. This may sound like an oxymoron since it's so similar to traditional ad buying. But programmatic direct is unique because — even though publishers and advertisers work together to set a fixed CPM for a guaranteed sale — it can all still be done through an ad buying platform.
Compared to RTB and PMP, programmatic direct is less flexible, affordable, and scalable but more transparent and brand safe. Publishers will commonly reserve select inventory for programmatic direct, and then sell their remaining inventory through PMPs and RTBs, incorporating all of these forms into their programmatic process.
Programmatic Advertising Platforms
There are many programmatic advertising platforms available that marketers can use to automate their ad buying and manage their campaigns.
Here's a quick look at some of the most popular options on the market.
The Trade Desk
Through The Trade Desk, advertisers can launch and manage programmatic ads across a range of channels like websites, apps, podcasts, and streaming platforms. They can also customize their experiences with additional APIs and work with dedicated experts to define and meet their campaign goals.
DV360
Google's DV360 is a DSP that allows advertisers to manage programmatic display and video ads across Google and YouTube inventory. DV360 also includes helpful tools for collaborating across teams, gathering audience insights, and automating bidding.
Taboola is directly integrated with DV360, so advertisers can launch their native ads right from Google's programmatic buying platform.
Amazon
Amazon's DSP invites advertisers to programmatically buy and deliver ads across Amazon properties — whether those advertisers sell on Amazon or not. Advertisers can choose from audio, video, and display ads, reaching shoppers and gathering e-commerce insights. Amazon's DSP offers both self-service and managed-service options.
MediaMath
MediaMath was one of the first programmatic platforms to hit the scene, now with capabilities to run mobile, native, display, audio, video, and connected TV ads. Its SOURCE ecosystem was built to improve trust and transparency along its supply chain. And MediaMath optimizes campaigns with its data-backed Brain Insights feature, which runs on machine learning and predictive modeling.
Taboola
Taboola empowers advertisers to reach over 500 million daily active users across premium publisher websites, including 9,000 digital property partners. As the world's leading content discovery and native advertising platform, Taboola has direct integrations with the world's leading DSPs, serving 400 billion content recommendations each month. Advertisers can also access Taboola's proprietary data, contextual targeting abilities, and PMP offerings to reach their business goals.
Programmatic Advertising Examples
Tired of the technical jargon and looking for some inspiration? Let's unpack some case studies and examples to see how brands have already seen success with programmatic advertising.
InnoGames Acquires 50K New Players a Month
InnoGames, a leading developer and publisher of online games, wanted to reach new players and increase conversions. So the company partnered with Taboola to launch programmatic mobile and native ad campaigns across the globe.
Taboola quickly became one of InnoGames' top partners for generating traffic on PCs — attracting 50K new players in just a month.
Major Finance Brand Drives 80% Viewability
A major US finance brand wanted to educate consumers about its products by sharing an educational video series with target audiences. After partnering with Taboola, the brand was able to deliver programmatic video ads across top-quality publisher sites.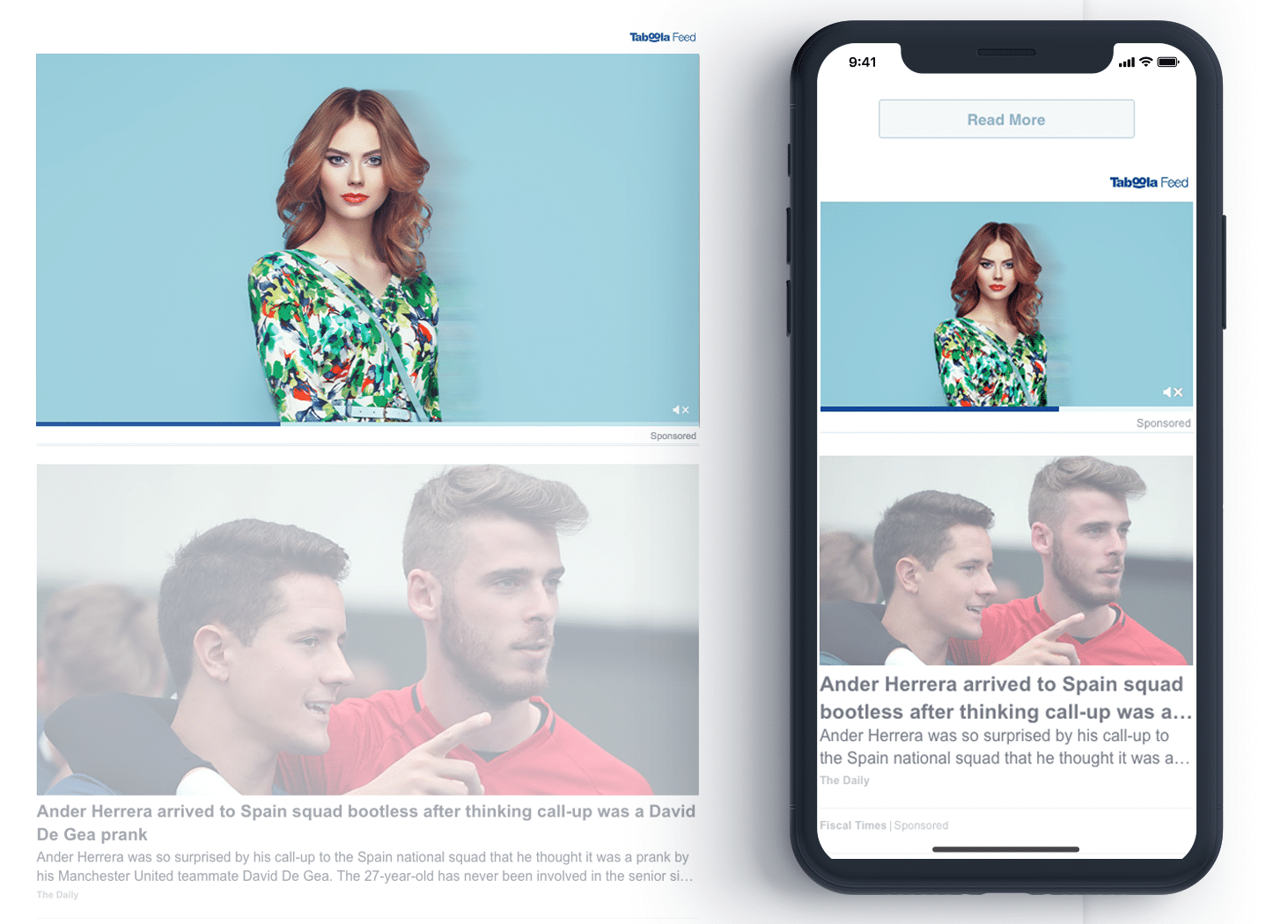 As a result, the finance brand achieved an 80% viewability rate, 70% completion rate, and 15% decrease in CPM month-over-month.
Banco Sabadell Increases Conversions by 17%
Banco Sabadell, one of Spain's main banking groups, wanted to find more target customers for its mortgage product and drive high-quality leads to its website. So the company worked with Taboola to launch programmatic display and native ads across niche publisher sites.
Taboola was even able to guarantee impressions with viewable CPM (vCPM): the amount you pay per one thousand viewable impressions of your campaign. The bank also conducted its programmatic buying through an integration with Google's DSP, DV360, and used its DMP to exclude current customers from seeing the ads, ensuring they were only reaching valuable prospects.
The result? Banco Sabadell increased conversions by 17%, drove a 30% higher CTR, and saw a 126% higher CTR than other PMPs with display formats.
Programmatic Advertising Strategies
Programmatic buying, targeting, and bidding can be complex, but there are certain best practices and programmatic strategies advertisers can use to make the most of their ad budgets and drive optimal performance.
Use Multiple Creatives
Experiment with different types of ad creative. You can use programmatic native display, for example, to reach audiences with sponsored articles that match their interests. You can use programmatic outstream or native video to deliver more interactive, visually engaging ad experiences.
Set Up Creative Assets in the DSP
Make sure you have all your creative assets on hand within your chosen DSP platform. This can be as simple as including all creatives in the same line item.
Let the DSP Deliver to the Best-Performing Creatives
With all of those assets to choose from, the DSP can automatically optimize your campaigns by prioritizing the creative assets that drive the best results.
Share Your KPIs with Your Supply Team
Communicate your goals with your supply team — be it impressions, conversions, decreased CPC, or sales — so they can optimize each ad deal on your behalf.
Ask Your Partners About Specific Tools and Settings for Success
Work with your programmatic advertising platform to find the right strategies and tools for your campaign needs. Taboola, for instance, allows advertisers to buy on viewable CPM through PMP, so they know they're only paying for real impressions that actually get in front of their audience.
Drive Engagement with Audience Targeting
Enhance your bids and drive engagement with these programmatic targeting strategies:
Build Lookalike Audiences.

Create

audience targeted segments

of people who are similar to your most loyal and high-value customers, so you'll be more likely to engage and convert them.

Use contextual targeting.

Reach audiences

based on content they're already consuming

and deliver customized ads that match their interests.

Set exclusion and inclusion lists.

Prevent your ads from being shown alongside certain types of content and ensure you're only reaching audiences in brand-safe, relevant environments.

Gather and activate first-party data.

With

third-party cookies

on their way out, take this opportunity to build your first-party data strategy across owned channels. In the meantime, you can still use third-party targeting to fill in the gaps.
Build Awareness with High-Impact Placements
Advertisers can launch high-impact programmatic ad placements to raise brand awareness across premium publisher sites.
Taboola, for instance, has long-term partnerships with top global publishers and apps, so advertisers know their placements are brand safe and verified — whether they're delivering ads on the homepage, mid-article, or within the Taboola Feed. Advertisers can also use these high-impact opportunities to launch ads in a range of formats, such as videos, carousels, Stories, and rich media ads.
Conclusion
Programmatic advertising is only expected to grow as brands seek to diversify their channels, improve brand safety, and streamline processes. Especially since third-party cookies are set to disappear by 2023, businesses will need advanced targeting and tracking capabilities to survive. Those that start building their programmatic operations now will be well positioned to get ahead of the competition and grab audience attention across the open web.
What's Next?
Now that you have a strong foundation of programmatic advertising knowledge, it's time to take the next steps. Check out our webinar of Best Practices for Programmatic Native Advertising for even more in-depth information about building powerful native ad campaigns. Use our Programmatic Creative Best Practices for a deep dive into the technical requirements of programmatic ad assets. Or put your knowledge to the test and start creating your next programmatic campaign with Taboola.