As big box stores monopolize Black Friday and Amazon takes over Cyber Monday, sandwiched in between them, Small Business Saturday is the time when neighborhood mom-and-pop shops can drive holiday sales.
Small Business Saturday celebrates its tenth anniversary this year, and marketers are already preparing to launch ads that cut through the noise and promote deals on their specialty products.
To help, we dove into Taboola Trends to pick out the tactics you must adopt to build more successful Small Business Saturday ad creatives for beauty, business, fashion, home, and health and fitness brands.
Here's your guide to supercharging your Small Business Saturday marketing campaigns.
Understand the importance of Small Business Saturday
American Express started Small Business Saturday in 2010 in an effort to support small businesses and local shops through the recession. It is now a nationally recognized event with significant returns.
Last year on Small Business Saturday, U.S. shoppers spent a high of $17.8 billion at independent stores; and 96% of consumers said Small Business Saturday inspires them to patronize small businesses beyond the holiday and throughout the year.
The National Retail Federation (NRF) also found that among the 164 million consumers who planned to shop over the Thanksgiving weekend last year, 41% were expected to shop on Small Business Saturday. That accounts for 67 million shoppers on one day alone.
Evidently, small business marketers have a major opportunity to reach community members and specialty shoppers with engaging ads that drive sales and foot traffic for the holiday.
Plan your Small Business Saturday marketing strategy
Just as you would prepare a marketing strategy for Black Friday or Cyber Monday, you must have a solid game plan in place for reaching consumers on Small Business Saturday.
Here are a few steps you can take to fuel your campaigns:
Promote special deals – Offer discounts on certain products to customers shopping on Small Business Saturday. According to the NRF, 71% of holiday shoppers say sales and discounts are an important factor in choosing a retailer.
Drive foot traffic to nearby stores – Invite customers to buy products online and pick them up in a nearby store. The NRF found that 45% of holiday shoppers say a convenient location is an important factor in choosing a retailer.
Partner with neighborhood shops – You're not in this alone. Create joint marketing efforts and cross-promotions with fellow small businesses in your area. Keep customers discovering new holiday deals in your area .
Marketers can also visit the Small Business Saturday website to access checklists, marketing materials, and action plans provided by American Express.
Build engaging Small Business Saturday ad creatives
Once you have your Small Business Saturday marketing strategy, you need the right images and keywords to help execute it.
Here are data-backed insights for building effective Small Business Saturday ads across a range of verticals:
Beauty
Beauty marketers can increase clickthrough rates (CTR) by including animals (+100%), color (+99%), and outdoor scenes (+62%) in their videos. They can also use text (+26%) to get their messaging across in ad visuals and thumbnails.
Small beauty brand, FIG+YARROW, for example, incorporates nature and color into its social images, conveying its commitment to using natural, 'nutrient-dense' ingredients in its products.
It's important to pair eye-catching visuals with clickable keywords. In the beauty industry, keywords such as 'hairstyles,' 'short,' and 'haircuts' are trending, while keywords such as 'facial,' 'affordable,' and — get this — 'beauty' can decrease CTR due to heavy competition.
Taking these keywords into account, here's what a Small Business Saturday ad campaign might look like for a beauty brand:
Business
Business marketers should consider using images with close-up perspectives, animals, black-and-white filters, and text for increased CTR.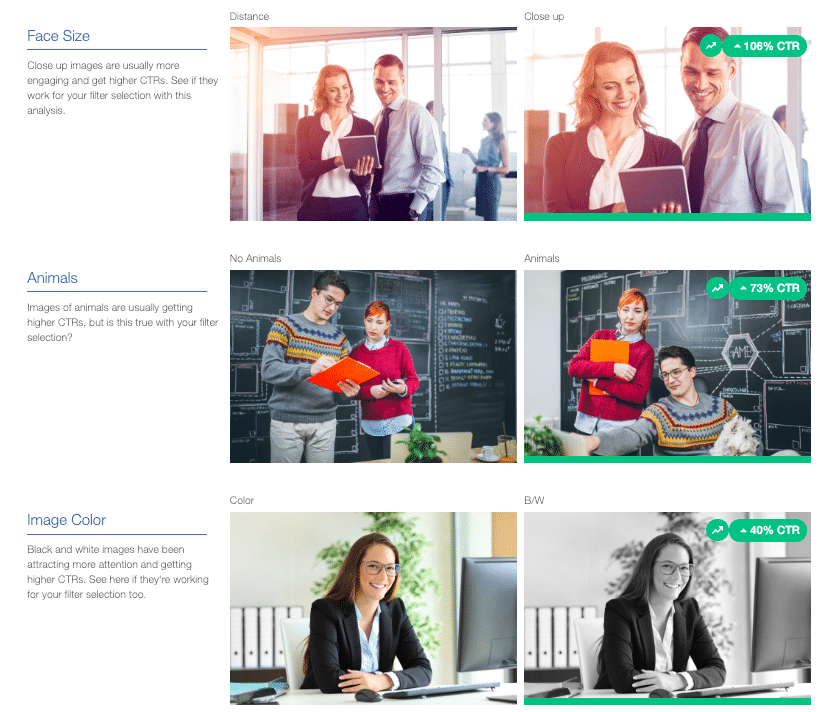 Look at how small marketing agency, Kexino, has fun using this close-up image of hippos for its blog post, 'Growing a Business: When Bigger is Better.'
Meanwhile, keywords such as 'coffee' and 'break' drive engagement, but keywords such as 'meet,' 'CEOs,' and 'app' can decrease CTR. Time to stow away that ad about an app that helps you meet CEOs!
Instead, consider crafting your business ads along these lines:
Fashion and Beauty
Fashion ads shouldn't just include, well, fashion. They also benefit from the addition of food, people, outdoor settings, and black-and-white filters. It's also best to keep text out of those fashion ad images for increased CTR.
Look at how clothing brand Kirrin Finch brought in the holiday season with campaign photos of food and friends around a campfire — donning the retailer's fashion, of course.
When crafting Small Business Saturday headlines and captions for beauty brands, try keywords such as 'awards' and 'dresses,' but stay away from terms such as 'game' and 'guys.'
Fashion marketers can use keywords to launch campaigns that reach Small Business Saturday consumers across the marketing funnel like this:
Food
While food is enticing, it's not the only visual that gets consumers clicking. Food marketers can also include color, people, and men in their images to grab people's attention.
Consider how wine brand Vinome incorporates close-up shots of food — with no people — into its social campaigns. It doesn't just show consumers its product, it also sets the scene for how the product can be used and placed in a table setting for friends and family.
Despite the negative connotations, keywords such as 'smells' and 'filthy' can also drive clicks, but avoid keywords such as 'kit' and 'new.'
Stumped on where to start? Use this food campaign example to guide you:
Health and fitness
If you've seen black-and-white images of muscly athletes working out, you're not alone. Health and fitness brands use them because they're effective. Images in this category can also be created with no text and with food to increase clicks.
Take yoga accessories brand Yellow Willow Yoga, it intersperses social images of its products with images of healthy foods and black-and-white campaign photos, like these:
It's no surprise that strong keywords for health and fitness include terms such as 'arteries,' 'bodies,' and 'eating.' Just stay away from keywords such as 'sale' and 'device,' since competition is tough.
You can also use these keyword strategies to build health and fitness campaigns that drive awareness, inspire consideration, and motivate customers to buy, as in this example:
Home
Home brands may encourage holiday shoppers to buy home-related gifts or to find the right decor for holiday parties. Whatever path they choose, it's best to build images with color, people, and close-ups.
Design studio Kalon, for example, paired this colorful, close-up image of its founders with an article about its business and approach to design.
For maximum engagement with headlines, home decor and design brands might also incorporate click-worthy keywords such as 'cheap,' 'will,' and 'live.'
This example of a home-related campaign provides some inspiration:
Video
If you're creating video content for your Small Business Saturday marketing campaign, there are a few best practices you can use to increase engagement.
The biggest rule of video is to incorporate action and movement. Completion rates can increase by including activities such as climbing (+1216% completion rate), water sports (+412%), eating (+92%), and driving (+46%).
It's also helpful to build text into your videos (+133%) and experiment with black-and-white videos (+103%) to keep viewers glued to your content.
Go big this Small Business Saturday
You may inspire consumers to 'shop small,' but you can still earn big with your Small Business Saturday marketing campaigns. This nationwide event continues to grow each year, and with the tenth anniversary coming up on November 30, sales should be higher than ever. Just remember to use these data-backed tips in building your ad creatives and visit Taboola Trends for real-time insights across brand verticals and content formats.