Black Friday, the day after Thanksgiving, is one of the biggest shopping days of the year. According to the National Retail Federation, last year, 84.2 million shoppers headed to stores searching for the best holiday season deals while 93.2 million shoppers made purchases online. This year, things are going to look a little different.
US consumers are expected to spend $148.5 billion between Black Friday and Cyber Monday, and 60% will make all of their purchases online due to the current pandemic. Interestingly, because COVID has caused many to cancel travel plans, 53% of people plan to shift their travel spend over to holiday purchases.
Online competition will be a little fiercer this year, so it's more critical than ever to make sure your campaigns are the most impactful they can be.
Retail
Retailers everywhere are no strangers to Black Friday, but since this has been a year unlike any other, they're pulling out all of the stops to ensure that they find success come Black Friday 2020.
Inspiring Retail Campaigns
Michael's Counts Down Craftily
Michael's is a retail store that sells craft supplies, home décor, holiday items, and much more. They began a web countdown to showcase their early and upcoming Black Friday deals.
Here's Michael's Facebook campaign:
Urban Outfitters Entices With Creative Visuals
Urban Outfitters' Black Friday campaign nicely ties its visuals to the holiday season.
Target Starts Early
Retail giant Target isn't even waiting for Black Friday to start offering deals. Take a cue from them and launch your campaigns as soon as possible.
This is one of Target's many Black Friday Facebook campaigns:
H&M Keeps it Simple
H&M captures the holiday vibe with a predominately red image.
Consumer Packaged Goods
CPG covers products including food items, paper and cleaning products, office supplies, cosmetics, and more. Many CPG retailers weren't prepared for the influx of online shoppers when COVID-19 hit, but hopefully, you're ready for Black Friday.
Inspiring Consumer Package Goods Campaigns
Costco Lays Out Their Plan
Costco is tempting users with an array of items on sale for Black Friday.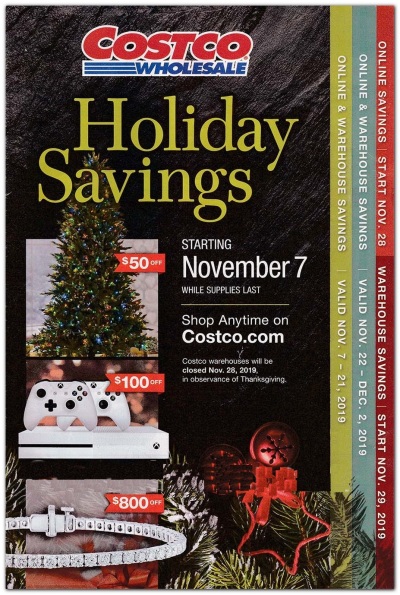 Costco let's Instagram users know about extra offers in the comments:
Godiva Gets Festive
Godiva dresses up its chocolate treats for the holiday.
Walmart Showcases Their Deals
Walmart has multiple campaigns but here's an example they're promoting in the beauty category.
Walmart created a Black Friday campaign on Instagram:
Hint Water's Serving up a Thirsty Deal
Hint Water is in on the Black Friday action.
Hint Water has extra offers on social media like this Twitter campaign:
Fashion
Black Friday is an excellent time for consumers to stock up on the latest clothes and accessories, but with a lot of options out there, it's an important time for fashion brands to find ways to set themselves apart.
Inspiring Fashion Campaigns
Alo Yoga Goes Outdoors
Alo Yoga shows off its fashion in action.
Alo Yoga pushes customers to action with clever copy in a Facebook ad:
Topshop Uses a Touch of Color
Topshop keeps its campaign clean and simple with a hint of color.
Steve Madden Goes Social
Don't forget to complement your campaigns with some social media posts like Steve Madden did here.
Asos Goes People-First
Asos keeps people front and center in their Black Friday sale image.
Beauty
Beauty brands go all out when it comes to Black Friday deals. Stand out in this competitive space by using the data to boost your clicks and chances of selling.
Inspiring Beauty Campaigns
Sephora's Pretty Deal Packaging
Sephora uses a sprinkling of color to catch consumers' attention.
Sephora has plenty of Black Friday campaigns running:
Fenty Beauty is Smart on Social
Follow Fenty Beauty's lead by using the right hashtags on social media.
Clinique Highlights Their Products
Clean, straightforward images that highlight your offer can bring all the traffic you need, like these from Clinique.
Clinique goes for a totally different look on Instagram:
View this post on Instagram A post shared by Clinique (@clinique)
Bath & Body Works Knows a Thing or Two About Holiday Spirit
This campaign from Bath & Body Works screams 'holiday'.
Consumer Technology
Who doesn't love a great new piece of technology for the holidays? Last year, 82% of Black Friday shoppers planned to buy tech devices and accessories, and this year should be no different. Phones, earbuds, video game consoles, and portable battery chargers are often rank as top purchases.
Inspiring Consumer Technology Campaigns
T3 Makes Their Offerings Clear
T3 is a publisher using its affiliate links to drive traffic and sales for in-demand products.
T3 tweets about every deal it has:
Amazon Puts a Spotlight on Devices
Amazon showing the Echo in this elegant manner makes it feel like a luxury.
Amazon uses a fan's tweet for an Instagram campaign:
Xbox's Whole Package
Subliminally increase sales by showing a product and additional items that go with it, like Xbox did here.
iRobot Keeps it Sleek
Make household chores seem like a breeze with a sleek ad campaign like this one from iRobot.
Food
Whether consumers are stocking up on everyday food products or looking for unique holiday treats, retailers selling these kinds of items can easily tempt people with the right images and campaign titles.
Inspiring Food Campaigns
Hello Fresh Says Free
Can anyone resist an offer that includes free meals, like this one from Hello Fresh?
Starbucks Remains a Reigning Holiday Season Champ
Red cups aside, Starbucks has made a name for itself with holiday offers.
KFC Plays With Words
KFC is playing a word game while offering its Black Fry-day.
Home Goods
Whether people are freshening up their homes in preparation for out-of-town holiday guests or redecorating due to the pandemic (which seems more likely), home goods are hot items.
Inspiring Home Goods Campaigns
Best Buy Stays On Brand
Best Buy keeps it simple with brand colors and attractive, high-ticket items.
Best Buy continues it's look on it's Facebook post:
Ikea Goes With What They Know
Everyone recognizes that iconic bag and Ikea uses a creative play on words here, too.
Sag80 Showcases Their Brands
Outdoor space is more important than ever, so promote outdoor furniture like Sag80.
Bed Bath & Beyond Brightens Up
The ultimate home goods store, Bed Bath & Beyond, highlights all its deals with a neon touch.
Bed Bath & Beyond adds a little holiday spirit to its Facebook post:
Pets
For animal lovers, a four-legged friend is more than a pet; he or she is as much a part of the family as those who walk upright. Americans are expected to spend approximately $99 billion on their pets this year. No doubt, pet products are on every pet owner's holiday shopping list.
Inspiring Pet Campaigns
Barkbox's Black Friday Box
Barkbox is smartly promoting its gift that keeps on giving – a subscription box.
The Farmer's Dog Includes Furry Friends
Pet parents want to feed their dogs the best, and this campaign from The Farmer's Dog taps into that need perfectly.
Baxterboo Has Fun With Black Friday
This campaign from Baxterboo plays perfectly to those who love to dress up their fur babies.
Baxterboo keeps pups in every campaign:
Bone and Biscuit Langley Lets Pets do The Talking
Tapping into cuteness overload makes it hard not to click on this family-owned business.
Lifestyle and Wellness
While people tend to indulge over the holidays, it's also a time when they make their New Year's resolutions, many of which focus on getting in shape and adopting a healthier lifestyle. That makes Black Friday a prime time to sell items in this category.
Inspiring Lifestyle and Wellness Campaigns
Fabletics' Puts Its Co-founder Front and Center
Fabletics offers exclusive deals featuring its celebrity founder as the model.
Fabletics runs multiple Black Friday creatives:
HUM Nutrition Seizes The Day
This colorful campaign from HUM Nutrition will make everyone want to take their vitamins.
NordicTrack Taps Into At-Home Workouts
With some people not wanting to visit gyms, home equipment purchases are on the rise, and NordicTrack is in on the action.
NordicTrack's Facebook campaign sends you to a blog post to help you find the right equipment:
24 Hour Fitness Lays on The Deals
This campaign from 24 Hour Fitness speaks to those New Year's resolutions with two offers in one.
Education
With many entertainment options limited or closed, people are filling their time with different activities. As consumers think about the year ahead, they know learning something new and upping their skillset is worth the investment.
Inspiring Education Campaigns
Audible Gets Seasonal
Audio is all the rage, and this discount from Audible makes it hard from consumers to resist making a purchase.
Skillshare Shares a Deal
Skillshare is offering a discount for the entire year to keep people interested.
Barnes & Noble Creates Comfort & Urgency
Barnes & Noble knows that curling up with a good book is a great pastime that reminds people to take it easy.
Udemy Shows Off Their Course Selection
Udemy is supporting people's desires to learn by offering deep discounts.
Udemy adds a fun countdown graphic to its Facebook post:
Now that you've seen how the biggest brands put their campaigns together, it's time for you to do the same. Happy Black Friday planning, marketers!