eCommerce is booming and the market continues to grow.
Online retail sales of physical goods are forecast to hit $548 billion in 2024 in the U.S. alone.
And by 2025, the global eCommerce industry is expected to be valued at $24.3 trillion, with an average revenue per user (ARPU) reaching $714.11.
Securing your slice of the eCommerce pie in a complex and oversaturated digital world is not easy, but with the right eCommerce marketing strategies in place you can succeed. And remember, growth is not just about bringing traffic; volume doesn't necessarily equal sales. You must attract relevant traffic, so the right users end up on your site, not on your competitors'.
Here, I explain how to use 14 different marketing tips to help boost your eCommerce business. And, for inspiration, I show you how other brands implement these.
1. Run an Email Marketing Campaign
Email marketing enables you to target your most valuable customers – those who have already shopped with you. It's one of the most cost-effective ways to increase eCommerce sales, generating $38 in revenue for every $1 spent. Email campaigns can focus on specific products, store-wide sales, or helpful blog posts.
Maximize every email campaign's impact by personalizing the content based on user segmentation. If the user, for example, purchased clothing for a child, follow up with an email featuring more clothing items and age-appropriate toys to increase cross-selling opportunities.
Kate Spade sends this email to thank people for joining the mailing list:
2. Work With Influencers
Partnering with influencers gives you access to their following, which can turn into traffic for your site. 82% of consumers are highly likely to take the recommendations of micro-influencers, those with between 1,000 and 100,000 followers. The ROI is undeniable as the average business makes $5.20 for each dollar spent.
Find micro-influencers who are active in your niche and agree on a payment structure. Work with them to develop their content and give them a special discount code for their followers.
@endy partnered with @canadianbros to promote its mattresses, for example. Although the pups featured in the Instagram account have no connection to the product, the mattress company gained exposure to an untapped audience.
3. Create Blog Posts Around Popular Products
When consumers use a search engine to find product information you want your content to appear first. To help that happen, use eCommerce content marketing and focus on topics that are relevant to consumer searches. Pepper your content with short and long-tail keywords, so it's easily discoverable. This will lead more traffic to your eCommerce site.
Check BuzzSumo to see the types of content and titles that perform well. If you've run out of ideas, head over to Answer the Public to see actual questions and search queries that consumers use.
Here's an example with 28 consumer-generated questions around the topic of 'best blenders.'
4. Run a Giveaway
Promote your giveaway on social media to gain exposure and for the contest to result in increased website traffic, host it on your site. To eliminate fake email addresses, tell contestants that you will notify the winner by email. Encourage people to earn extra entries by sharing the contest with friends. You can give away a high-value product that you sell or store credit.
Another option is to do what Coconut Bowls did and give away a prize that isn't their product, but is still something their audience wants – a Vitamix.
5. Launch a Referral Program
67% of people are more likely to purchase a product if someone they know shared it on social media or email.
Since 88% of people want a reward when they share a referral code, the best approach is a 'give-get' strategy. Incentivize consumers through a referral program by providing them and their friends with a discount code or percentage off their next purchase.
Uniqlo does this perfectly with a clear offer and the ability to share the promotion across multiple channels with one-click.
6. Link to Your eCommerce Site From Your Social Bios
Every social media platform offers an opportunity for you to drive traffic to your eCommerce store. You can add your store's URL to your profile's bio section, but there's a one link limit.
To get around that and share multiple links at once, use a tool such as LinkTree. Include links to your homepage, product pages, blog, special offers, YouTube videos, and more to drive traffic directly to those pages.
Here's Birchbox's LinkTree:
7. Add an Instagram Gallery
Embedding an Instagram gallery on your website allows you to seamlessly integrate your brand and social media presence.
Site visitors will likely make more purchases, particularly if your Instagram feed features user-generated content (UGC). UGC adds a layer of social proof, showing potential buyers how others are using your products in an authentic way.
Bath and Body Works displays its colorful Instagram feed that perfectly blends products, UGC, and engagement posts.
8. Optimize Product Pictures for Google Images
Google now shows images at the top of search results, and over 70% of people look for images before making a purchase.
Use high-quality product images and optimize the file name and alt-image description to increase your chances of your image appearing first. This boosts site traffic, because when users click on your picture they are redirected to your product page and ready to buy.
Here's an example of the search results for 'gray booties.' Images trump the results of some of the biggest brands, allowing you to compete for top-end real estate in search without spending any money.
9. Ask Customers for Reviews
Big Commerce reports that 91% of consumers read reviews, and customers spend 31% more money with businesses that have exceptional reviews. Positive reviews also provide much-needed social proof and increase your SEO, translating to more traffic for your store.
Increase your chances of getting reviews by making the process irresistibly easy and offer a small thank you in the form of a gift card or discount on the next purchase.
Society6 offers the ability to do the entire product review without navigating away from the email and includes two different review styles.
10. Optimize Your Store for Search Engines (SEO)
Almost 50% of consumers begin their product hunt on search engines. By optimizing every aspect of your site for search, you'll increase your organic ranking and recieve more high-quality traffic.
Focusing all of your efforts on highly competitive keywords is a waste, however, because you won't beat big brands. Instead, try to rank for products and category pages through lower competition keywords that closely reflect how consumers search.
Add keywords to your meta tags, file names, and blog content too. Use local SEO tactics if your consumers are in your area and technical SEO, so search engines can easily crawl your website.
11. Use the 80/20 Rule To Focus on Top Conversion Sources
The Pareto principle dictates that 80% of sales come from 20% of visitors, products, or marketing channels.
Use data to identify the channels, products, product categories, and landing pages that produce the most sales and invest your time and effort there. Then follow the same process by determining which keywords, campaigns, blog posts, and discount codes bring the most traffic.
12. Optimize Your Online Store for Mobile
In 2021, 72.9% of all retail eCommerce will come from mobile, but having a mobile site isn't enough. You must optimize it from both a technical and a user perspective.
Increasing page speed by just one second can lead to 7% more conversions. Reduce the load time by using a fast-hosting service, limiting pop-ups, compressing images, removing broken links, and reducing redirects.
Provide a great user experience by prioritizing a simple navigation menu and having a prominent search bar. Include high-quality visuals that visitors can zoom in on and add mobile-friendly videos. Use large buttons, minimize forms and allow autofill where possible. Give customers the option to use PayPal or Google Wallet to simplify the checkout process too.
Macy's does a great job of optimizing its menu for mobile.
13. Use Affiliate Marketing
You can dramatically increase eCommerce traffic through affiliate marketing. This lets others promote your products in exchange for a commission based on the traffic they send to your site.
Affiliate marketing is a top acquisition channel, because it exposes your products and brand to a greater audience. Sign up with an affiliate-marketing program, such as CJ Affiliate.
14. Run Native Advertising Campaigns
If you are going to invest in paid campaigns, native advertising is the way to go because 70% of consumers prefer to learn about products through content, rather than traditional display ads.
A native ad platform, such as Taboola, places your campaigns on top publisher sites so that consumers easily discover them, resulting in more traffic to your site. Video ads outperform static campaigns, so leverage the video content you have in campaigns.
Here's how your native campaign might look: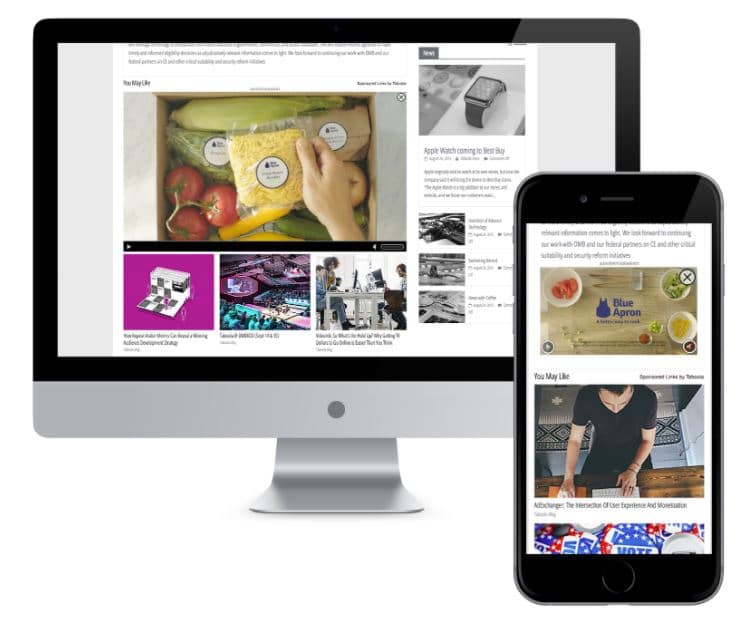 Conclusion
Billions of consumers are waiting to discover your business, but you must get your brand and products in front of them. If you are in the fashion or beauty industry you have your work cut out for you, as they remain two of the most competitive niches, but nothing is impossible.
I've given you all the tools you need to create an eCommerce strategy that will deliver in spades. Apply the tactics creatively and you'll build an eCommerce lead generation machine overflowing with new users ready to make purchases.