Content marketing comes in many forms—from blogs, to podcasts, to e-books, to one particularly interesting content marketing form: video.
Often thought of as a hard-to-master content type, video content holds the key to engage your audience in new ways and achieve a variety of marketing goals.
The best part? It's not nearly as hard to get into as you might think it is.
See also: Taboola Native Advertising
Today, I'll lay out a comprehensive guide to building (or perfecting) your video content marketing strategy, in the hopes that you'll walk away feeling like you can confidently create and share video content no matter your resources or experience level.
See also: How to Build an Effective Content Marketing Strategy
Let's get into it.
Why is Video Important in Content Marketing?
Video is important in content marketing because it's an engaging, interesting content format that's easy for consumers to take in, especially as attention spans dwindle and people are consistently on-the-go. Video also finds itself as an equalizer among both marketers and consumers. There's a low barrier of entry to both produce and consume video, and it has the potential to yield tangible success for marketers who venture into it.
Video is the Future of Content Marketing
It's become apparent over recent years that consumers are coming to expect videos from brands, and video content can actually sway purchasing decisions.
Consumers are always asking for more of the companies they choose to do business with, and the ask for video makes clear sense. People have become quite accustomed to having videos as a part of their online experience (just think about how many videos you consume on your social media scrolls or your time spent consuming news), and their expectations are no different when it comes to the companies they support, interact with, or choose to purchase from.
Here are just a few more reasons why video is such an essential content marketing format, according to a 2020 report from Wyzowl:
85% of businesses use video as a marketing tool
92% of marketers who use video cite it as an important part of their marketing strategy
80% of video marketers report that video has directly helped increase their sales
89% of video marketers feel that video gives them a good return on their investment
The list goes on and on, but suffice to say—video is a content marketing format you don't want to be missing out on.
What is Video Content Marketing?
The very definition of video content marketing is (obviously) creating video-based content with marketing in mind, and then distributing that content via paid or organic channels—but there's more to it than meets the eye.
Video content marketing is often thought of as only a brand awareness tool, and it's understandable why people would think that. Video certainly is an effective way to raise brand awareness, but it has significance further down the funnel, too.
Video content has come a long way from its humble brand awareness beginnings, and with some creativity, you can leverage video to reach pretty much any marketing KPI. With the Taboola Video Studio, for example, advertisers can overlay CTAs directly onto their video content, making clicks, leads, and even purchases a very attainable goal for the content.
Simply put, video content marketing is using the awesome video content you create to push you towards any (and all) marketing objectives.
Decide Which Type of Video Content You Want to Market
You've decided to venture into the world of video, which is great! Now, it's time to decide which type of video, exactly, you want to create for marketing purposes. There are 14 basic types of videos you can create.
1. Demo Video
Demo videos are a great option for—no surprise here—companies who have something to demo. Maybe it's a demo video on how to use your app, or how to set up the newest model of your best-selling coffee maker. Here's a beautifully designed one from Hootsuite:
Hootsuite put together this piece of content to explain the dashboard feature to new customers, making this piece of content serve double (even triple) duty. It's a strong piece of content for the brand, it eliminates a barrier of entry to new customers, and it may even help with retention as it allows customers to get more out of their product.
2. Brand Videos
Brand videos present an interesting opportunity to raise awareness and show off your personality and voice.
One brand video that immediately comes to mind here is Gillette's "The Best Men Can Be" video. It takes a clear stance to demonstrate Gillette's position on social responsibility, and it serves as a clear "brand moment" for them to foster a larger discussion.
Of course, not all brand videos have to hit this emotional magnitude, but it's an interesting example to consider if you would also like to share your brand's viewpoints or stance on what is happening in the surrounding world.
3. Event Videos
Event videos, needless to say, require you to have an event around which to center your video content. But, as we're seeing more and more these days, events don't only happen IRL, and the definition of what an "event" is has changed, too.But, for the sake of example, we'll stick with one of my favorites from Lean Cuisine that captures a powerful installation they created at New York's Grand Central.
What I love about this video is that it perfectly captures the heart of the event they hosted and showcases the creativity behind what they did. You put a ton of work into the events you create—make sure your event videos truly capture that power.
4. Expert Interviews
If you're looking to build some authority, expert interview videos are the way to go. No matter your industry, finding experts willing to talk to you on video may be easier than you think (look internally at your own team, first!) and putting some time into videos like these can boost your credibility.Peloton lately has been doing a play on this video type on their social channels, running super short interviews with their team of expert trainers on a variety of topics.
Leveraging their trainers to answer questions they may often see coming up from their customers ensures that any advice they're offering is expert-approved.
Plus, this example proves you don't have to create highly produced videos to be effective, and as I mentioned above, some of the best experts you can find might already be on your team.
5. How-To Videos
This video type is a home run if your product or service requires a bit of explaining. How-to videos are often thought of as dry and boring, but companies are out here every day disproving that and finding creative ways to explain themselves.
For this example, I'll turn to Stitch Fix, who's got their how-to down to an efficient and well-thought-out 30-second video.
Putting something like this together for your product or service helps answer potential customers' questions before they have to reach out and ask you, and can help make the transition into purchasing easier.
6. Explainer Videos
This video type is pretty straightforward—you have something to explain, and sure you could do it in a blog post or another static text-based format, but wouldn't a video be more interesting? Definitely.Take Venmo, for example. This clean, simple minute-long video explains their product perfectly. It's easy to watch, easy to understand, and works really well in video format.
If you have something complex to explain, putting it into video format makes it easier to consume.
7. Animated Videos
Don't skip this one if it doesn't feel like it's for you! Animation can be a really fun way to bring your product or service to life in video.
One of my favorite animation examples comes from Duolingo. Their animation style is consistent through everything they do, but they just recently released this fun animated campaign around making every day count.
8. Customer Testimonial Videos
You have a whole team of brand evangelists on your side, so why not mobilize them for a really strong video testimonial? Written testimonials are great, but video gives them an added boost and an even more real feeling.
This video from Slack is a particularly creative one, because it actually starts at the very beginning of a customer journey that may feel very familiar to a lot of companies—skepticism!
This customer testimonial proves that they don't have to be simple and straightforward. They can be funny, honest, and interesting if you get a little creative with them.
9. Live Videos
Live videos are a great opportunity to connect with your audience. Plus, they can't be too highly produced so you don't have to sweat perfection. Facegym makes use of live video by doing daily 1pm master classes live on their Instagram. They build hype getting people to tune in, and stay on a consistent posting cadence so their audience knows what to expect and when.
10. 360° & Virtual Reality Videos
Nothing brings videos to life quite like virtual reality. And no one nails virtual reality quite like Mercedes-Benz.
In this video, viewers have the ability to get a 360° view by moving the vantage point around. Creating something like this is incredibly engaging and different than what others in your space may be putting out.
11. Augmented Reality Videos
Similar to its virtual reality counterpart, augmented reality is another great way to differentiate yourself and be engaging. ASOS makes use of augmented reality by allowing consumers to get a whole new view of clothing.
Virtual Catwalk on ASOS… 👀 pic.twitter.com/bWCGNqcAHk

— ASOS (@ASOS) June 13, 2019
Augmented reality works great for clothing, accessory, and beauty brands, but its use cases are limitless and leave a lot of room for creativity and innovative thinking.
12. Personalized Messages
Let us not forget when Nike created 100,000 personalized videos for Nike+ users. Personalized messages are a nice touch to let your audience know that you care about them. Plus, they tend to feel shareable, as they're custom & directly about the person consuming them.
13. Docuseries
Creating a docuseries may sound intimidating, but there's no one perfect way to do it, and a docuseries can range from a series of short, funny videos all the way to something more lengthy and produced.
Cody Hudson & The Art of the Side Hustle from Vans is an awesome example of this. The documentary is broken up into two parts (each six minutes or less), and tells an impactful story in a unique way.
Creating a documentary or docuseries that you feel is relevant for your audience is a great way to think outside the box and end up with a strong piece of content.
14. Unboxing Videos
This video format, needless to say, requires something to unbox, but you can definitely think outside of the box (sorry, had to) and get creative with this one too.
Subscription service FabFitFun has become almost synonymous with unboxing videos, and are a great example to turn to to try and brainstorm how to make products fun and interesting for someone to open up on camera.
How to Make a Video for Your Business
1. Create the VideoCome up With a Plan or Script
If your video is going to be scripted, this one is a no-brainer. But, if you're going the unscripted route, an outline may be more your jam. In either case, it's essential to come at your video with some degree of planning.If it's your first time writing a video script, spend a little time learning the craft. If it's your millionth time, try to find different ways to approach the task so it feels fresh and interesting.Try separating your outline by audio and visual components, like in this example from Inbound Video Marketing:
(Source: Inbound Video Marketing)
Shoot the Video
Once you have a fully-fleshed outline created, the next step is to film your video. This can be done with a video camera, or even a smartphone, as is becoming increasingly popular these days.
As you film, be cognizant of the quality of your lighting and audio, and keep a close eye on some of the framing techniques that tend to yield the best videos.
(Source: Visme)
2. Edit the Video
Once your video is planned and filmed, there's often more work to be done in post-production.
There are a ton of video editing software and platforms you can make use of here, that range from free apps on a smartphone to more advanced computer software. It's all about finding the tool that makes the most sense with your budget, goals, and the level of production you want the video to have.
If you're making your first foray into the video editing game, stop by a few solid resources first and pick up as many tips and tricks as you can.
3. Upload the Video
Once you're happy with the way your video is edited, it's time to get it uploaded.
Video hosting platforms are places online where your video can live and be linked out to. Finding the right one for your video all comes down to what you're planning on using the video for, the metrics you're hoping to measure, and your budget.
1. YouTube
YouTube is probably the most obvious video hosting platform, boasting ease of use and no charge as just a few of its benefits.
In the average month, 8 out of 10 18-49 years olds consume video content on YouTube, making its appeal pretty obvious. It has the reach a lot of brands are hoping for, especially with brand a goals in mind.
2. Vimeo
Vimeo allows for an extra layer of protection for video consumption, in the form of a paywall or a password requirement.
Vimeo has a free plan along with paid plans that range in price depending on the gigabytes of video stored.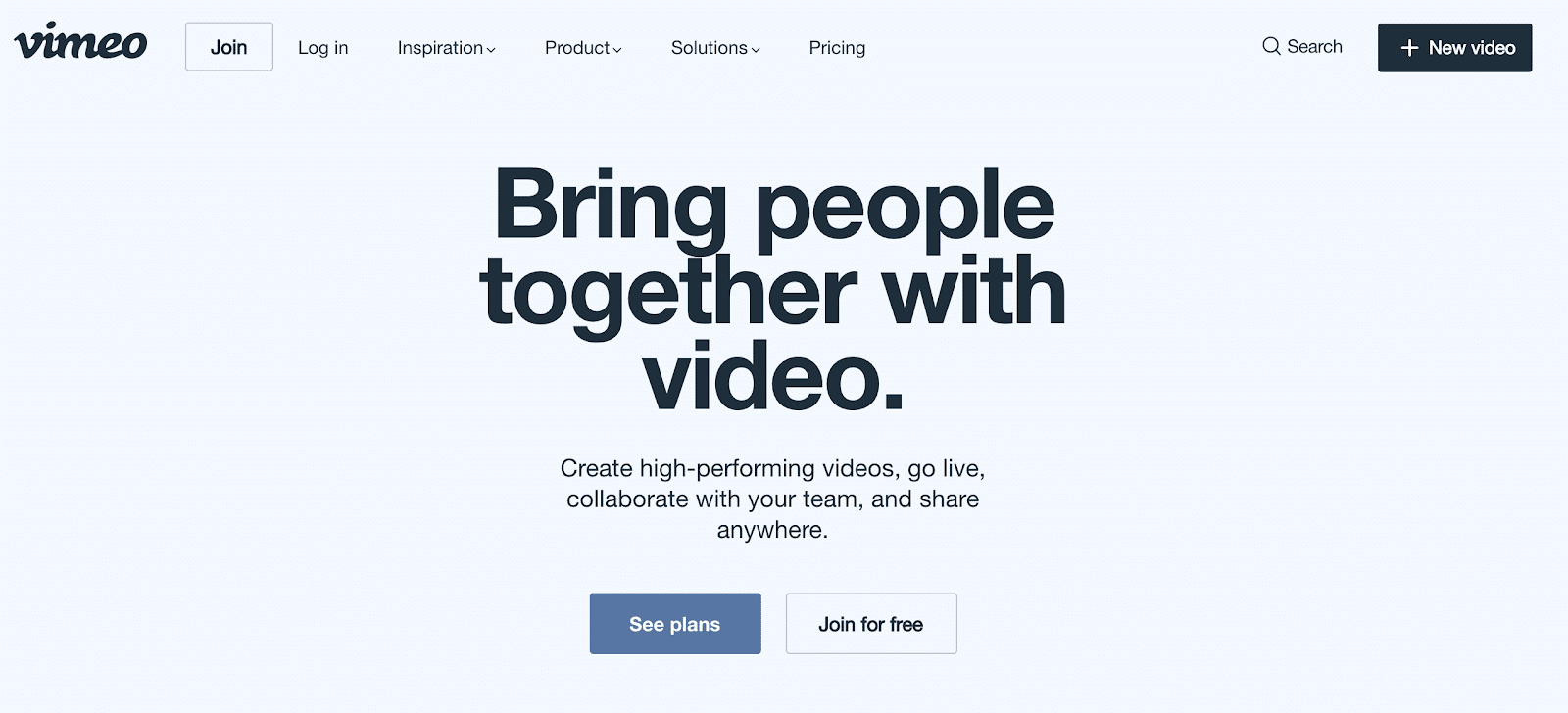 For the more technical-minded video creator or the more exclusive, Vimeo may be the right option.
3. Vidyard
Vidyard really shines for companies looking to put together personalized video content. It's the only platform of its kind with a Salesforce integration, giving it a unique competitive advantage.
Vidyard also has tiered payment options depending on your particular needs around customization and analytics.
4. JW Player
JW Player is positioned as a unique video hosting option for several reasons.
The first is that it's awesome for brands who utilize live streaming––you can host your video on JW Player while simultaneously broadcasting it on Facebook Live.

It also offers robust audience analytics, fast download speeds, and more with tiered pricing options depending on business size and needs.
5. Brightcove
Brightcove differentiates itself in the level of control it offers with its video hosting capabilities.
You can use Brightcove to deliver a straightforward video experience, or a more bespoke one depending on your particular goals and needs.

When it comes time to distribute the hard work you've created and determine which video content marketing platform to go with, companies often look to social media among one of their methods for natively advertising video content video content.
We mentioned YouTube above, but let's dive into how video works on some other popular social media platforms.
6. Twitter
With Twitter, there are four main ways to share video content. The first is recording video directly in Twitter, the second is importing videos, the third is uploading videos, and the last is to go live on Twitter.

(Source)
7. Facebook
Facebook has become known for its video options over the years, ranging from recording or uploading videos, to going live on the platform, all the way to Facebook Watch, Facebook's video-on-demand offering.

(Source)
8. Instagram
On Instagram, there are also a few ways to create video content. It can be recorded directly on the platform for a feed or story, uploaded or recorded for Instagram TV, or you can go live on the story portion of the platform.

(Source)
9. LinkedIn
On LinkedIn, videos can be embedded from the aforementioned video hosting platforms, recorded or uploaded natively into the platform, or can come in the form of video advertisements. LinkedIn does not currently have the option to go live on video, or an in-platform video-on-demand service.
(Source)
Measure the Video Content Marketing Metrics
Much like all forms of content marketing, video content statistics can work for goals from the top of the funnel all the way to the bottom.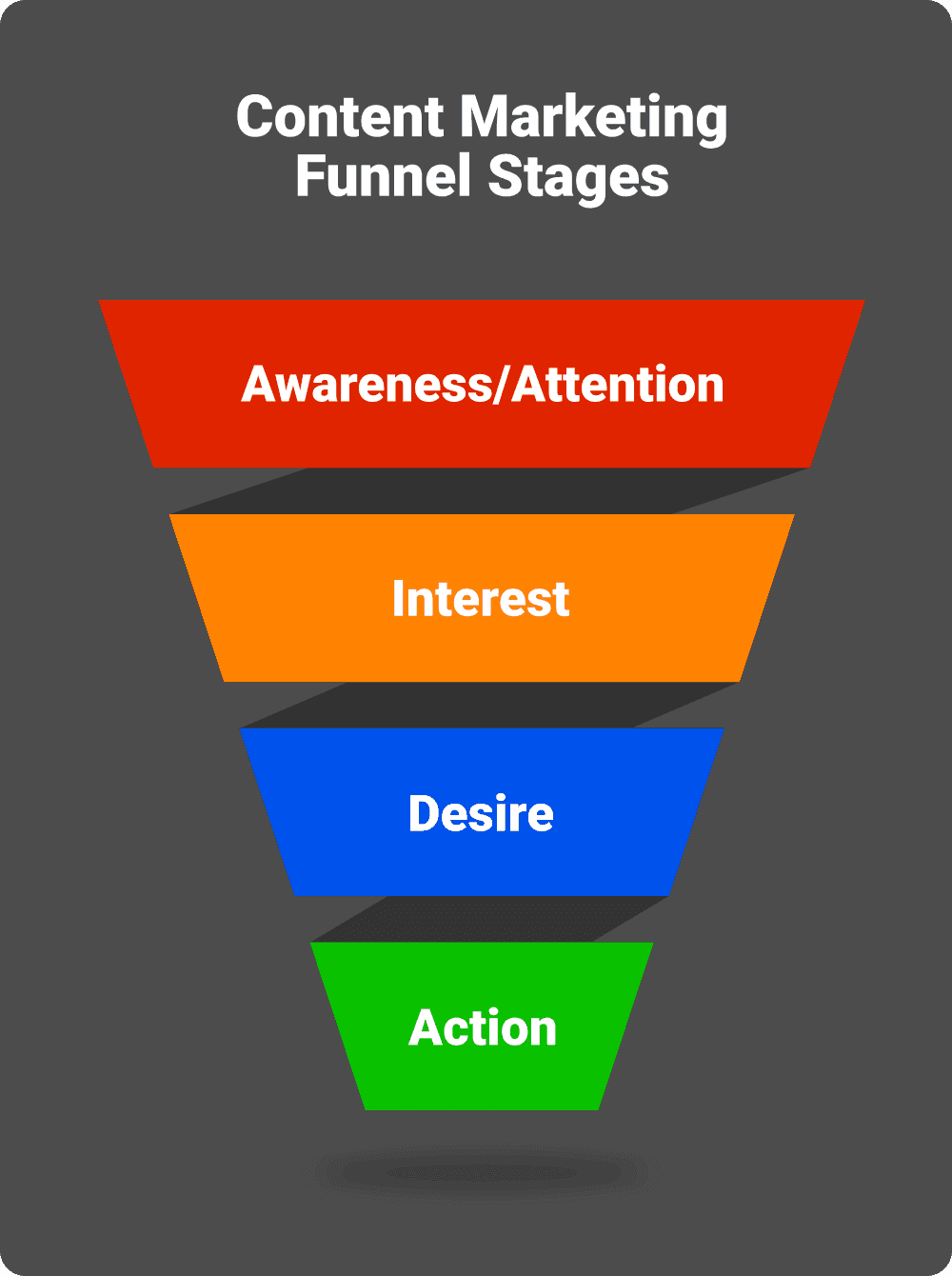 (Source)
At the top of the funnel, where you're trying to raise awareness around your brand, video is an excellent tool to tell your story, establish your voice and values, and reach people in an engaging way.
As you move further down the funnel, the flexibility of video gives you countless ways to generate leads, drive downloads or sign-ups, and increase purchases.
When we worked with Adidas to create video content on Taboola, they came in with a brand awareness goal in mind, but thanks to creative video features like hot spots (actionable CTAs overlaid directly onto the videos), they were able to drive sales, too.
The same is true with American Comfort. Expecting brand awareness results (and achieving them), they were pleasantly surprised to find that their video campaign uplifted interest and sales, too.
All of this is to say that not only is video applicable all down the funnel, but it can actually sometimes reach multi-funnel goals at one time, giving it more bang for your marketing buck.
Video Content Marketing Tips
If you want to venture into video content marketing successfully, it's important to follow some essential content marketing tips and best practices.
1. Be Consistent
If you're about to put time and effort into creating video content, it's so important to establish some sense of schedule and consistency, so that your audience can understand what to expect from you.
Organize your video plan the way you would a standard social or editorial calendar, and clearly mark where and when you plan on posting your videos, as well as the specific goals/objectives of each video.
(Source)
2. Be Authentic
Video presents a unique opportunity to tell your brand's story or showcase what makes your brand unique. Especially today, as people have become more accustomed to authenticity (even demanding it), considering how to be as authentic as possible in video content is crucial.
3. Consider Quality
This tip is tricky, because it's all about striking a balance and remaining true to the channels you choose to distribute on. You don't want your social media videos to look overly polished, but you wouldn't want a docuseries to look sloppy or haphazardly produced.
Consider the channel at hand, and ensure that you have all of the tools you need to produce a high quality video that feels native to the channel, medium, and goal.
4. Call to Action
Once you have an idea of what you'd like your video to achieve, don't miss out on results by failing to properly call out the action you want people to take.
This can come in the form of on-video features like the aforementioned ones we used with Adidas and American Comfort, or you can use the surrounding contextual areas to help people take the action you're hoping for.
You can call these CTAs out in the video itself (let people know that the link to purchase is in your bio, for example), or make use of something like Instagram's swipe-up feature to make it even easier to take action.
5. Always Measure Success
In the same vein as being clear about your goals, measuring the success of those objectives is just as important.
If your goal was to drive sales, but you ended up driving awareness, take a step back. Are you okay with that outcome? If so, should you switch your strategy to target brand awareness even more next time? If not, what could you do differently to better drive sales as you had intended?
Video is a learning process, so don't be disappointed if it doesn't go exactly as planned the first time around. Understand which videos lead to which actions, identify patterns and learnings, and continue to iterate as you go.
How do You Create an Effective Marketing Video?
Creating an effective marketing video really comes down to an amalgamation of everything I mentioned above.
Establishing a strong strategy is the foundation of every effective video marketing campaign. With a strategy in place, it's time to decide which type of video to create, how to shoot the video, where to host it, and how to distribute it.
If this all sounds intimidating, it doesn't have to be. Perhaps the best way of all to really break it down is to highlight some of the very best content marketing examples.
Best Video Content Marketing Ideas and Examples
I've highlighted some examples throughout this post, but now I'll get more into a few standout ones.
1. American Express
American Express regularly does a great job creating video content that feels both high quality and relatable, but this is especially the case in their latest "Small Is" campaign.
American Express has championed small businesses for a long time, and they put a lot of care and thought into the videos they create around this important topic for their brand.
2. Calm
If you watch cable, you've probably seen some of Calm's video work, but one video that stood out to me particularly was the work they did with LeBron James.
Granted, with a star like LeBron, it's kind of hard to go wrong, but this video does such a great job remaining true to Calm's brand identity while making it really tempting to try their product. Working with someone brand-aligned and influential in any way can make for really impactful video content.
3. Allbirds
This product video for Allbirds' Dasher shoe, titled "Run Hard, Tread Light" is hard to ignore when thinking about great video content.
So perfectly aligned with their core messaging of sustainability, this video transports and captivates the viewer with strong imagery, a great voiceover, and a clear understanding of the benefits of the product.
4. Policygenius
If we want to talk about customer testimonial videos, we have to mention Policygenius.
Composed in an on-brand and aesthetically pleasing way, this video strikes the balance I keep talking about between feeling produced but still feeling authentic.
5. Ritual
Let's get into some creative ways to do the expert video now with Ritual. They've been hosting video panels on a wide variety of topics and winding up with smart pieces of long-form content that feel relevant to their customer base.
Something like this can be done as simply as recording a Zoom call, so the barrier of entry to create something like this is relatively low. It doesn't have to be overly produced to be effective.
6. Sprout Social
It's not surprising that Sprout Social creates great video content, but I'm regularly in awe of what they put out, especially their "Always On" series.
I know I keep circling back to the balance between overly produced and authenticity, but this example really nails it. The production quality is clear, but there's such an evident emphasis placed on telling real stories in a real way that makes these testimonials feel undoubtedly genuine.
7. Justworks
Sometimes the best way to connect with humans is just…to be human. Justworks has been doing this excellently, especially as of late, by highlighting how their own employees have managed living in quarantine.
I've said it once and I'll say it again: the best video subjects you'll ever be able to find might be right on your team. Don't overlook them and don't underestimate how impactful it can be to turn the video inwards on the people who make your product or service possible.
Lights, Camera, Action
We covered a lot of ground here today (which is why I recommend giving this a bookmark!), but you should be well on your way to confidently creating videos that work.
Brushing up on best practices, tips, and examples is never a bad idea no matter where you're at in the video marketing process. I hope you walk away feeling like video content creation is nowhere near as difficult as you had thought, and that it's not as limited on the funnel, either.
I can't wait to tune in and see what you create.