Mortgage professionals or 'loan officers' must do mortgage lead generation, which is of course, generating leads, or interest from people looking for a mortgage. This is obvious, but far from easy to master. The mortgage business is as competitive as any. This makes mortgage lead generation a sustenance of your business and the key to your perpetual success.
Like nearly every business model, cling to older ways of generating leads and you lose out on opportunities to those that have mastered modern approaches, most notably online marketing. So, you might ask yourself, "How do I generate leads?"
This is not to say you must purge yourself from cold calling, partnership-building efforts, direct mail and other forms of old-fashioned marketing, but in the interest of getting discovered by younger generations that live online, you must learn how to embellish your mortgage lead generating programs with approaches that bring potential customers to you —instead of the other way around.
Here, we explore tactics and ideas about how to produce mortgage broker leads online and off.
38 Case Studies From Brands That Have Succeeded With Taboola
What are Mortgage Leads?
Mortgage leads are people who are interested in learning more about taking out a mortgage. Having a consistent flow of mortgage leads is essential for every mortgage professional in order to keep a healthy pipeline and, ultimately, run a successful mortgage business.
How to Generate Mortgage Leads
1. Content is key to generating mortgage leads
Your website becomes a quality lead generator when you establish yourself as an authority in the mortgage business. Your first goal is to drive traffic to your site. Your second is to build trust with first-time visitors. Your third is to make offers that inspire visitors to provide their contact information.
Great content is key to all three of these.
Written content is the first and most obvious frontier to tackle — and you'll likely do so with a blog. Publish the answers to commonly asked questions about the mortgage industry, trends, and the local market.
Many of your prospects, however, are likely to gravitate toward content that's faster and easier to consume, so consider putting some effort into creating:
Video

Images

Infographics

Checklists

Customer profiles

Newsletters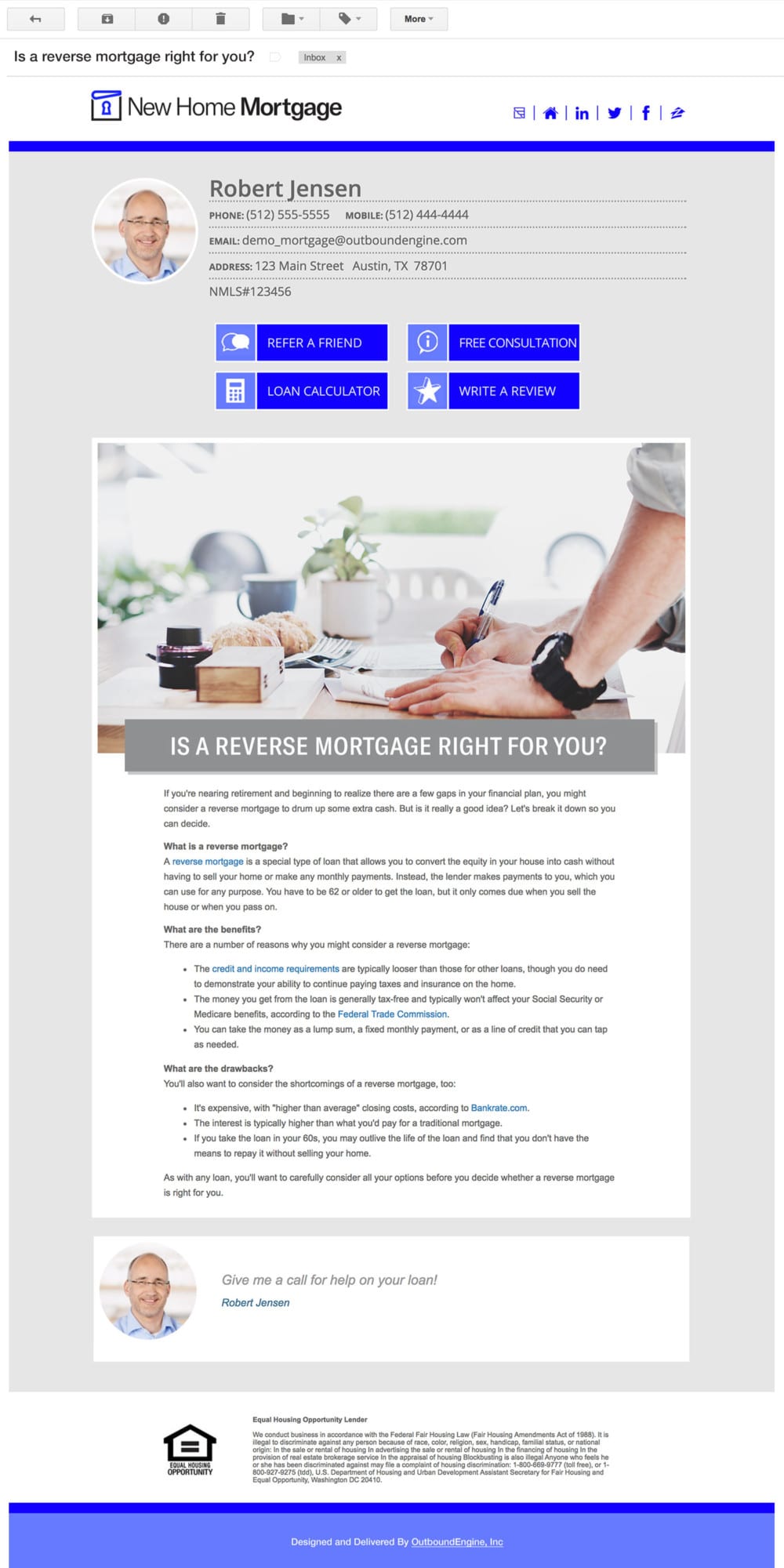 Here's an example of a tidy e-newsletter template borrowed from a page from Matt Cotton & Associates website.
2. The riches are in the niches
However cliché this headline, it rings true in highly competitive industries. Do you have a specialty? If so, showcase it. If you don't, consider investing time and effort into developing one. Perhaps:
You have expertise in a specific loan program.

You focus on a specific type of real estate or borrower.

You have credible stories you can tell about niches in your business.

You are more informative, educational or even entertaining than your competitors.
3. Get social
Your content is your ticket to making meaningful contributions to online conversations, a.k.a. social media. Share your content regularly and creatively. Consider the following:
Publish short videos on YouTube and share them on other networks.

Offer advice via Facebook and Twitter with links to your content.

Build a community of followers on Facebook.

Post photos of clients at closings.

If you specialize in commercial lending, build a community of followers on LinkedIn.

Create groups on Facebook and/or LinkedIn.

Forge relationships for potential new partnerships on LinkedIn.

If you create visual content, share it on Instagram and Pinterest.
This mortgage company wisely showcases 'the client closing' with its Facebook posts. (Source: Luminary Agent)
4. Work potential local listings
List your business on relevant local directories and ensure that your profiles are accurate and up-to-date.
Establish a free Google My Business account. This should:
Help your business appear in local search results.

Show your business listing in Google Maps

Enable you to collect reviews that build credibility
Chances are, if you do what I did, search for 'refinancing home loan San Jose, CA,' you will look into the prospect of doing business with one of the companies showcased in this Google My Business and Google Maps display.
5. Take reviews seriously
I mentioned reviews. They're gold. Positive reviews help win the battle for attention in search results and credibility on review-centric services such as Yelp.
Think about your own buying habits, you probably look to reviews to help you decide everything from what to watch, wear, drive, listen to and read, to where to dine, travel, and shop, and of course, which service professionals deserve your business.
After a successful closing, ask your satisfied customers to write a review. Make it easy by sending them the link they'll need. Also, say thanks in one way or another — with a notice, gift or incentive.
GoPrime Mortgage presents the reviews it collects on several pages of its website.
6. Advertise
Advertise your lending services online with programs such as:
Pay-per-click (PPC) on search engines

Social media advertising/sponsored posts

Native advertising

on discovery platforms
Check out how AIG used discovery to generate interest in their mortgage insurance offering.
Online banners on relevant websites

Retargeting ads

Web classifieds

Zillow advertising
Advertise offline with the following:
Local print magazines

Newspapers

Outdoor
7. Get published
Write an article and contribute it to local real estate magazines. And, you could also pursue this powerful lead generation approach via online publications — local, and beyond.
8. Send mailers
Create flyers and mailers to promote your strongest loan products, and potentially lending rates.
As you are probably aware, developing partnerships with real estate agents and builders in your area is likely the most reliable way to get mortgage leads. Here are some tips for working with realtors:
Identify realtors with many listings in local real estate magazines and by searching local realtor websites.

Visit real estate offices to introduce yourself and make an initial contact. Ask how you can help meet their needs and grow their business. Follow-up too.

Visit open houses to build a relationship with realtors. Ask permission to leave business cards and brochures there.
However powerful alliances with real estate agents are, the majority of realtors and builders are likely to already have preferred partners they trust in lending. So, it's important to diversify your referral sources, these may include:
Life insurance agents and financial planners

CPAs

Estate Planners

Divorce attorneys

Local banks or credit unions (that don't offer mortgage services)
Here are eight tips to increase mortgage referrals.
10. Network
In addition to creating affiliations with realtors and other types of professionals in your area, it is also fruitful to network in the community.
Join local organizations, such as a PTA, charity or cause. Volunteer and serve on committees.

Tap your personal network. Make a list of the people you know and reach out to them with a letter that explains your services.

Attend trade shows and/or setup a booth at shows and events.
Freedom Mortgage donates to the USO and its local chapter and raises awareness via social media. (Source: Luminary Agent)
11. Purchase leads
You can reach qualified candidates when they're actively shopping for a loan by purchasing new home mortgage and refinancing leads. Jay Conners, an experienced business development officer at Global Data Mining, offers these tips for buying mortgage leads:
Consider your budget – If you're on a tight budget, narrow your search to the lead companies that accept a lower minimum.

Get answers – Find out where the company gets their leads and watch out for those that recycle or resell them. Non-exclusive leads tend to sell three to five times. Be prepared to pay a higher price for exclusive leads.

Preview the leads – Reputable providers may allow you to view leads before you make a purchase. Some offer filters that allow you to qualify the kind of leads you want.

Look for a return policy – Your best bet is to work with a list provider with a liberal return policy. Learn more about what you're getting into by looking for reviews of the service.

Consider customer service – Be mindful of the way the company handles itself on the phone.
12. Tap into MLS listings
88% of buyers search for and view property listings online, according to RatePlug, providers of a leading mortgage marketing platform. Leverage Multiple Listing Service (MLS) real estate databases for mortgage lead generation to uncover potential leads and contact the sellers with information about your lending services.
Learn how an agency doubled leads for HomeEquity Bank Canada with Taboola.
Here are additional articles we've published on topics related to lead generation for professional services: