As a wealth manager, financial planner, Registered Investment Advisor, or any other type of financial advisor, the growth of your business depends on generating leads.
Our post, The Ultimate Guide to Lead Generation, is a great starter for learning more about how to generate leads. In this more specific post, we look at a sizable list of ways to increase financial planning lead generation.
How do Financial Services Advisors Get Leads?
1. Create a website and make it valuable
Your website is (1) where you generate leads; (2) where potential customers come to learn more about your services; (3) hopefully both of these. Create a clean site that is easy to navigate and informative.
2. Publish a blog
You don't just want website visitors; you want subscribers. That is, you want prospects to visit often. Make this happen by making your website a source of content prospects and customers find valuable by publishing a regular blog.
Your blog must provide visitors with the information they seek and get pages of your website to rank on search. And you must also share the content of your blog via social media and email.
Need ideas for blog topics? Look at what the top financial advisor blogs are doing.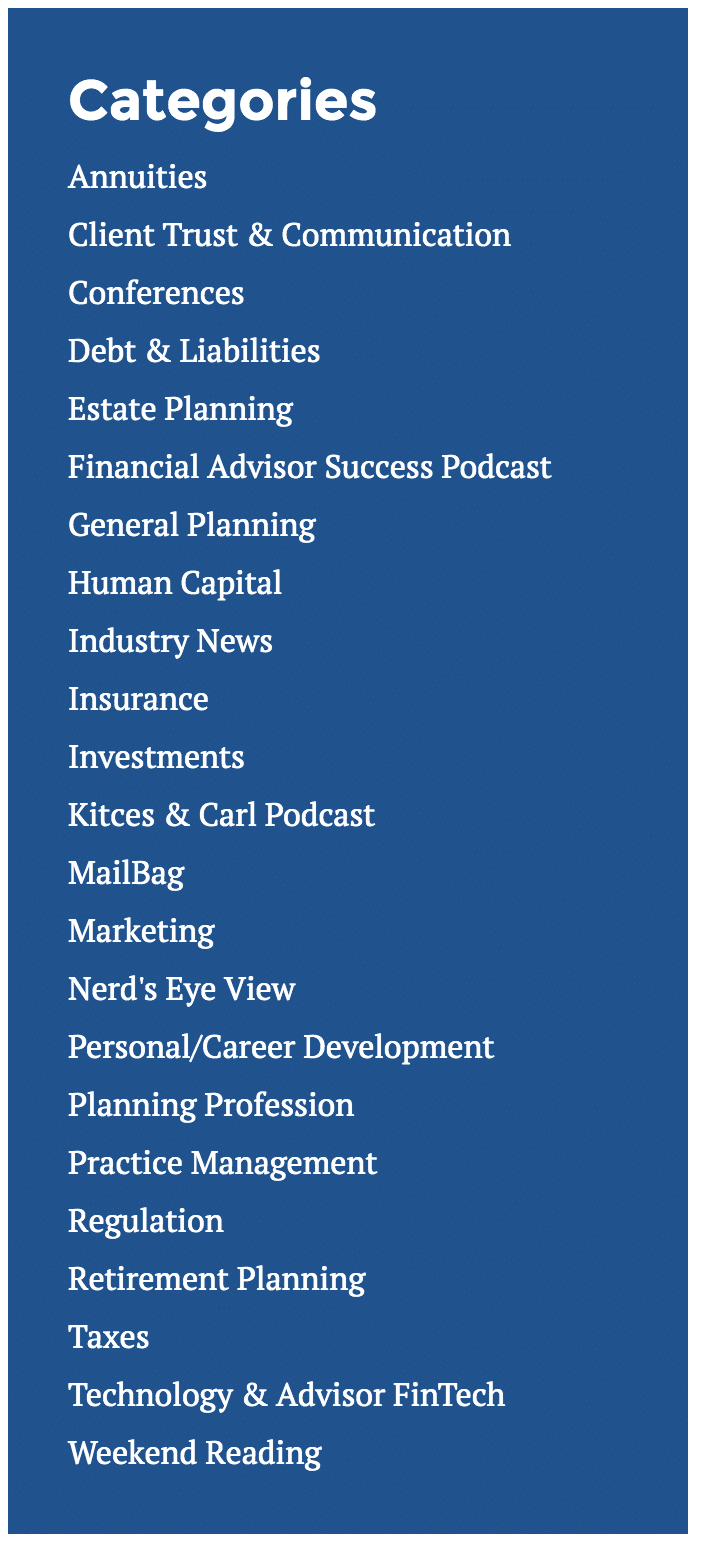 I found this list of blog post categories at Kitces.com, where Michael Kitces offers "Nerd's Eye View" for consumers and advisors.
3. Use your website to build an email list
Offer visitors to your website the opportunity to join your email list. Inspire people to volunteer their email addresses by offering content such as:
Newsletters

Helpful guides

Interactive tools such as calculators or assessments

Courses

Videos
All of the above are 'lead magnets.' Promote your lead magnets on your website with buttons, displays or pop-ups that invoke forms designed to capture email addresses, and potentially, additional content information.
Aces! A pop-up offers this lead magnet at MaudlineEconomics.com. Notice (1) getting the special report calls for entering only a name and email, and (2) the pop-up indicates those that opt-in receive a complimentary e-letter.
4. Follow up your leads
Following up offline involves calling. Do so if and when your lead provides a phone number and indicates interest. Otherwise, follow up via email. You can do this manually if time permits, however, you can scale your email follow up far more efficiently with marketing-automation software.
These processes, which marketers call 'lead nurturing,' include tips, news, offers, or content or messages designed to warm the relationship and move you closer to a live consultation.
5. Run online ads
Mastering advertising is a perennial exercise in experimenting and optimizing to increase ROI. The digital arena, however, makes lead generation for financial advisors via advertising a far more efficient process. Most programs qualify as 'pay-per-click.' This means you only pay when you get a click and you get analytic insights to help you get more bang for your buck as you iterate your campaigns.
Consider these digital advertising programs:
6. Social media ads
Facebook, LinkedIn, Twitter and YouTube are all viable channels. Identify your target market, research the media preferences of your best prospects, and give it a go. Your budget can start as low as $5 per day and you can increase your investment as your confidence grows and you become more accustomed to how much financial advisor leads cost on average. 
This ad appeared in my LinkedIn feed today. Running ads to promote free content is a proven strategy for lead generation for financial advisors.
7. Search advertising
The search engine marketing programs offered via Google Ads and Microsoft instantly position your financial services company atop page one of a search engine results page.
Essentially, these systems are auctions where bids determine placements. Clicks can get expensive though, so it's important to choose highly specific keywords and make smart-targeting decisions. Begin experimenting with search advertising for any amount of money, but if you plan to spend hundreds or thousands per month, consider enlisting the services of a PPC expert to improve conversion.
8. Discovery advertising
Discovery networks, such as Taboola, let you place native ads in the 'recommended stories' sections of large publishers and news sites. These can expose your financial services company to a massive audience, drive traffic to your website or landing page, and feed your sales funnel with new prospects. Costs are often lower than networks such as Google Ads.
If you're looking for lead generation examples, check out how AIG leveraged some recent marketing videos to drive interest in their mortgage insurance product.
38 Case Studies From Brands That Have Succeeded With Taboola
9. Build social proof
Everyone turns to online reviews for insights regarding purchases of any kind. Here's how to set yourself up to succeed:
Google MyBusiness and Yelp — Set-up pages for these specialty networks and be sure to provide complete information and keep them up-to-date.
Earn positive reviews — Frequently ask your clients to log into these networks and post positive (and genuine) reviews.
Feature social proof — Populate your website and social media profiles with customer testimonials, accreditations, accolades and anything else that helps to foster credibility and trust.
10. Local SEO
Your prospective clients aren't going to the Yellow Pages to find an advisor. They're going to Google. Employ local SEO best practices to have your website appear when people search for financial advisors.
Set up a Google My Business page, a free listing that connects to Google Maps. Optimize your descriptions with keywords.
The screenshot above was served when I entered a search for 'Highland Park, CO retirement planners.' Note the first listing is a paid listing, a Google Map ad. Two of the four advisors' citations that appear include reviews. Each includes a website link, indicating the advisor has created a Google MyBusiness page.
Your prospects are on social media. Meet them there.
LinkedIn — LinkedIn is the 'all business' social-media platform you should frequent. On LinkedIn, and with its services, you can make introductions, build a network, answer questions, elevate your reputation as a financial services expert, interact with your partners and prospects, solicit referrals, advertise, send messages, and more.
YouTube — Using video opens up another competitive opportunity for your advisory business. Start with a basic video focused on your value proposition, which you can embed on your homepage. Then, make short informational videos for your YouTube channel and other social media. Offer advice, tips, and tricks for your area of expertise.
Facebook — Use Facebook and other social media networks to share useful tips, updates, and curated content that your prospects will find valuable .
12. Create an online community
Social media makes it easier for you to create a community based on common interests. Create a Facebook group, for example, that provides educational financial resources in your area of expertise, a forum on your website, a YouTube channel, or even a podcast.
Here's a glimpse of the YouTube channel of CFA Joseph Hogue. Since starting his channel and community in 2015, Hogue has got 95K subscribers who have viewed his content more than 3.5 million times.
13. Work for referrals
Word-of-mouth advertising is — and always will be — the most powerful form of advertising.
Offer incentives to clients willing to refer you.

Ask those that subscribe to your email to forward your newsletters to friends.

Simply ask for referrals when speaking to clients.

Join 'lead-sharing' groups.
14. Teach
Conduct local seminars. Consider hosting lunches, dinners or happy hours.

Conduct educational workshops.
A section of the AllWorthFinancial site is dedicated to retirement workshops.
15. Become a community champion
Get involved in your community to meet more people and build goodwill. You might consider:
Sponsoring teams

Creating a presence at festivals

Sponsoring causes and charities

Volunteering to raise funds or awareness for a cause you believe in
16. Get published
If your clients are mostly local, try to contribute informative articles to local newspapers, magazines and websites. If clients come to you from outside your area, seek opportunities to contribute guest posts to websites and blogs that focus on finance or include sections where financial advice fits in.
More advice
In researching this post, I came upon the free ebook, 57 Marketing Tips for Financial Advisors, by James Pollard, a.k.a TheAdvisorCoach. To wrap this post up, I'll share with you quick glimpses of some of his ideas, which this post has yet to touch on:
Contact your clients once a month. This is obviously more of a retention tip than lead gen, but the more clients you retain, the less leads you need to generate.

Send out birthday cards. Old school smarts.

Send out thank you letters. Ditto.

Get your clients to complain. You'll need to read the eBook to understand this one.

Have responses to objections. Pollard claims they'll be the same 99% of the time. Get your answers prepared and ready to go.

Read your local newspaper to find movers and shakers in your area. Congratulate them. They'll like that. It'll help build relationships.

Make more friends. Yes, I touched on referrals earlier, but in your business it pays to network more than any magic media trick.
We're covering lead generation for other professional services too. Check out our advice for: