Thanksgiving isn't just about turkey, family, and football — though those are important. It's also now the third-biggest online shopping holiday, according to eMarketer. In fact, Thanksgiving sales have seen a 28% year-over-year growth rate, reaching $3.7 billion in 2018. This year, eMarketer expects holiday sales to reach $1 trillion for the first time, with Thanksgiving retail playing a major part in that.
That's why marketers need to be smarter than ever about how they build their digital Thanksgiving campaigns. To help, we pulled data from food-related ads over a 30-day period. We also looked at image, headline, and video data from Taboola Trends to find out which creatives perform best in the food category.
As a result, we landed on pockets of opportunity where marketers can make the biggest impact. That is, places where there is low supply but high demand for certain types of food-related content.
Here's what we found to fuel your Thanksgiving campaign planning.
Thanksgiving marketing opportunity #1: Create video content
The numbers don't lie. According to our data, consumers of food-related content are hungry for video, but marketers are still pumping a lot of money into text-based ads.
Advertisers should take this opportunity to release video creative, such as Thanksgiving recipes, party-planning guides, or gift hauls.
Food Network, for example, partnered with Taboola to grow their UK audience by promoting food-related videos across the web. As a result, Food Network UK saw a 160% increasing in video views, 10% increase in page visits, and 23% decrease in bounce rate.
Thanksgiving marketing opportunity #2: Launch ads on tablet and mobile
Emarketer attributes the growth in Thanksgiving shopping to one major tool: the mobile device.
"In the days before smartphones, US shoppers were perhaps less inclined to scurry away from family members to start shopping on their home computers," Andrew Lipsman writes. "But smartphones are now with people at the dinner table, on their couches after stuffing themselves, and in-store for those who manage to peel themselves away from their TV screens."
Taboola's data supports these insights. According to our findings, marketers have the biggest opportunity to launch Thanksgiving ads on tablet and mobile, where there is high demand but low supply compared to desktop.
Thanksgiving marketing opportunity #3: Embrace the beginning of the week
Marketers might be tempted to reach Thanksgiving consumers over the weekend, when they're away from their desks. But if advertisers only launch ads for the Thursday-Saturday crowd, they'll be missing a huge opportunity to reach consumers on high-demand days: Sunday, Monday, Tuesday, and Wednesday.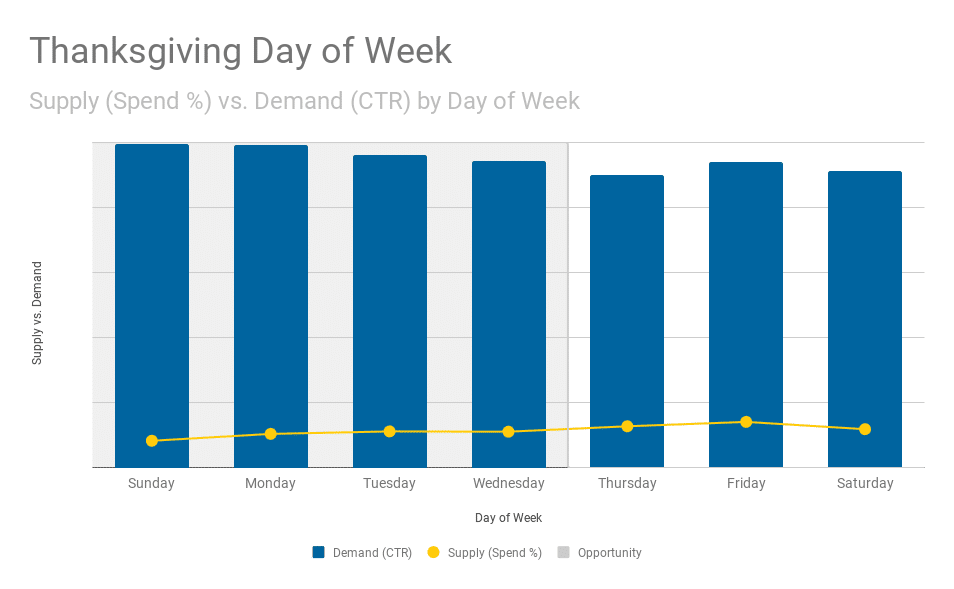 Think about it. On these days, consumers are likely planning their weekend parties, researching gifts, and building those menus for feeding family and friends. Marketers would be wise to reach these shoppers in the beginning of the week, as they're getting into the holiday spirit.
Thanksgiving marketing opportunity #4: Use images without text and people
That's right. If you're launching food-related content, keep the focus on, well…food. Our data finds that images without text generate a 154% higher CTR than those with text and images without people see a 41% higher CTR than those with people.
So, if you're choosing a thumbnail photo to accompany that article of Thanksgiving recipes, try using the one that just showcases the turkey and leaves out the family at the table. Your CTR may thank you.
Thanksgiving marketing opportunity #5: Include women in videos
Interestingly, food-related images with men see a 26% higher CTR than images with women, but across categories, videos with women see a 52% higher completion rate.
Also, here's a mind-bender: Across categories, videos without food see a 26% higher completion rate than those with food. That might be a tough compromise to make when launching food-related Thanksgiving ads, but you may consider A/B testing this strategy in your creatives. For example, try creating a holiday gift video of food wrapped in packages or a party-planning video of table-setting and decorations.
Take Whole Foods, which teamed up with actress Kristen Bell to share her holiday time management tips. The result was a Thanksgiving video that didn't solely feature food and — yes — included a woman!
Thanksgiving marketing opportunity #6: Use health-related keywords
Even during the holidays — or perhaps, especially during this time — people are watching what they eat and keeping their health in mind. As our keyword trends show, there is strong engagement around food-related content with terms like "arteries" and "blood pressure."
There is also a big opportunity for using health-related keywords like "burns" and "ketogenic." However, dive further into these opportunity keywords and you'll see more opportunities for using indulgent keywords like "cake," "all-you-can-eat," and "tasty."
If you do take a health-conscious approach — and incorporate those images trends above — here's an example of what your Thanksgiving ads might look like across different stages of the marketing funnel:
A Recipe for Successful Thanksgiving Campaign Planning
There's enough stress around the holidays. Don't add Thanksgiving campaign planning to your list of things to worry about. You can use these data-backed trends and creative insights to help you build the most engaging, watchable, and clickable content for your audiences.
Taboola Trends are always being updated, too. So as Turkey times draws nearer, check back to see which food-related images, videos, and headlines competitors are using and consumers are gobbling up.