Soundbites and one-liners aside, Bernie Sanders and Joe Biden were the clear winners of this week's Democratic debates by at least one very important measure: the attention of US news readers.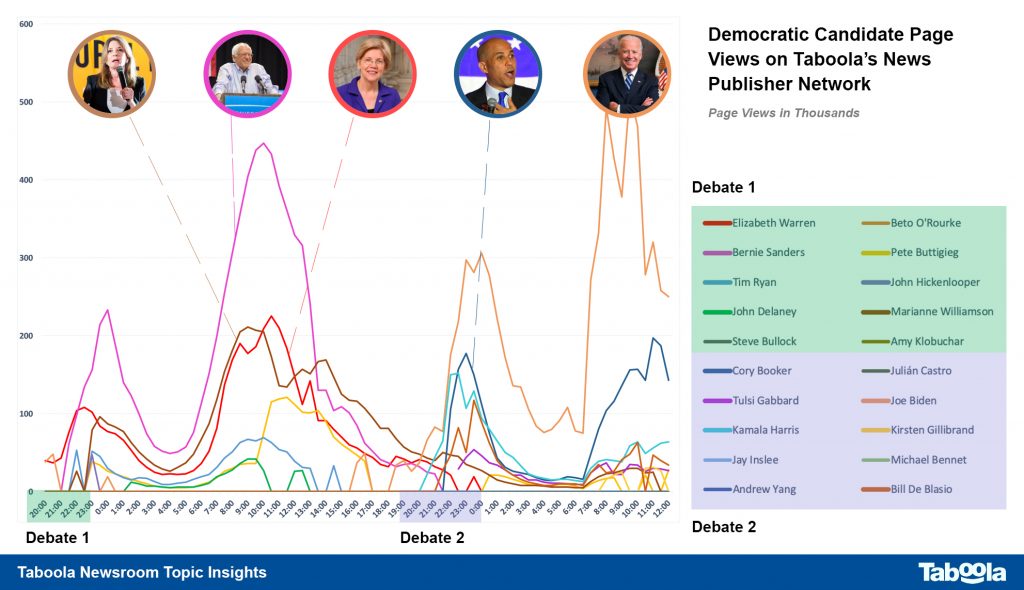 Articles about Sanders during the days of the debates surpassed 7.5 million views across Taboola's massive network of news publishers, nearly 50% more than any of his Tuesday evening rivals. 
Biden—who faced sharp challenges from all sides—had just under 7.5 million views on articles about him, but the gap between him and the other Wednesday debate candidates was much larger. Cory Booker was Biden's nearest rival with 2.5 million views at last count. (Note: We stopped collecting data for this analysis at 12 pm ET on 8/1, at which point articles about Biden still had significant momentum. On a slightly longer timeline, Biden would have been the most read-about candidate by a wide margin.)
One unexpected finding from night one is the gap in pageviews between Sanders and Warren, since they're ideologically similar candidates, and many political analysts lauded Warren's performance. 
Looking deeper into the data, we found there were over 2,500 articles about Sanders that received views between Tuesday and Thursday and less than 900 about Warren. While Sanders had more views overall, articles about Warren averaged over 60% more views for each article than those about Sanders.
In what was perhaps the biggest surprise development, the candidate who got the third most attention overall from readers was Marianne Williamson.
Williamson—who made an unequivocal call for reparations and said President Trump's leadership has provoked a "dark psychic force of the collectivized hatred"—was featured in articles that gained more than 5 million views across our network. 
She was among our 100 most popular topics for more half-hour periods than any other candidate between Tuesday night and Thursday afternoon (74 out of a possible 81).
It will be very interesting to see what Williamson's current popularity among readers means for the future of her campaign.
How We Capture This Data
With 20 candidates vying for attention during more than four hours of debate spread across two evenings, it's not easy to determine whose platform is resonating with voters. Taboola's Topic Insights—part of Newsroom, our real-time news audience analytics platform—helps answer this question.
Topic Insights shows what's popular across our network of news publisher partners. 
We see some 700 million page views per day in the US, and our semantic analysis technology categorizes the articles people are reading based on what's prominently featured. 
Essentially, if a person is mentioned in a headline or many times throughout an article, that person is captured as a topic. If someone is only mentioned once in the second-to-last paragraph, we wouldn't count that person as a topic of the article.
You can see night-two candidates like Biden, Cory Booker, Kamala Harris and Bill de Blasio jump into the top 40 topics after 8 pm ET when the program began in the video below.
To quantify the attention candidates received, we recorded the page views on articles about candidates on a 30-minute basis from 8 pm ET on July 30, the first evening of debate, until 12 pm ET on August 1, the day after the second debate. 
Since we focused on the top 100 most popular topics across our network, there is no data for several candidates each night who did not break into that threshold. This group included Beto O'Rourke, Amy Klobuchar, Steve Bullock, Julián Castro, Jay Inslee, Michael Bennet, and Andrew Yang. 
For context, Stormy Daniels was frequently among the top 100 most popular topics during the measured time span.
Topic Insights and the full Taboola Newsroom suite of audience engagement tools are available without cost to our publisher partners.
What About Trump?
Even with the spectacle of the debates, President Trump was still by far the most popular topic of the measured time period in total, with nearly 30 million views on articles about him. 
From someone who looks at US Topic Insights every single day, I can say it's not often that a topic gets more attention in the US than Trump at any one moment. Both Sanders and Biden achieved this at certain points.
Let's look at our original graph side-by-side with one that includes page views of articles about Trump. 
Quite a difference.
The degree to which Trump dominates news coverage and readers' attention shows the challenges these Democratic candidates face in getting their messages to voters—As if competing with more than 20 other candidates isn't hard enough.
I've made public the full dataset for this analysis. Feel free to reach out on Twitter (@franberkman) or email (fran.b@taboola.com) if you have any questions, comments or ideas for future Topic Insights research.