I'll spare you the typical "Thanksgiving will be different this year" speech, but suffice to say that it in some ways, it will be, and in others, it'll be quite typical.
While families may not be able to come together from far and wide to zone in on football, take in the parade, and gather around a table, the trappings of this beloved American fall holiday will prevail.
According to a recent report by eMarketer, Thanksgiving is poised to see a dramatic 49.5% sales growth rate. Despite all of the uncertainty at present, advertising ahead of the big day is not something you'll want to skip out on.
Today, we'll get into all the ingredients for a successful Thanksgiving marketing campaign in 2020, from readership trends, to creative best practices, to stellar examples, and more.
Let's Talk Targeting Turkey
…and other delectable Thanksgiving Day fare.
Based on the millions of ads running on Taboola's network, we're able to identify key opportunities for marketers to meet consumers right where they are, at the intersection of supply and demand. We define supply as the percentage of spend, and demand as click-through rates. Where there is low supply but high demand is exactly where the opportunity lies for marketers.
When it comes to marketing food for Thanksgiving this year, there are a few important targeting tactics to keep in mind to best capitalize on these opportunities.
Launch Ads During Late-Night Craving Hours
Surprise, surprise, evening hours take the cake when it comes to appealing to the palate. For the most effective food ads, try launching them at 11pm and midnight local time.
Reach Consumers in The Middle of The Week
Mid-week menu planning is in full effect this month. Capitalize on this by sending out your ads on Tuesdays, Wednesdays, and Thursdays for maximum impact.
This Turkey Day, It's All About The Tablet And Desktop
In the past, our opportunity recommendations have tended to skew pretty mobile-heavy. This year, however, it's looking like consumers are giving the old cell phones a rest and are responding better to ads they see on desktop and tablet devices.
Let Video Pique Their Palates
Capture the attention of Thanksgiving consumers by taking video content for a spin.
Where The Readership Trends Point
To give a more rounded view of what's interesting Thanksgiving consumers this year, we dug into some of the relevant readership trends popping up within our network.
Readership trends indicate what's currently important to consumers, and therefore, these topics should make an appearance in your campaigns, even if they're not directly relevant.
For example, a brand selling vegan butter may find an opportunity to offer consumers a way to "liven up mashed potatoes," or a bakery may offer the perfect leftover sandwich recipe.
It's all about keeping a pulse on current consumer interests and getting a little creative.
Here's an Obvious One
Readership around Thanksgiving itself is up, as people begin to imagine what the holiday could look like this year.
A Fruitful Fruity Side
It seems like everyone's in a tart mindset this fall, with 'cranberry' readership seeing a significant spike.
Another Classic is Experiencing Increased Interest
Always a humble favorite, 'mashed potato' is finding itself read about online, too.
What's on The Beverage Menu?
Another fall favorite drawing in the readership is the very spike-able apple cider.
Waste Not, Want Not
Don't forget to include yourself in conversations that talk about ways to get creative with all of that delicious food. Less people present may mean more leftovers, so even if you can't jump into a conversation about turkey itself, maybe you can advertise around how to use turkey leftovers.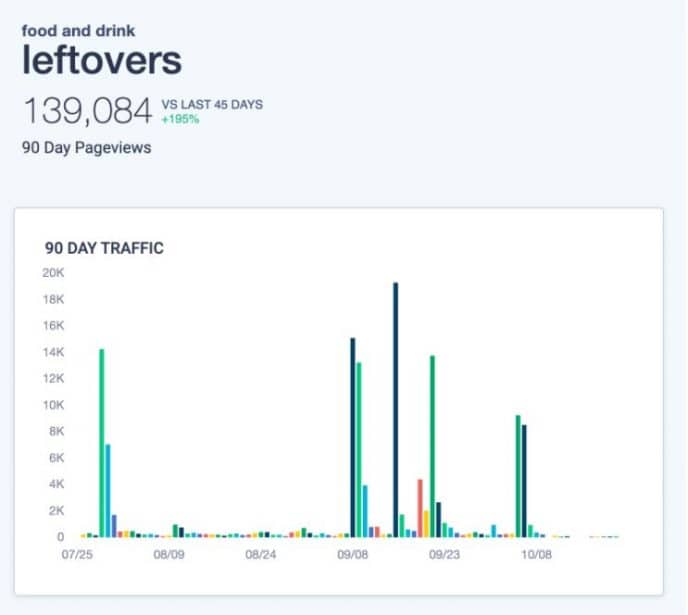 How to Structure Thanksgiving Creatives
Knowing when to launch ads and what topics to center them around is great, but to really perform, they have to look good, too.
We're diving next into the image, keyword, and video trends shaping Thanksgiving marketing this season.
Close Up, Indoor Photos Can Drive Performance
All trends point to indoor settings with your subjects up close and personal without animals present.
An Overwhelming Keyword Trend? Simplicity
It shouldn't come as a surprise that so many of this season's trending keywords revolve around ease—low-stress, fast, simple. Try incorporating some of these keywords to put anxious minds at ease.
What *Not* To Do Keyword-Wise
Here are just a few of the keywords experiencing too high of competition and, as a result, lower CTRs.
Where Opportunity Lies
We like to give a glimpse at our opportunity keywords––keywords that don't yet have a ton of spend behind them, but are showing strong CTR correlation.
Let's Test a Few Headlines
Our Title Analyzer is the perfect way to put the above keyword trends to the test.
The five we inputted were:
11 Low-Stress Thanksgiving Dinners For 2020
Need Options For a Virtual Thanksgiving Dinner? We've Got You Covered
Meatless Thanksgiving Mains Even Meat-Lovers Will Devour
The Simple Oven-Baked Potato Recipe Your Thanksgiving Crew Will Love
This Pan Makes Thanksgiving Prep Fast And Easy
Here's how they shook out:
Key takeaways:
Be upfront about simplicity. If I've said it once, I'll say it again. Easiness is the name of the game this year. Let consumers know you're on board with that.
Give people options. Normalcy may not be taking a seat at the table this year, but remind consumers that they can get creative and still celebrate the day.
Stay relatable. Remember that, at the end of the day, this holiday season may come with more stress than usual. Keep that in mind as you craft your creatives.
For Video, Show Illustrated Wintry Settings With Male Subjects And No Animals
Keep these video trends in mind as you look to create video content that not only draws in attention, but gets more completed views, too.
Grab a Second (or Third) Helping of Examples
Now it's time for the main course of this Thanksgiving round-up—discovering how to bring all of these insights together into one campaign. We've gone over a lot of information so far, and now it's time to look at these insights in action. We'll run through some hypotheticals, some from within Taboola, and some from around the web to really give you a good sampling.
Sample Ads
Brainstorming how you can get creative with your offering and bring the aforementioned visual and copy trends to life looks a little something like:
A Look at Some Other Ads We Thought Nailed It
A glimpse around the web pointed to some perfect examples of Thanksgiving marketing in 2020.
Campbell's is Focusing on Ease
Staying true to the aforementioned theme of ease and simplicity this year, Campbell's created a landing page full of their best and easiest Thanksgiving recipes to drive traffic where it counts this fall.
Pillsbury Went With an Interactive Approach
To give their Thanksgiving landing page a boost, Pillsbury opted for interactive content, featuring a quiz that prompts its audience to share a "this-or-that" style breakdown of their ideal Thanksgiving day.
Let's Give Thanks
2020 has been far from the year anyone could have expected it to be, but people everywhere are looking ahead to Thanksgiving as a day to find some degree of normalcy, even if spots around the table are replaced by squares in a virtual get together.
As you begin launching your Thanksgiving ads, keep these best practices in mind so you can have results you're thankful for, too.