An unprecedented time calls for a close reexamination of personal finances, and today's circumstances have finance consumers looking into their insurance—namely health and life insurance—both to ensure that they are covered, or to seek better coverage if they can.
For people with set insurance plans in place and those who may not have previously given much thought to their coverage in the past, they're turning to the open web for information.
Across publisher sites globally, pageviews for articles related to the keyword 'insurance' across the Taboola network up 174% over the previous month and a half—it's clear that trusted news sites are where people are heading.
For health & life insurance companies, this increase in interest poses an opportunity to reach those audiences while they're engaged, and means readjusting strategies to meet audiences online.
To highlight the specific adjustments marketers can make to best connect their important insurance messages with the right audiences, we took a look into Taboola's own network. Here, we've pulled creative best practices, targeting strategies, examples and more to help you advertise effectively.
Here's what we found.
Finance Industry Benchmark Report
Insurance readership is up
A look into Taboola's network since February shows that, comparatively, readership around the keyword 'insurance' has been on the rise, including a few noticeable peaks.
The biggest occurred on April 6th, when several auto insurance companies announced they'd be providing breaks for those people not on the road—the breadth of interest indicates that consumers are indeed interested in where they can save when it comes to their premiums.
Within the 'insurance' umbrella, readership around health insurance, specifically, accounted for 8% of overall insurance readership with over 1.8 million pageviews in the last 90 days. An influx in articles around coverage options and costs in the midst of a pandemic has engaged people looking to make sure they have options were they to fall ill.
Following suit, life insurance, too, has seen its own pageview increase, up 845% from the previous 45-day period with over 2.4 million pageviews. Interest in the topic could indicate curiosity on the part of insurance consumers looking to prepare for the worst.
As people spend more time on publisher sites, they may be keeping an eye out for information on how to select the right insurance plan, or trying to actively switch over to get coverage for themselves and their families. Insurance is on the minds of consumers, and marketers in this industry should be making themselves readily available.
Be where your audience already is by meeting them on the trusted news sites they're spending time on. Complement their online experience by advertising on publisher sites.
Creative strategy to meet readers where they are
You don't have to start from square one to create a successful insurance campaign on Taboola. The creative strategies you're already seeing success with can be easily adapted to work for Taboola, too.
Ads on publisher sites use an image and a headline to catch a reader's attention, and they link out to a landing page destination.
Longer-form content tends to work well for performance goals, and for awareness goals, video is your best bet, but for today's purposes we'll focus on sponsored content to meet a broad range of performance goals.
If you're new to advertising on publisher sites, you can quickly adapt a search ad or social ad and have a timely and effective native ad that's ready to start working for you.
Images: opt for close up photos with a female subject and no food
You can keep tabs on the types of images driving the highest click-through rates across individual verticals with our weekly-updating Taboola Trends site.
For images to advertise insurance content, the trends point to using close up photos with a female subject, and to leave food out of the picture.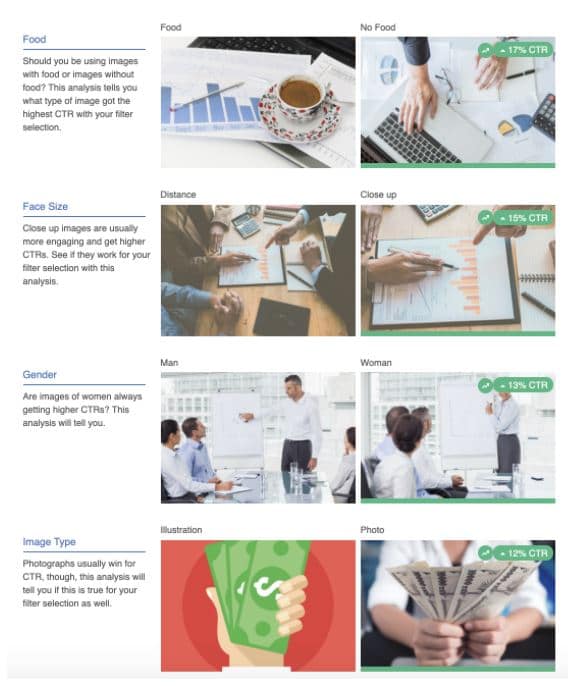 Headlines: use keywords such as 'discounts' and 'surprising'
Keep an eye on the keywords driving clicks for the regions and devices you're targeting, as well as the ones with high competition, so you can craft effective headlines for your ads.
For insurance marketers, we're seeing content trending towards discounts, savings and cost-effective decision making.
There's also an opportunity to use keywords that drive high CTRs, but don't yet have a lot of ad spend behind them. Get in early on keywords such as 'costs' or 'resources.'
Examples: combine image and headline trends to create your ads
To create ads with high click-through rates, pair the above image best practices with their headline counterparts.
We created a few example ads that put these practices into play at various stages of the funnel.
Targeting techniques to reach an insurance audience at home
The time we're living in today has people with a wide range of insurance experiencing wondering if they're properly equipped and insured. As they ponder these questions, and potentially look to add to or change their current insurance set up, they're doing so from home.
Being at home has landed many people with entirely new schedules and routines, making it especially important to meet them exactly where they are. These are the highest opportunity times of day, days of week, devices, and content types to reach audiences interested in insurance-related content.
Launch ads at 6pm local time
Ad spend sees a peak between 8am-10am, but there is an unmet spike in demand that happens at 6pm. This indicates an area of opportunity.
Try reaching consumers with insurance content in the space when workday transitions into evening hours.
Reach audiences on Monday and Tuesday
Ad spend sees a spike on Friday, but there's demand that isn't being met yet on Monday and Tuesday.
Drive higher click-through rates by reaching consumers at the beginning of the week.
Reach audiences on tablet devices
Mobile and desktop content are high in supply, but an increase in demand for tablet targeted content indicates that that's a good platform to try out.
Try out photo gallery landing pages
Amidst a large supply of text-based content, the demand for photo-based content isn't being met. Find higher engagement with photo gallery landing pages.
Adjust your bidding technique
All it takes is a few key strategy adjustments to get more out of your bidding. We always recommend starting wide with the highest bid you're comfortable with, and then optimizing from there.
A few of the general bidding best practices we recommend are:
Opting to modify bids on individual sites before blocking publishers when CPAs are high
Increasing bids by 25%-50% for top-performing sites to increase their competitiveness
Considering always-on campaigns depending on budget and offer parameters
…and, of course, using Smart Bid, which we'll get into next
Smart Bid is one of our smartest advertiser features. It removes the guesswork from bidding and maximizes campaign performance by automatically adjusting the baseline bid of every impression based on the likelihood to drive conversions or page views.
Smart Bid can help you get more value out of Taboola, especially during a time when you may be thinking more carefully about value and budget.
Example: AIG Israel Uplifted Purchase Intent for Mortgage Insurance by 30% with Taboola Video
In Israel, AIG is a direct to consumer company that doesn't use agents to promote their products. The main products that AIG Israel delivers are Car Insurance, Apartment Insurance, Life Insurance, Medical Insurance and Mortgage Insurance. With Taboola, AIG Israel saw that out of five digital marketing channels, 50% of people who made a purchase after viewing this campaign started their buyer journey with Taboola.
Example: Over 13,000 People Discover Insurance Possibilities Thanks to Samsung Life Direct and Taboola
Samsung Life strives to protect the lives and wealth of people with its insurance services.With Taboola, Samsung Life Direct delivered over 13,000 insurance quotes in six months and found that users from Taboola were 21% more likely to convert than display network channels.
A few more examples to get you started
Across Taboola's network, insurance advertisers are putting these best practices to use every day. Here's a few examples of what these ads might look like:
The right way to connect with audiences
Now that we've covered creative best practices, highlighted targeting strategies, and gone over bidding techniques, it's time to start applying these to campaigns of your own.
The circumstances we are all living in have called for a closer look at insurance coverage, and the influx in interest and need for information means that insurance marketers have a chance to meet audiences and be a resource.
It's critical to remember to be genuine and human as you create ad content. Be creative, and be willing to adapt as you go. And, keep in mind that Taboola can be a great way for you to reach with audiences who are the most likely to be interested in what you have to offer.
There are people on the open web looking for resources and information around insurance ready for your message to reach them—get started connecting with them today.