Coronavirus may score a hattrick when it comes to Mothering Sunday, but not many people will be cheering for that accomplishment.
For advertisers, publishers, and e-Commerce brands, there's a silver lining even in the face of a potentially gloomy third pandemic-filled Mother's Day: most Brits are comfortable with online shopping. According to Statista, in 2020, almost 90% of UK households made online purchases.
Data from eMarketer also offers some interesting insights:
In 2021, e-Commerce accounted for 37.5% of all sales, a dramatic jump from 21.8% in 2019.
Over the next few years, e-Commerce sales will hold steady, amounting to around 38% of all sales.
The food & beverage and home goods sectors did exceptionally well during the pandemic.
While textile, clothing, and footwear suffered in general, e-Commerce sales in those verticals were strong. By 2025, half of all sales in those categories will be from e-Commerce.
And, there's more good news. If 2021's Christmas spending is any kind of indicator (budgets increased by £200 to £1,108), Mother's Day gift budgets could recover and return to pre-pandemic levels. For reference, in 2019, Mother's Day spending increased to £1.6 billion but fell more than 25% in 2020.
So here we are, diving into 2022, with Mothering Sunday just weeks away. It's time to start planning your Mother's Day campaigns!
To help you build winning content and advertising strategies for this holiday, we're sharing our analysis of thousands of UK publisher articles and ad campaigns.
First, we'll take an in-depth look into last year's Skimlinks and Taboola UK readership and purchase trends and highlight some predictions for this year. Then we'll show you how to build click-worthy campaigns and launch them with data-backed targeting strategies that deliver on your KPIs across the sales funnel.
Mothering Sunday 2021: A Look Back
Content Themes
As we've seen with every major holiday, gift guides attract the most attention and clicks. Most brands and publishers put out at least one gift guide, although some create several, each targeted to a different audience. That strategy is important because Mother's Day isn't just for the consumer's mother.
Many people buy gifts for each maternal figure in their life, including mums, grandmothers, great grandmothers, sisters, aunts and more.
This guide from Cosmopolitan UK offers a little something for everyone.
We also saw a gift guide trend specifically aimed at new mums with titles such as "First Mother's Day Gift Ideas," which makes sense given the lockdown baby boom.
Urgency was also a key theme in Mother's Day content, with three of the top 15 articles focused on "last minute" gifts.
As flowers are one of the most popular Mother's Day gifts, posts about flowers and flower delivery companies also made a strong showing, like the Cosmopolitan UK article below.
With spas and restaurants shuttered, articles and brands promoting luxury hampers and home delivery food boxes also peppered the internet, reflecting the ongoing lockdowns. Enjoy the article below from Grazia UK.
Traffic Patterns
Last year, Mothering Sunday fell on the 14th of March. When we analyzed holiday traffic, we noticed that consumers began searching for and buying products at the beginning of the month.
We observed traffic significantly increase during the middle of the first week of March and into that weekend. Although there was a slowdown on the following Monday and Tuesday, traffic spiked and peaked on 10 March, the Wednesday before Mother's Day.
That traffic pattern is in line with what we have seen during other holiday periods and demonstrates the importance of developing last-minute gift guide content and emphasizing express shipping options. 
Top Merchants & Products
The top merchants and products mirror the content themes and trends. It's a bit of a chicken and egg situation as to whether the content dictates the merchants and products or visa-vera. In either case, there is a clear correlation.
Flowers
Flower brands that showed top-notch performances included Flowercard, Bloom & Wild, Appleyard Flowers & a few smaller flower sellers.
These companies offered a wide range of bouquets, from roses to carnations, a well-known symbol of Mother's Day. Also popular were less traditional arrangements filled with gorgeous bundles of wildflowers.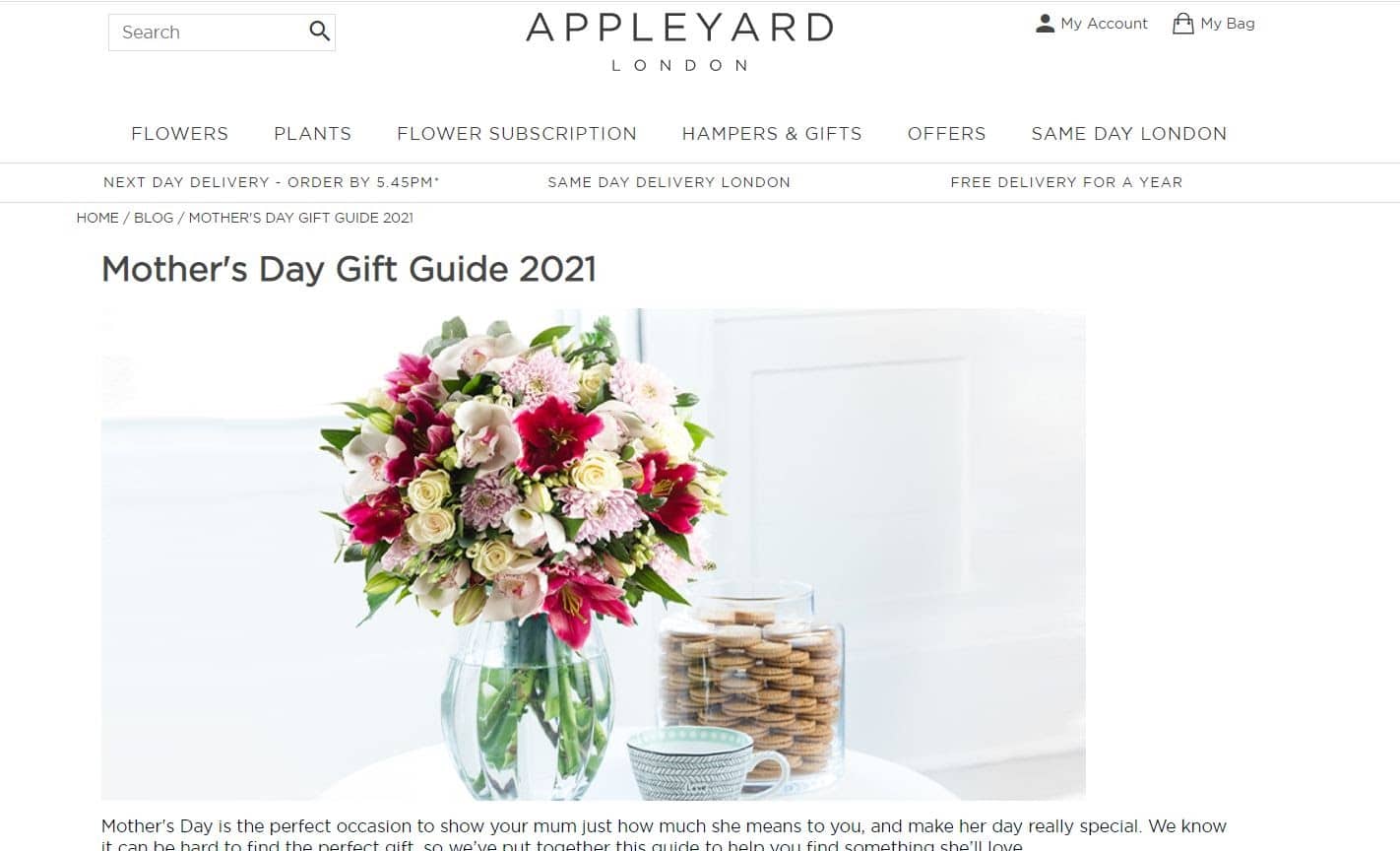 Luxury Hampers
Brands like Fortnum & Mason and Selfridges scored big, particularly when it came to special Mother's Day hampers and luxury gifts.
Some of the best-selling products from these brands and others included indulgent champagne breakfast boxes and afternoon tea boxes. Traditionally, many people take mum out to celebrate on Mother's Day, but with restaurants closed last year, these types of hampers filled the gaps. Although this year the situation is a bit more relaxed, we're anticipating that many consumers will still opt to celebrate at home.
Home Goods & Self-care
Home goods brands and products have been trendy throughout the pandemic. People stuck at home have taken it as an opportunity to redo, renovate or update their interiors in ways big and small. Self-care has also become essential to many people during these trying times.
Given those two trends, it's no surprise that home fragrance and skincare brands like Aromatherapy Associates and Kiehl's landed on the list of top merchants.
The most sought-after products from those brands and others that fall into the home and self-care categories included aromatherapy items like home fragrance sprays, pillow sprays, candles, and colognes.
New Mums
While no particular brand came in miles above the others in terms of gifts for first-time mums, customizable gifts were popular for this audience. These usually come from smaller brands and individual Etsy sellers.
One of the most popular items in this category was children's books customized to star Mummy.
Predictions for 2022 UK Mother's Day Trends
As we are all too aware, the pandemic continues to disrupt the traditions we hold dear. People may be reluctant to meet for big gatherings and celebrations after the tremendous spike in coronavirus cases triggered by the last couple of winter holidays.
With all that in mind, we believe this year will look similar to last year, with consumers seeking out similar guides and gifts.
Flowers are reliable and always appreciated. Advertisers and publishers can't go wrong with content or ads highlighting flower delivery companies, especially those that offer last-minute ordering and guaranteed delivery by Mother's Day.
Many people look at the start of the year as a time to refresh aspects of their lives or make improvements. With Mother's Day being towards the beginning of the year and the ongoing home improvement trend, home goods look like they will be popular again.
Products in this category might range from hampers with luxury soaps and fragrances to cozy throw blankets and decadent bedding. With spring not far off, outdoor home items like portable fire pits, outdoor furniture and gardening accessories could also top lists.
We also predict that food-oriented baskets, home cooking kits, and hampers filled with bottles of bubbly or sweet treats, chocolates and candy will reappear this year.
Last on our list of predictions is, again, gifts for new mums. From personalized jewelry and custom photo frames to pampering products and loungewear, any gift that says, "I know you've had a hard year, and this is a token to show how much I appreciate you" will probably be a winner.
Targeting Best Practices for UK Mother's Day Campaigns
Knowing which types of content and products will capture attention is only half the battle; the other half is using targeting strategies that will boost engagement and clicks.
Taboola offers several incredible targeting tools that advertisers can leverage to maximize budgets and gain a competitive edge.
SmartBid: By combining historic data and deep learning algorithms, SmartBid optimizes campaign bids to make the most of your ad spend. The tool evaluates impressions in real-time, automatically increasing or decreasing bids based on the likelihood of that impression converting.
High Impact Placements: Raise brand awareness and ensure that your ads are placed in high-value areas across brand-safe premium sites and apps with Taboola's High Impact Placements. Your campaigns will appear in coveted spots, including homepages, section fronts, mid-article and in Taboola Feeds.
Motion Ads: Motion Ads, which use looped short videos or gifs, help your ads stand out in Taboola Feeds and generate higher click-through rates and conversions while keeping CPAs low. With this unique format, advertisers should use A/B testing to optimize campaign performance.
On December 12, 2021, we analyzed our UK-based advertiser data from the Home & Lifestyle vertical. For higher CTRs and lower spend, follow these platform and day of the week targeting recommendations:
Improve Brand Awareness: Launch Mobile and Tablet campaigns over Desktop.
To Gain More Leads: Target Mobile devices over Desktop and Tablets.
To Increase Purchases: Go for Mobile over Desktop and Tablet.
Creative Best Practices for Mother's Day Campaigns
Taboola Trends is a free tool that provides data-backed insights for every campaign element – images, videos, titles, and keywords – so you can craft your creative with confidence.
Since the trends suggest that home and lifestyle content will be popular topics for Mother's Day this year, here's a look at what UK audiences are responding to as of 7 January, 202.
Image Trends
For the Home vertical, color images will increase your CTR by 125% compared to photos in black & white. Increase CTRs even more by using images taken from close up (+69%) and set outdoors(+53%).
For the Lifestyle vertical, CTRs increase by 42% when images are in color. In this category, campaigns can get an extra CTR boost if you use images with people (+24%) and taken from a distance (+1%).
Video Trends
If you want to have the highest chances of video completion, use videos without animals (+137%), in winter settings (+100%). Also, skip the illustrations (+100%) in favor of live action, and avoid showing food (+96%).
Title Analyzer
A picture may be worth a thousand words, but the headline you choose can have a serious impact on conversion rates. Instead of trying to guess which headlines will pique interest and encourage clicks, test out the ones you're considering in the Title Analyzer.
We tested three titles based on the content themes that will be popular this year. You can see that "Mother's Day Gift Baskets She'll Love" is the clear winner with the highest predicted CTR.
Here are some campaign examples that follow all the creative best practices we just covered:
Taboola in Action: Real Brands, Real Results
It's easy to get overwhelmed by all the campaign details, but if you put in the effort, it will pay off. Here are some examples from a few brands that did just that and surpassed their marketing goals with ease.
Bosch
Home appliance brand Bosch Home Germany selected Taboola as its content marketing partner to increase visibility for its newly relaunched magazine, "Bosch erleben Magazin," and increase overall website traffic.
Through highly effective native ad campaigns that used editorial stories from the magazine, the brand was able to achieve a competitive CPC and CTR as well as Cost per Visit and Cost per Product View, especially when compared to accompanying social campaigns.
Beko
When digital marketing company Ingage Media needed to drive potential customers to its client Beko's new Dem Tea Machine product, it relied on Taboola sponsored content campaigns.
Based on advice from Taboola, Ingage Media was able to optimize campaign elements, increase Beko's vCTR by 75% and attract a large number of users, 86% of whom were new to the brand.
OTTY
OTTY, a UK-based mattress company, used Taboola campaigns to support their top and middle-of-funnel activities using a retargeting strategy. The brand's retargeting campaigns achieved a 10x higher conversion rate by reaching already-engaged audiences and saw a 7.8x ROAS on average every month.
You know have all the insights, data, and tools to create your UK Mother's Day marketing strategy.
If you're creating seasonal content and campaigns, make sure you use the tools in Taboola Trends to choose the right eye-catching images and discover high converting headlines. Don't forget to A/B test your campaigns and utilize Taboola's targeting and bidding strategies to see the best performance.
As this is one of the first major holidays in 2022, it's your chance to start the year off right!