"Back-to-school" may not be a traditional holiday, but it's certainly not a time to play hooky from marketing. Just the opposite is true, and consumer spending will kick off very soon to coincide with summer sales even as long and lazy summer days lay ahead.
Last year was a bit of a mixed bag. Some students went to school in-person, while others continued to engage with remote learning. In the U.S., it looks like this coming school year students of all ages will head back to classrooms.
Students and their parents need to stock up on school supplies, including low-end basics like notebooks and pens and high-tech laptops and tablets. With class back in session, students will look to refresh their wardrobes, score new backpacks, and more.
All of this presents an opportunity for you, advertisers and publishers. It's time to plan your back-to-school campaigns. You have a chance to become the online shopping guidance counselor, steering consumers towards deals on everything they need to walk the halls while meeting your marketing KPIs.
This post breaks down everything you need to know, including last year's trends and what's on most-wanted lists for this year. You'll also learn about current readership trends, targeting and creative strategies, and how to package it all together to increase brand awareness and rule the school.
Last Year's Trends: What Earned Good Grades
In last year's back-to-school marketing guide, we noted that families planned to spend about $850 on school supplies, including clothing, technology, and furniture, for those heading to college. Many retailers pointed to Amazon Prime Day as the most critical event for back-to-school shopping. Our data supported that, showing a 340% spike in pageviews for content supporting the event.
According to NRF, 2021 back-to-school spending was the highest ever recorded, reaching $37.1 billion, up from $33.9 billion in 2020. Back-to-college spending also increased last year, hitting the $71 billion mark.
We dug into the data from Skimlinks (a Taboola company) to reveal what types of content consumers turned to for shopping advice and which products were crowned best-in-class (pun intended).
Top-Performing Content: Guides and Deals
Publisher articles that generated the highest affiliate commission were guides and roundups of classroom supplies, back-to-school clothing, and deals for essentials.
Top-Performing Merchants: Cool Brands, Comfortable Vibes
Retailers, including Everlane, J.Crew, lululemon, VIDA, and STATE Bags, scored the highest commissions, click volumes, and order values.
Top-Performing Products: Trendy Masks, Tech, and On-the-go Gear
Best-selling products included Keds shoes, VIDA facemasks, backpacks from lululemon and The North Face, and laptops from Walmart.
Predictions For This Year: Your Crib Notes
Many trends we saw last year will reappear for the 2022-23 school year. It's worth noting early reports indicate parents are taking rising costs and inflation into consideration but are still planning to shell out their hard-earned cash to give their kids what they need to succeed.
According to a survey from Morning Consult conducted in May, more parents than last year are planning to spend at least $250 on school items.
Although Zoom lessons are something many parents and students hope they'll never have to endure again, technology will still be a top spending category. Based on an NRF report, electronics were among the leading product groups that back-to-school students were most excited to shop for, and we expect shoppers to prioritize electronics and computer-related purchases.
Morning Consult reports that 43% of consumers will again look to July's Amazon Prime Day to score the best deals, while a third plan to shop during August and Labor Day sales.
Here's the takeaway that should act as a lesson plan for your back-to-school marketing: create your content and campaigns early, point shoppers to sales, and ensure you're ready for Amazon Prime Day!
Study Up on These Key News Trends
To drive high-quality traffic, consumer clicks, and sales, you need to know which topics and keywords consumers are most interested in. By incorporating those search trends into your back-to-school marketing campaigns and content, you'll capture consumer attention and ensure ads appear alongside contextually relevant publisher content, increasing engagement opportunities.
At Taboola, our extensive relationships with publishers give us access to real-time trends. As of June 1, 2022, data from our U.S. publisher network revealed the following search trends:
Backpacks: 251,400 pageviews in the last 90 days
Amazon Prime Day: 51,070 pageviews in the last 90 days
Remote learning: 42,960 pageviews in the last 90 days
Publishers Scoring an A+ with Their Content
As we all remember from our own school days, sometimes the best way to learn how to do something well is to look to those who have already excelled at it. With that in mind, let's look at some examples of publishers who earned high marks with their back-to-school content.
CBS NEWS created a great guide highlighting tons of Amazon Prime Day deals on electronics, school supplies, and more.
This USA TODAY article promotes a top retailer's best deals for items every student (and non-students!) needs.
BUSINESS INSIDER compiled a list of must-have essentials for in-person and remote learners.
Targeting Best Practices: Aim High
If you want your campaigns to earn the highest marks and hit your KPIs, you need to have the right strategies in place. We've studied and analyzed millions of campaigns to reveal the data-backed strategies you can use to help you become 'head of the class.'
Automate with SmartBid: Powered by deep learning algorithms and historical data, SmartBid is Taboola's automated bidding tool. It increases or decreases bids based on how likely an impression is to convert, helping you make the most of your budget.
Try High Impact Placements: Taboola's High Impact Placements ensures that your ad campaigns are always surrounded by premium brand-safe content and appear in the most desirable locations on publisher sites, including the homepage, section front, mid-article, Taboola Feed, Taboola Stories, and mobile-integrated news.
Consider Motion Ads: Motion Ads are a unique Taboola ad format that uses short video assets instead of static images, making your campaigns stand out from the crowd in Taboola Feed. Advertisers see higher click-through (CTR) and conversion rates (CVR) and lower cost per action (CPA). Optimize your campaign for performance by following an A/B test strategy.
Instead of trying to pull an all-nighter to figure out which types of content will perform best and which platforms will help you achieve your marketing objectives, use our cheat sheet, which has all the answers. (We promise we won't tell!)
As of May 15, 2022, the following targeting parameters have earned US-based advertisers in the Education vertical higher CTRs and lower spend:
Performance by Content-Type: Choose Photo and Video campaigns over Text
Performance by Platform – Page Views: Earn more page views by targeting Tablet users over Mobile and Desktop
Performance by Platform – Leads: Acquire more leads with Mobile campaigns over Tablet and Desktop
Performance by Platform – Purchases: Drive purchases with Mobile and Tablet campaigns over Desktop
Creative Best Practices: Put on Your (Creative) Thinking Cap
For your campaigns to realize their full potential, you need to optimize every element of your campaign, including choosing the best images, video content, and headlines.
Taboola Trends will be the best study guide you've ever used. This tool analyzes billions of campaigns to provide insights into which creative elements will drive CTRs, video views, and video completion rates higher. The tool offers several filters, so set them appropriately before looking at the results.
As of June 9, 2022, US advertisers in the Education vertical should consider the following creative advice:
Images: Give your CTRs a boost by choosing images with animals (+42%), taken from a distance (+29%), and in back and white (+20%).
Video Completion Rates: Across all platforms and durations see higher completion rates by using video footage with winter scenes (+100%) and without text (+12%).
Video Viewability Rates: Across all platforms and durations, increase viewability rates by including people climbing (+133%), eating (+50%), and stretching (+40%).
Campaign Headlines: When it comes to crafting click-worthy titles, you need to do your homework! Use Taboola's Title Analyzer to test different versions of headlines and learn which ones have the highest predicted CTR.
Out of the three headlines we tested related to Amazon Prime Day, 'Buy These Laptops and Tablets During Amazon Prime Day was the clear winner.
By combining the news trends discussed earlier with the creative best practices, your back-to-school campaigns could look like these:
Case Studies: High-achieving Brands
When University of the People, a non-profit and tuition-free American-accredited online university, wanted to increase brand awareness, it turned to Taboola to distribute earned media and educational program pages. The campaign earned 57,000 clicks and 56 million impressions in just one month, making it 58% more efficient for lead generation than the university's search engine campaigns.
Cluey Learning, which offers personalized online tutoring for 2nd – 12th-grade students, partnered with Taboola to reach new audiences (parents) at scale while keeping acquisition costs in check. Taboola's Motion Ads produced a 40% lower customer acquisition cost (CAC) than the EdTech startup's target. It also achieved a 70% lower cost-per-lead (CPL) by using Taboola's Attentive Audiences.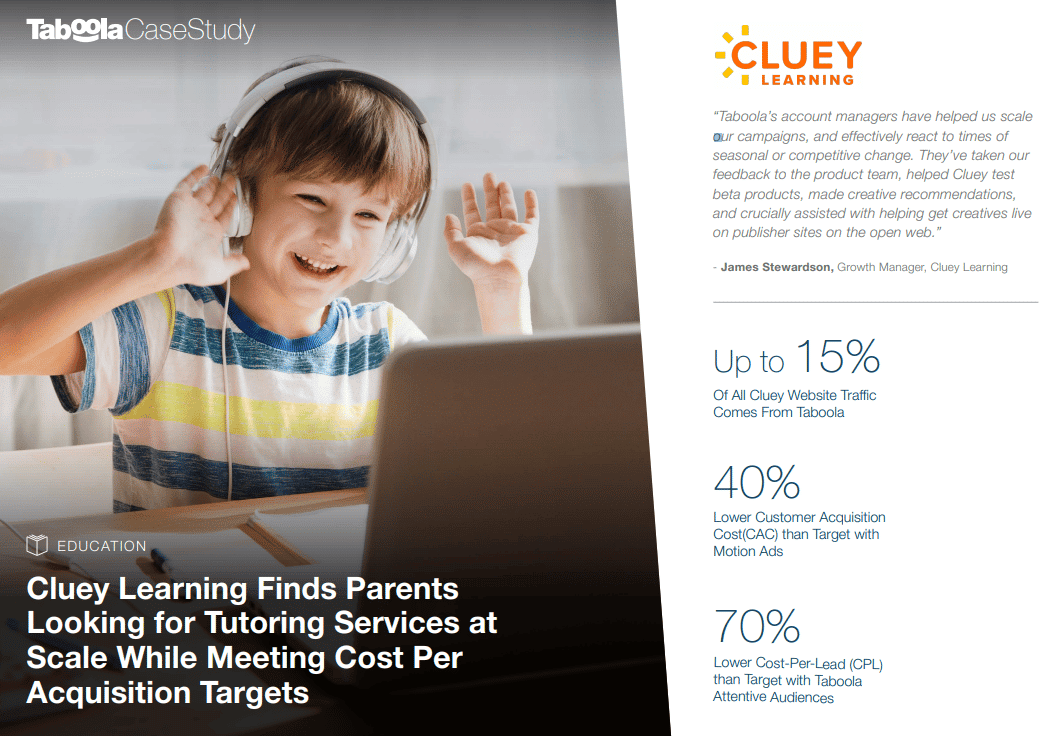 (Marketing) Class Is in Session
The school bell is about to ring, so grab your study buddy co-workers and start planning your campaigns. For advertisers and publishers in the Education vertical, this is your time to shine! Consumers are already hitting the books (a.k.a online sites), strategizing for ways to stretch their budgets, and they want to shop. All you need to do is follow our advice, and you'll school the competition.