Thanksgiving is set to kick off a busy 2021 holiday shopping season — and advertisers need to be prepared.
Just look at how Thanksgiving 2020 turned out. Over 186 million consumers shopped over the weekend, leading into a booming Black Friday and Saturday with more online shoppers than ever before.
This year, marketers will have to begin preparing their Thanksgiving campaigns as early as possible by taking the following steps:
Understanding The Market Opportunity
Researching News Trends
Gathering Examples of Publisher Articles
Implementing Targeting Best Practices
Using Data-Backed Creative Strategies
Pulling Inspiration from Successful Case Studies
Here's what advertisers need to know to build more effective Thanksgiving campaigns and engage holiday shoppers in 2021.
Understanding The Market Opportunity
According to eMarketer, U.S. holiday e-commerce sales are expected to rise by over 11% this year, hitting $206 billion.
(Source)
Especially as more major stores announce their Thanksgiving Day closures, consumers will head to online platforms to start their holiday shopping and take advantage of seasonal deals. And advertisers have to be there to meet them.
Researching News Trends
We dug into data from Taboola's expansive network of publishers to find out which news topics are trending among U.S. consumers.
According to September 28, 2021 metrics, readers are engaging with content about:
Thanksgiving. 949,940 page views in the last 90 days, up +251% vs. the last 45 days
Turkey. 13,453,950 page views in the last 90 days, up +32% vs. the last 45 days
Black Friday. 708,670 page views in the last 90 days, up +75% vs. the last 45 days
This means advertisers have an opportunity to create relevant campaigns around these topics and distribute them across premium publisher sites where consumers are already active and engaged.
Gathering Examples of Publisher Articles
Now let's look at examples of how publishers are already launching high-quality content about Thanksgiving, turkey, and Black Friday.
Tasty published its ultimate Thanksgiving turkey hack for holiday cooks:
Southern Living gathered the best Black Friday deals on Amazon: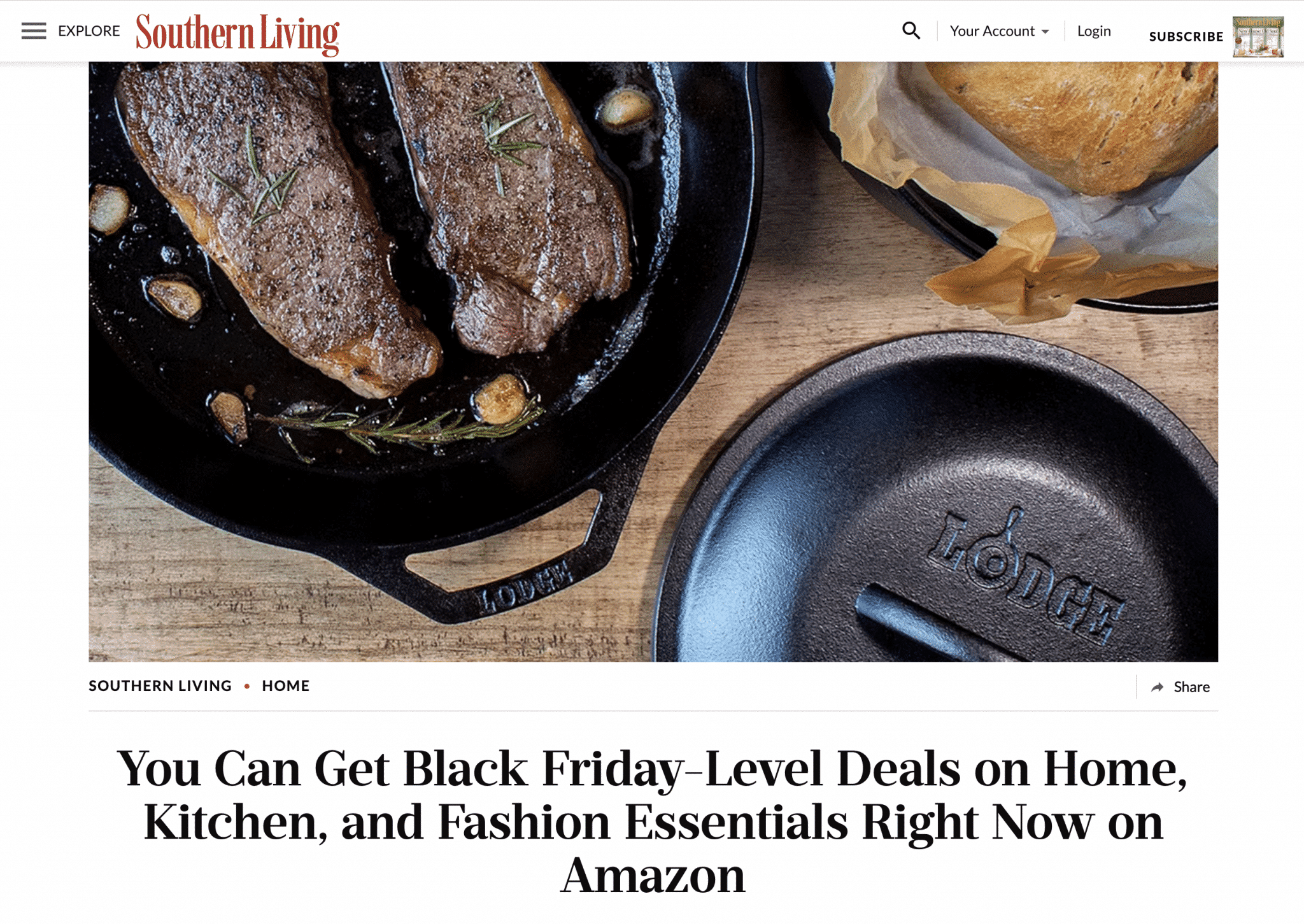 And Taste of Home listed the best gravy boats for your Thanksgiving feast:
Implementing Targeting Best Practices
While it's important for advertisers to target readers by trending news topics, they also need to consider other strategies, such as targeting by content format, device type, and day of the week.
According to September 27, 2021 data from U.S. advertisers in the food vertical, brands should use these targeting best practices to increase their clicks and engagements:
Use photos and videos over text-based ads
Drive brand awareness and purchases by launching campaigns on tablets over mobile and desktop devices
Reach consumers on Mondays and Wednesdays instead of weekends
Thanksgiving marketers can also use advanced targeting tools like these to help ensure that they're making the most of their ad budgets:
Smart Bid. With this tool, advertisers can automatically optimize their bidding to maximize conversions. Smart Bid uses historic data and deep learning algorithms to bid on high-value impressions and reduce bids on impressions that are less likely to deliver performance results. So you know you're not spending more than you need to.
High Impact Placements. Taboola's High Impact Placements allow marketers to generate brand awareness and reach audiences at scale across the world's top websites and apps. Whether you want to launch video or image campaigns on homepages, mid-article, or in-feed, you know your ads will only be shown among relevant, premium content every time.
Using Data-Backed Creative Strategies
Taboola Trends gathers real-time data about the most clickworthy images, videos, keywords, and headlines across our network, giving marketers a first-hand look at which types of creative perform best. In fact, every week we analyze about 75 million clicks and 50 billion impressions so you'll have the insights you need to build more effective campaigns.
For best results for your campaign, we recommend visiting Taboola Trends on the day you create your ads in order to see our most up-to-date data.
With Thanksgiving up ahead, let's look at some of the most important image trends for food-related content among U.S. audiences on October 8, 2021:
Images without text, without animals, and with a person outperformed campaigns with text, with animals, and without people.
Meanwhile, we found that videos with winter landscapes, illustrations, color photography, and no text also drive higher clickthrough rates (CTR).
Additionally, using videos with activities like eating, driving, and singing can help increase completion rates, ensuring customers engage with your content for longer periods of time.
When it comes to creating clickworthy titles, the Taboola Title Analyzer lets you put headline options against each other to see which ones will deliver the highest-predicted CTR.
Let's take these three Thanksgiving-related titles, for example:
7 Delicious Thanksgiving Recipes To Try in 2021
Holiday Shopping on a Budget? These Thanksgiving Weekend Deals Can Help
10 Thanksgiving Weekend Sales for Your Wallet
By plugging them into the Title Analyzer, we know that "10 Thanksgiving Weekend Sales for Your Wallet" is most likely to drive clicks and deliver results.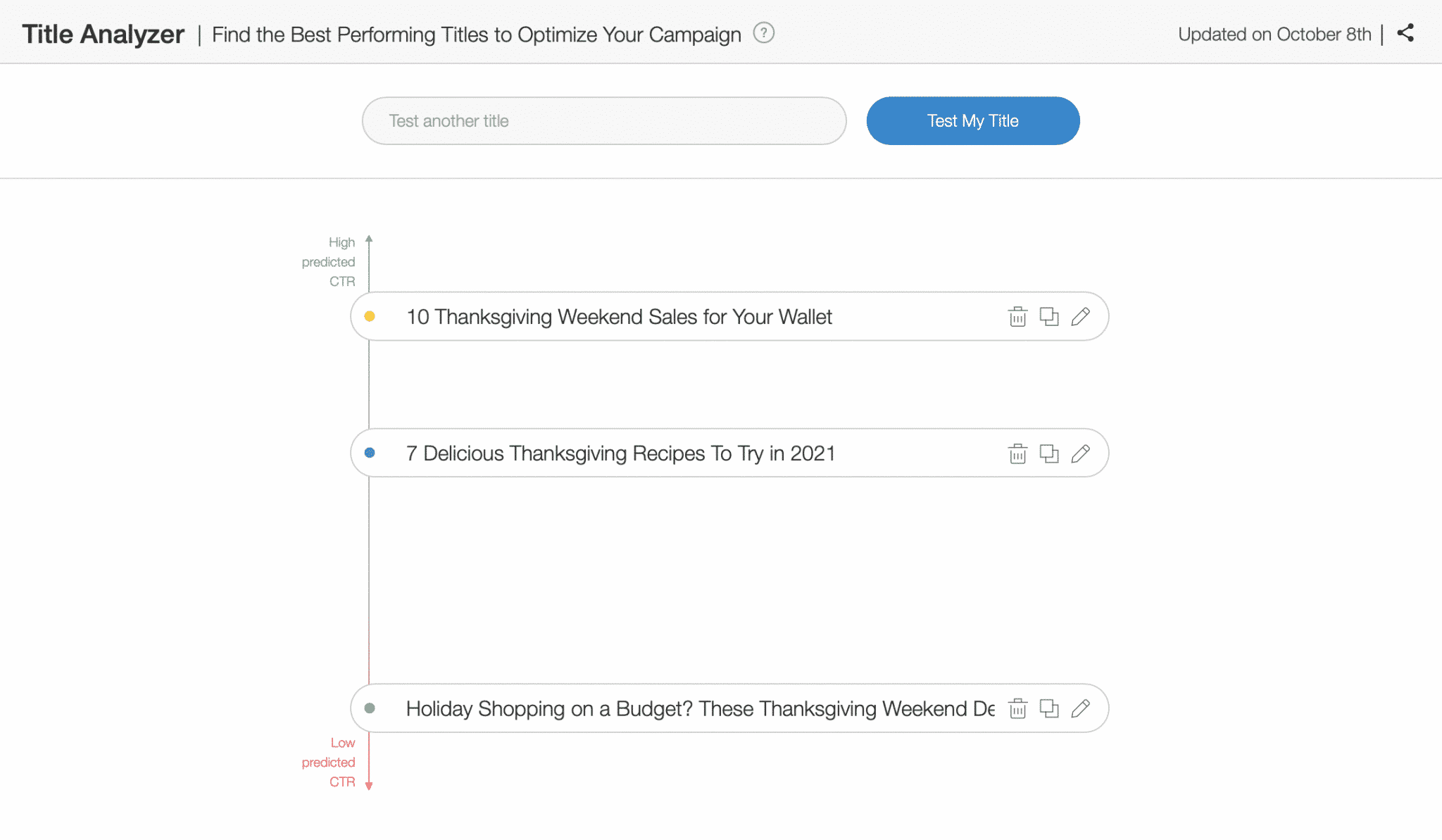 When you combine the above creative best practices, you get something like this:
Pulling Inspiration from Successful Case Studies
Thanksgiving advertisers can look to other brands' successful campaigns for inspiration and ideas.
Naked Wines
Customer-funded wine business Naked Wines wanted to drive new sign-ups to its service in the U.K., Australia, and the U.S. So the brand tapped Taboola to launch interactive, educational content targeted towards wine lovers across premium publisher sites. As a result, Naked Wines generated 8,000 new sign-ups in just eight months, and those customers had a 33% higher lifetime value (LTV) than others on average.
Plated
Meal kit startup Plated wanted to expand its customer reach outside of the usual acquisition channels like Facebook and Google. By partnering with Taboola, the business was able to distribute content-based ads on premium publisher sites across the web — reaching people when they're already consuming relevant messaging and eager for more.
Plated also used Taboola's technology to A/B test different creative options and optimize its campaign towards clicks and conversions. For example, the brand found that close-up product shots performed best on desktop and mobile. The result? Plated drove 1 billion monthly impressions and a 12% increase in customer signups.
Be Thankful for Data This Year
Thanksgiving may be the start of a stressful holiday season for marketers, but high-quality data can take away a lot of the guesswork and help ensure that you're building the most effective campaigns possible.
So, with e-commerce set to boom this Thanksgiving, be prepared with these proven best practices. And check out our Black Friday & Cyber Monday Data-Driven Guides, including strategies and insights for advertisers in the Fashion & Beauty, Home Goods & Decor, Auto, and Consumer Technology categories. Even if you're launching ads across other verticals, these assets can help you optimize your Thanksgiving campaigns for success well into the holiday shopping season.