The data, trends, and insights consumer tech brands need to get ahead of Q4's big day.
Too early to start planning for Black Friday 2020? Not this year. For the consumer tech industry especially, Black Friday is a regularly important day, and will be even more so this year.
To help consumer technology marketers get a jump start on planning, we put together a comprehensive guide full of trends, best practices, and ideas that are set to influence consumer tech marketing this Black Friday.
Let's dive in
Noteworthy Readership Trends
When we dug into some of the pageview trends around consumer tech keywords, we found a few standouts that indicate opportunities for marketers to position their products for success.
Working from home, conducting school from home, and more time for hobbies will be drivers of consumer tech purchases both now and when Black Friday rolls around.
Whether or not your product fits directly into one of these pertinent keywords, keep their broader context in mind as you start planning a standout Black Friday campaign.
Creative Best Practices Fit For Black Friday
Speaking of a standout Black Friday campaign…this brings us to creative best practices. Getting ahead of the types of imagery and keywords that garner clicks is essential as you plan your campaign.
These image trends leave a lot of room for creativity, especially if you may not be able to orchestrate the types of photoshoots you normally would. Get creative with incorporating food, save the text for accompanying couple, and use female subjects when you can.
Getting a grasp on which keywords can help you, which may be best to avoid, and where keyword opportunity lies is all part of a well-rounded campaign planning approach.
Putting Trends Into Action
Getting a handle on creative trends is just half of the equation. The second half is figuring out creative ways to combine the two to best match your goals, objectives, and where in the marketing funnel you'll be advertising.
Better Bidding
For a day as important as Black Friday, you'll want to make sure your bidding strategy is polished and ready to go. The best bidding strategies start wide with the highest comfortable bid, and then optimize from there.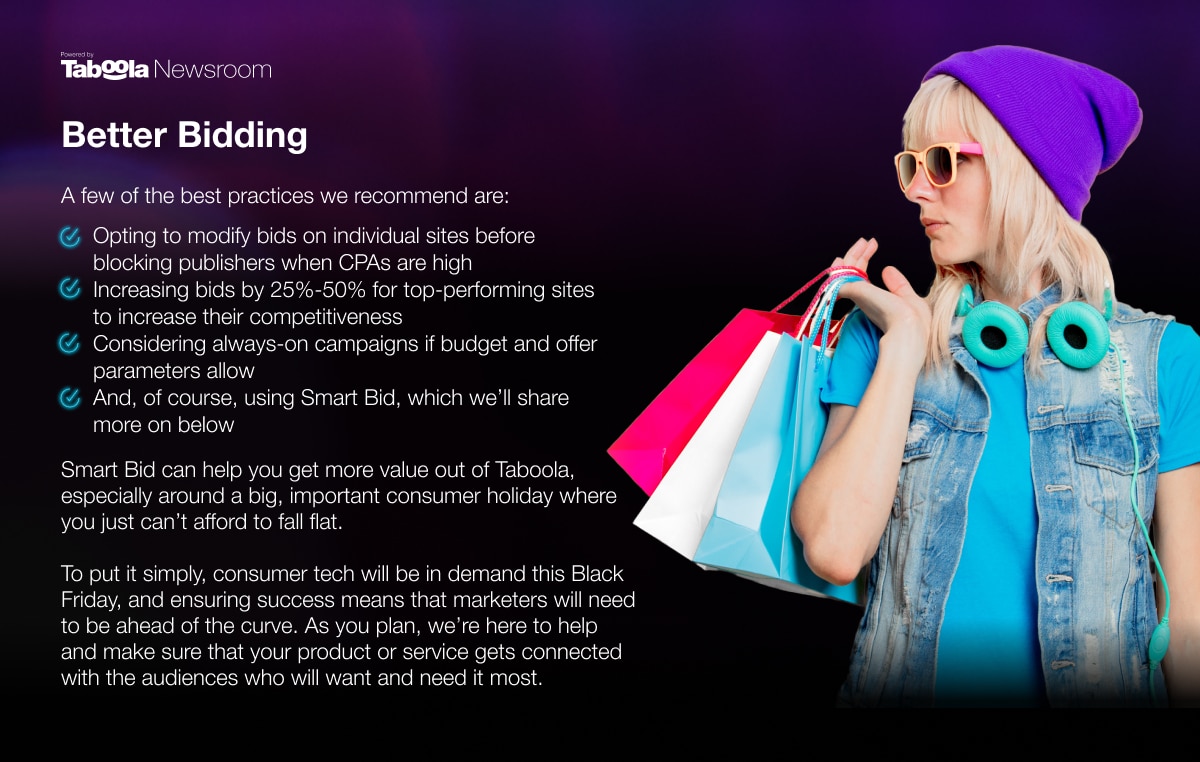 Smart Bid is one of our smartest advertiser features, removing the guesswork from bidding and maximizing campaign performance by automatically adjusting the baseline bid of every impression based on the likelihood to drive conversions or page views.
Smart Bid can help you get more value out of Taboola, especially around a big, important consumer holiday where you just can't afford to fall flat.
Black Friday 2020, Consumer Tech is Ready
Lifestyles look a little different every year, but the contrast between this year and the year previous is larger than usual. Consumer tech products can bridge gaps, help people stay in touch, and set people up for more comfort, success, and productivity at home.
Simply put, consumer tech will be in demand this Black Friday, and ensuring success means that marketers will need to be ahead of the curve. As you plan, we're here to help and make sure that your product or service gets connected with the audiences who will want and need it most.