It's time to celebrate another paw-some holiday on March 23rd: National Puppy Day! This fluff-filled day was established in 2006 to raise awareness about adopting orphaned pups and educate potential pet parents about the shadowy nature of puppy mills.
Now, we know you're thinking, "this holiday is only for pet-focused brands," but that's absolutely not true. Brands from any vertical can get in on the tail-wagging cuteness overload, and it's important to do so.
Social holidays offer an opportunity to connect with consumers in a fun and playful way. Brands that don't directly relate to this (or any other) social holiday can join the festivities by creating campaigns that peripherally relate to the topic and show off a brand's personality.
For example, fashion brands can highlight outfits pet owners can wear to strut their stuff in the dog park, while home goods brands could focus on pieces of furniture pups can't destroy. Cosmetics brands with cruelty-free products can use the day to push that messaging and build brand awareness.
Another approach is to build brand affinity by letting consumers know about your philanthropic side and donating a percentage of sales to a charity connected to the holiday theme. There are lots of angles – just find one that feels authentic!
Pet parents, whether they adopt on National Puppy Day or use it as another excuse to spoil their current doggo, are big spenders and a valuable audience. The pet industry is currently worth $100 billion dollars and will triple by 2030. Nearly half of all US households have a dog, and by 2025, owners will spend almost $1,300 per year on their fluffy friends.
So, advertisers, if you want to lead the pack on National Puppy Day, perk up your ears. This post is packed with tasty treats and strategies you can use to build the bones of your marketing campaigns.
Pup-ular Publisher Trends
We're not burying anything here! We dug into our publisher data to uncover the keyword trends driving users to action. You can apply them to your campaigns for a Pavlovian response.
As of February 28, 2022, readers were interested in content about:
Dog: 15,575,880 pageviews in the last 90 days, up a staggering 94%
Rescue: 7,799,700 pageviews in the last 90 days, up 28%
Puppy: 1,028,990 pageviews in the last 90 days
Consumers are already actively reading about these topics, so when you build a campaign around them, they'll be in the right state of mind to engage with your ad content.
Publishers Doing It Right, Fur Real
Now let's see how publisher partner POPSUGAR uses these key themes in their content. Since contextual targeting will place your campaigns alongside these types of articles, use them as inspiration.
POPSUGAR has an entire category dedicate just to pets, including product reviews, owner tips, gift roundups, and fashion finds for every pup-loving person.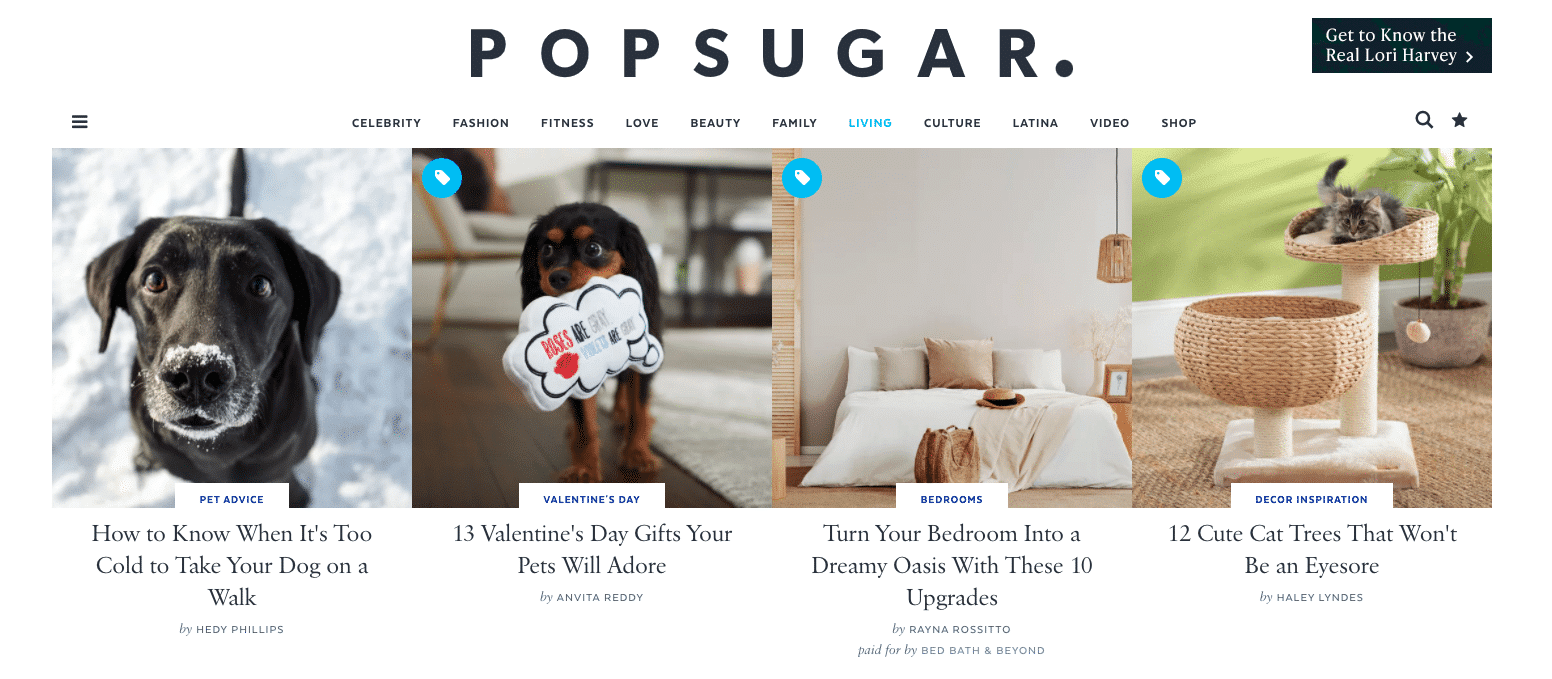 POPSUGAR also has plenty more articles that focus on celeb pooches, including Cardi B and Offset's puppy named Walk, and Megan Thee Stallion's French Bulldog named Oneita.
Targeting Best Practices: Bark Up the Right Tree
There's no need to run in circles chasing your tail trying to figure out the best ways to reach your audience.
Follow these campaign tactics to rope in consumers and be a top dog:
Automate with SmartBid: Taboola's SmartBid campaign bidding strategy combines historical data with deep learning algorithms to automatically adjust bids, increasing or decreasing the bid based on the likelihood of conversion.
High Impact Placements: Taboola's High Impact Placements put your campaigns front and center to drive awareness, ensuring they appear alongside professionally produced brand-safe content in the most viewable areas of publisher sites, including the homepage, section front, mid-article, and in Taboola Feed Stories.
Motion Ads: Motion Ads feature looped videos or gifs that create attention-grabbing moments and result in higher conversion rates and lower CPAs, making it an ideal format for consideration and conversion goals. Don't forget to A/B test video and gif content and optimize accordingly.
Just as every dog has its day, every campaign has type has its perfect place. By that, we mean these are the targeting factors that offer higher CTRs and lower spend for US-based pet advertisers as of February 27, 2022:
Performance by Content-Type: Focus on Video content over Photo and Text
Performance by Platform – Leads: Generate more leads with Tablet over Mobile and Desktop campaigns
Performance by Platform – Purchases: Secure more sales with Mobile over Desktop and Tablet
Performance by Platform – Brand Awareness: Boost brand awareness with Tablet over Desktop and Mobile
Creative Best Practices: Best in Show
Ever played a mental game of tug of war as you debate the merits of your campaign's creative elements? Well, now you no longer need to. You can rely on the data from Taboola Trends to guide you to success.
Here's a look at the creative trends in the US for the Pets vertical as of March 4, 2022:
Image Characteristics: Color images increase CTR by a massive 4,309%. Choosing images shot at a distance can boost CTR by 1,340%, and having a man in the picture generates a 182% increase in CTR.
Video Actions: See significantly higher video completion rates by including people eating (+210%), showing air travel (+68%), or getting married (+64%).
Video Characteristics: Increase completion rates by using videos with winter scenes (+100%), women (+62%), animals (+16%) and in color (+12%).
Campaign Titles: Headlines are an advertiser's best friend. To find out which ones will produce the highest CTR without any guesswork or testing, head to Taboola's Title Analyzer, add in your options and see the results.
Out of the four titles we tested (all of which included those publisher trends we looked at earlier), "15 Dog Beds Your Puppy Will Love" performed the best.
Now, putting all of the creative and publisher trends together, here are some sample campaigns that show how those in the Pet vertical and others can tap into the irresistible puppy-focused day.
Case Study: A Dog Brand with Killer Instincts
Lily's Kitchen distinguishes itself by creating wholesome pet foods made from high-quality natural ingredients. When the brand wanted to find new ways to reach pet parents outside of social and search channels, it utilized Taboola's High Impact placements for its video campaigns. In just 8 months, the brand earned over 1 million completed video views, with a 9% increase in viewable CTR and a 14% increase in completion rate.
Tried (and Dog) Tested Advice
Did you know that through evolution, dogs developed an extra muscle that allows them to make puppy eyes, basically making it impossible for their human owners to say no or look away?
This post has given you much the same – the insights, strategies, and trends you can use to make your marketing campaigns irresistible to pet owners. Follow the pup-approved advice, and you'll be rewarded with the best treats of all: brand awareness, leads, and sales.