As we head into Q2, it's time for advertisers and publishers to get ready for one of the quarter's most important shopping holidays: Mother's Day. On Sunday, May 8th, in the United States, Canada, Australia and a host of countries around the world, families and friends will gather to celebrate all the mother figures in their lives.
A return to normal celebrations is just what we all need at the moment, and a great excuse to shop. According to Adobe, US consumers will shell out over $1 trillion in 2022, setting a new record. Even with inflation on consumers' minds, they haven't been deterred yet, already having spent $138 billion online so far this year, an increase of 13.8% year over year (YoY).
In terms of Mother's Day, last year's data gives us some perspective on what to anticipate this year. Data from the National Retail Federation (NRF) found that 83% of consumers were going to celebrate the holiday last year, and total spending amounted to $28.1 billion. NRF noted shoppers planned to spend an average of $220 in 2021, $16 more than in 2020, and $24 more than in 2019. Given the spending trajectory of the last five years, advertisers and publishers should anticipate even larger gift budgets this year.
So, how can you effectively and efficiently capture your share of this year's Mother's Day consumerism? That's exactly what you'll learn in this Mother's Day marketing guide.
To help you prepare for the holiday, we'll look at last year's Skimlinks data and predictions for this year's Mother Day based on Taboola's US readership trends. We'll also cover several targeting and creative best practices, so you can launch the most epic and 'mom-umental' campaigns that drive sales.
Let's get to it!
Last Year's Trends: Mom-entos & Flowers Mattered
Much of what Skimlinks revealed reflects what we usually see for this holiday as consumers shop for everyone on their list, including grandmothers, sisters, wives, aunts, and friends.
Top-Performing Mother's Day Content
In terms of commission and click volume, the best performing content focused on gifts for wives, flowery delivery services, and last-minute gifts.
Top-Performing Merchants for Mother's Day
From You Flowers and 1-800-Flowers made strong showings, as did artist and designer online marketplaces Etsy and Minted. Also making the list was Lunya.
Top-Selling Mother's Day Gifts
Following the pattern of top merchants, the some of the most popular gifts were personalized home products and flowers.
Predictions for This Year: A Mother of an Opportunity
Last year's trends are a good indication of what's to come this year. Even though we've mostly done away with masks and restricted gatherings, some pandemic product trends are still pervasive. Combine that with traditional Mother's Day gifts, and we believe items from both the Home Goods and Lifestyle verticals will perform exceptionally well.
When planning your marketing campaigns and content pieces, concentrate on creating gift guides with products from the two categories mentioned above. That means all types of things for the home – think décor, furniture, home appliances, luxury bedding, and especially customizable and personal presents that honor moms and families.
The Lifestyle vertical covers many sub-categories but for Mother's Day, concentrate on pampering and wellness items, hobbies like gardening and fitness-oriented activities, and eco-friendly items.
Flowers will continue to make a strong showing, particularly because the holiday is the third most popular day to gift bouquets and plants.
From You Flowers is already promoting Mother's Day arrangements.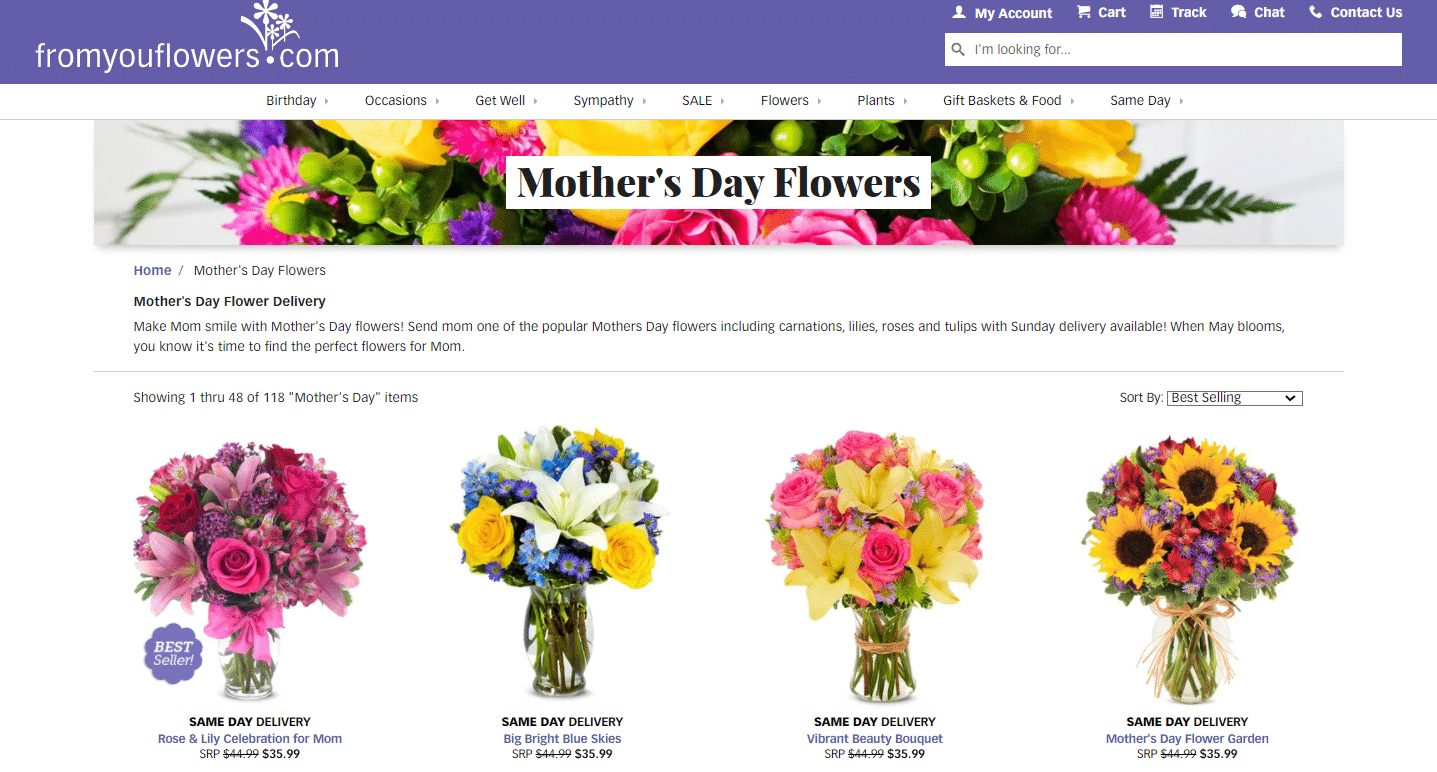 Although consumers have already started hunting for the perfect gifts (more on that below), there are plenty of last-minute shoppers, so it's worth creating campaigns with those people in mind.
With current concerns about inflation and rising costs of goods, advertisers and publishers can attract extra attention by promoting great deals, items on sale, and products with perceived value.
News Trends: Mom's the Word
The first step to creating great content that consumers can't help but click on is knowing what terms they use during searches. Adding those keywords to your campaigns, landing pages, and articles will capture more attention and ensure your ads appear alongside contextually aligned publisher content.
As of March 24, data from our US publisher network pointed to three emerging trends:
Mother Day: 139,570 pageviews over the last 90 days, up +343%
Gift: 2,005,440 pageviews over the last 90 days, up 15%
Flowers: 1,608,660 pageviews over the last 90 days, up +382%
Publisher News Articles: Mom-nificient Examples
Here's how some premium publishers have incorporated news, search, and product trends into their content.
Cosmopolitan has already released three Mother's Day guides to help shoppers find the perfect gifts.
POPSUGAR capitalized on the popular trend of sending flowers to loved ones and created a guide.
TODAY put together a series of gift guides for various mother figures.
Marie Claire published a guide that includes gifts from some of the most popular verticals, including lifestyle, home goods, and fashion.
Targeting Best Practices: Create the Right Mom-ments
Mothers may know best when it comes to life advice, but marketing decisions should be looked at a little differently. When you want your campaigns to attract the most attention and convert consumers into customers, using the right strategies makes all the difference.
We continually recommend three best practices as they have proven to bring results for thousands of advertisers:
Automate with SmartBid: SmartBid, Taboola's automatic campaign bidding strategy, uses deep learning algorithms and historical data to increase or decrease bids based on how likely a user is to convert.
High Impact Placements: Taboola's High Impact Placements ensures your campaigns appear in the most attractive locations on top publisher sites, surrounded by high-quality, brand-safe content. Placements include the homepage, section front, mid-article, and at the top of Taboola Feeds and Stories.
Motion Ads: Motion Ads, which use gifs or looped videos, are ideal for consideration and conversion goals, especially if you want to drive higher conversion rates and lower CPAs. Optimize your campaigns with insights from A/B tests.
In addition to proper audience targeting, knowing where your consumers are and which platforms generated the highest CTRs and lowest spend is the key to hitting your KPIs and making the most of your marketing budget.
As of March 13th, our data for US advertisers in the Home and Lifestyle verticals shows you can expect the best results by following these targeting recommendations:
Top Content-Type: Produce Video content over Photo and Text
Performance by Platform for Brand Awareness: Select Tablet over Desktop and Mobile
Performance by Platform for Lead Generation: Target Tablet over Desktop and Mobile
Performance by Platform for Purchases: Focus on Mobile and Tablet over Desktop
Creative Best Practices for Opti-mom Impact
Taboola Trends is an invaluable resource. It evaluates billions of impressions and clicks to surface insights you can use to optimize each element of your campaign creative before you even launch.
In this section, we'll explore the general video trends and Home and Lifestyle vertical-specific image trends that boost completion rates for US-based advertisers as of March 29.
Video Trends
Videos that include swimming scenes increase completion rates by 4,079% while showing people eating or getting married increases completion by 156% and 23%, respectively.

See even higher completion rates by incorporating winter scenes (+100%) and using illustrations (+94%) over real-world footage.
Images Trends for the Home Vertical
Boost CTRs by using close-up photos and black and white images.
Images Trends for the Lifestyle Vertical
To increase CTRs, select colorful photos and skip images with text.
Now, let's use Taboola's Title Analyzer to see how different campaign headlines will perform.
Headlines for the Home Vertical
Out of the three headlines tested, "Personalized Mother's Day Gifts She'll Display Immediately" has a significantly higher predicted CTR than the others.
Headlines for the Lifestyle Vertical
In this test, "25 Self Care Mother's Day Gifts Cause She Deserves It" is the clear winner.
Campaign Examples
Combining the news and motions trends with the insights from the headline tests would result in campaigns like these:
Case Studies: Brands Achieving Maxi-mom Results
Beko
When global appliance brand Beko wanted to reach new audiences to promote one of its latest products, it turned to Taboola. Using Taboola's Segments, third-party data, and a careful targeting strategy, the company saw a 75% increase in vCTR, and 86% of those who engaged were new users.
Bosch
Home appliance company Bosch partnered with Taboola to promote its magazine content to increase visibility and generate more site traffic. Bosch's native ad campaigns achieved especially impressive results across several metrics, including higher CTRs and lower CPCs, Costs per Visit, and Costs per Product View.
OTTY
OTTY, a company that designs mattresses, was interested in driving high-quality traffic and boosting its sales, so it added Taboola native ad campaigns to its media mix. Through a broad targeting strategy and retargeting campaigns, OTTY saw 10X more conversions than it had on other channels and reached a 7.8X ROAS on average each month.
Create Mum-believable Campaigns and Content
Moms are basically superheroes without capes. That means everyone wants to buy the mothers in their lives sought-after and meaningful gifts. Follow the data, advice, and insights provided in this guide to ensure your native ad campaigns will reach consumers at the perfect 'mom-ents' and achieve all of your marketing goals.