"The brand who first finds the key to unlock the door to discover the mystery behind this group wins. Others will surely perish."

~ Brian A. Kuz, CMO, Talking Rain Beverage Co.
Missing the mark with millennial marketing isn't an option. The generation—now ranging from ages 22 to 37—is projected to reach 73 million in the U.S. in 2019 and overtake boomers.
While millennials (also known as Gen Y) may not be "digital natives" to the degree of the Generation Z population born since, they came of age during the digital revolution. They're highly tech savvy and witnessed the proliferation and widespread embrace of mobile phones, social media and Internet-based, well… everything.
As a marketer, it's the buying power of the generation that makes it loud, clear and obvious you need to understand the keys to marketing to millennials.
Breathtaking stats presented in a report from Futurum Research says by 2020:
50% of the world's workforce will be millennials
The buying power of the generation will reach $1 trillion
How to Create Genuine Native Content
Do millennials all behave the same?
It'd be naïve, of course, to label a generation representing close to 2-billion people a single demographic. However, it'd downright irresponsible not to study the common behaviors of this massive segment of the population, attempt to anticipate their preferences and execute marketing strategies accordingly.
Now, please understand, I'm no millennial. I'm a boomer. But I'm a marketer that does my research, so I read a ton of content to put this post together and concluded experts have extracted a significant number of common insights bound to help you prepare to master millennial marketing.  
Let's unravel the ones I know to be true now.
Getting inside the mind of the millennial.
There's no magic bullet for marketing to millennials, but understanding the following ideas will certainly help you understand more about who you're dealing with.
Tough tech love
Millennials appreciate tech because they saw it grow up as they did. They've also seen numerous networks and devices bomb (e.g. MySpace, Vine, Google+). Though most are power users of digital do-dads, they're less addicted than the Zs.
When you get right down to it, they don't blindly swear allegiance to every last digital tool, but instead, favor services that offer practicality, utility, fun, savings, and convenience.
In short, millennials value technology when it delivers value.
And so:
Ensure the ideas you plan to market to millennials have an obvious purpose and highlight their value.
Advertising adversity
New media has helped make millennials master fact-finders. It's made them relentless rejecters of traditional advertising, which they both filter and ignore. Their BS detectors are strong. Their trust is far more challenging to earn than generations before them.
They're receptive to authenticity and customer experiences that are consistently rewarding.
And so:
Don't sell to them. Rather, make them feel like a part of a community.
Buying in an omnichannel world
Millennials get into hybrid marketplaces. That is, they appreciate brands that enable them to live on both sides of the line, experiencing the best of both digital and analog as they shop.  
And so:
Enable customers to connect channels, touchpoints and experiences throughout the buyer journey. Brick and mortar locations should serve not only as points of sale, but more importantly, customer experience outposts.
Loyalty ain't dead
No doubt, millennials shop carefully and are ready to change allegiances when they're less than satisfied, but they shouldn't be perceived as adverse to brand loyalty. They're known to be tribe-driven and therefore seek validation from like-minded peers.
And so:
Strive to create person-to-person engagement across channels and deepen relationships.
Making a difference matters
Millennials are eager to be active participants in making the world a better place. Far more so than boomers, millennials are willing to pay extra for products and services from companies dedicated to social and environmental change.
And so:
Prioritize the values that are important to your business, industry and consumer and lead with them to activate an audience.
Expectations on the social scene
Millennials crave engagement via social media, but that should not be mistaken for being faithful to everything you blast forth. They tend to have fine-tuned authenticity detectors and reject content they deem to be superficial. They don't want to be marked to via social; they want to be supported.
And so:
Your brand should pursue the most human and authentic paths possible with a combination of social listening, engagement, community and content. Don't just offer social media; be social.
Phone first
Millennials are mobile consumers tapping mobile devices for hours each day. Research indicates they spend more time interacting with their phones than other people.
Advertisers have reacted accordingly. Mobile ad spending has dwarfed desktop. But here's a rub, a serious one…
I'll process this data for you fast: According to comScore, a 49% gap exists between share of minutes on mobile versus share of e-commerce spend.
And so:
Execute a mobile-first millennial marketing strategy taking advantage of digital technologies that ease the path the purchase, offer gamification, deliver in-store offers, and personalize the experience.
Your millennial marketing tip sheet.
You've got into the mind of the millennial. It's time to turn these insights into action.  
Create visual content
Millennials devour visual communications but are often said to have short attention spans. Instagram, Pinterest, SnapChat and Tumblr—all visual platforms—have enjoyed explosive growth in the current decade.
Feature user-generated content
The authenticity that's part and parcel with user-generated content makes it far more credible than traditionally branded content of the highly promotional variety. According to Curalate, 69% of the top three photos shared by brands on Instagram came from fans.
Also, you can showcase your images your fans create via a gallery on your website. You might place user-generated images on your homepage, product pages, microsites and more and add shop/buy buttons to turn UGC into a powerful sales driver.
Sell the experience
Selling your product only is selling yourself short to millennials. Millennials crave experiences. They capture them and share them. How can your brand foster an experience worthy of their fanfare online and off? How can you invite your customers to star in your communications?
"When your consumer can relate to your content in an authentic way—in this case and honest look into the brand experience—your brand message goes a lot farther." ~ Colie Edison, VP marketing, Bowlmor AMF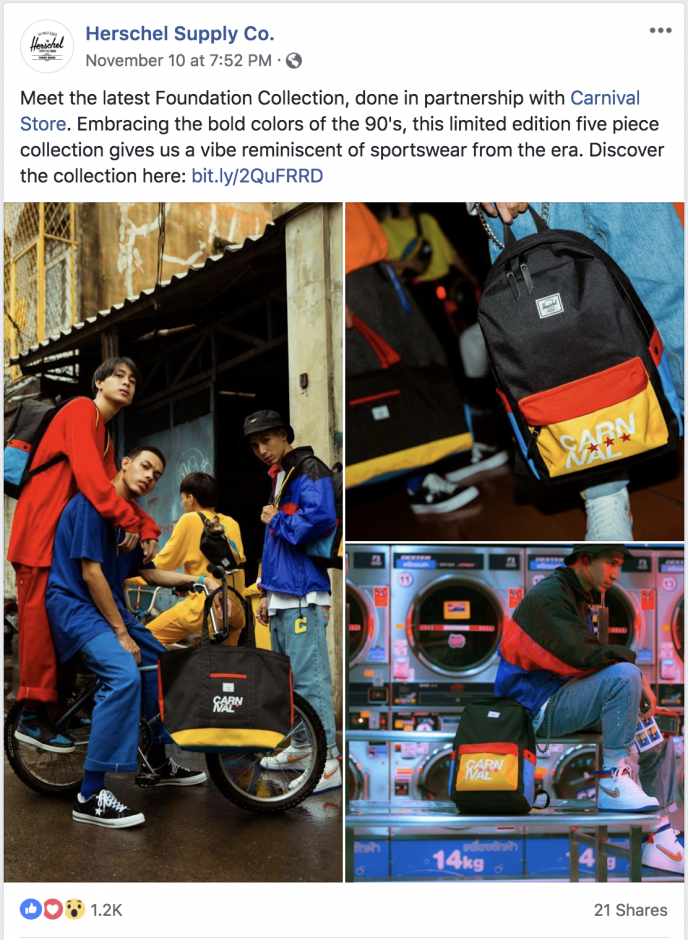 Herschel Supply Company keeps it real on Instagram by presenting collections of authentic content posted and hashtagged by their customers.  
Create shareable stuff
Some say social is the new SEO. Clearly, millennials care about their social status and share their personal information with others. Brands should respond by creating a brand experience that facilitates social sharing. Give your customers a platform to spread the word about your brand.
The Nike+ running app makes it easy for customers to share the progress of their training programs with their friends.
Make shopping a snap (or tap)
For so many millennials, Instagram has become the most important social channel influencing products they like and buy. If your brand goes all-in on Instagram, you can employ tools to turn your Instagram feeds into shoppable galleries. Fans can quickly go from admiring a post on Instagram to your product page.
Conduct contests and giveaways
Millennials have demonstrated they love a challenge and respond well to online contests as well as giveaways. Photo and video contests are especially compelling and motivate millennials to participate. Make the prize attractive and the contest interesting and you're likely to find your millennial customers sharing their entries with their friends and followers.
The Chubbies 2018 Man Model Search, created with the ShortStack platform, sparked participation from entrants and voters across the "Nation of Chubsters."
Respond fast
Millennials will ask questions on social media channels. And yes, in addition to lavishing praise on your brand when they're pleased, they'll speak up when they're not. Your company should be ready to respond—and fast—to the good, bad and inquisitive.
The co-founder of beauty products company WUNDER2 claims a team of 15 people ensures customer questions are answered on Twitter, Facebook and Instagram in minutes.
Tap influencers
Getting influencers to plug your brand has always been a smart way to speak to the hearts and minds of your potential buyers. And though millennials may not be adverse to celebrity endorsements, they are notably drawn to authentic, relatable people. They appreciate the unfiltered honesty of bloggers, vloggers, and YouTube personalities.
Many influencers—including millions of less-than-famous social media micro influencers—have sizable, active followings of potential buyers who pay attention to their blogs and social media feeds. When an influencer posts an image of your product, they not only drive awareness but also inspire their tribe to further engage and share.
Do good
Millennials want to make a difference. They're racially diverse, tuned into social issues, and prone to support the causes they believe in. Clearly, you can inspire millennials to engage when your brand supports a meaningful cause.
A 2014 report on the impact of millennials revealed 87% donated money to an organization that supported a cause they were passionate for.
"More likely to embrace brands making a difference, millennials want to align themselves with organizations doing good in their world and use their purchasing power to support companies that have similar values."

~ Julie Turner, VP marketing, Camp Bow Wow
You can't visit the MethodHome.com website without learning how committed the company is to making the world cleaner, greener and more colorful.
Take a stand
You can appeal to the socially conscious generation of millennials by standing for something.
Research by Kantar Consulting shows 61 percent of millennials (and those born after them) show a preference for brands that take a point of view and have a positive impact.
Toms, the shoe brand that is now the stuff of legend for supporting those in need, also rallies its audience around urgent causes. A statement on their current homepage reads, "The only way forward on the issues that matter is together." The page also states, "Your purchases have helped give 86 million pairs of shoes to children in need."
Get them involved in product development
Millennials tend to show interest in becoming product co-creators. Brands that enable them to become part of the process succeed in building relationships with fueling their self-expression and forging relationships.  
A page on the Betabrand website reads, "We socialize new products to market." This crazy cool idea actually involves the customer in the development of the clothing. Customers submit design ideas, vote for the concepts they like and those that submit winning designs receive a percentage of the sales.
Create a loyalty program
I found a page featuring a massive list of data regarding millennial loyalty, which was an eye-opener, and cited, from Forbes: 86% of Millennials join loyalty programs. Another stat read, "60% of millennials said that they are often or always loyal to brands that they currently purchase."
However, millennials don't just want traditional punch-card programs. Loyalty programs that win-over millennials transcend the transaction and deliver genuine experiences, customer engagement and convenience.
The Marvel Insider program effectively creates a community. Notice how it features a gamification idea whereby participants achieve new levels of fandom. You rack up points not only by buying but engaging on social, reading articles, watching videos, taking surveys, and checking in at movies and events. You can imagine the user-generated content "mileage" Marvel gets with all these great ideas.
Allow them to rent or subscribe
Renting is all the rage with millennials. They like to subscribe. As such, more and more brands are looking at a "user," not owner, model now.
This is how things work in the digital age, right? Like I said, I'm no millennial, but I recall the days when I frequently bought concert DVDs. I still watch concerts, but can't remember the last time I bought a DVD, or even played one. I stream them, of course. (If you're 22, you're probably thinking, "What's a DVD?")
Think about Zipcar, Airbnb. Spotify. The trend extends into clothing—and just about everything.
RentTheRunway.com is an extraordinary example of the new subscription model. Their site promotes that the service allows you to "buy less, wear more."
Present tasty design
Millennials are visual creatures and, of course, all over today's many visual platforms. Marketing to them can be as simple a modernizing the design of your product or its packaging.
Campbell Soup aims to heat-up sales by launching new products in contemporary packages that complement the personality of millennials.
Present videos
Video is a critical ingredient of millennial marketing. According to Animoto, 80 percent of millennials consider video content when researching a purchase decision. Also, 76 percent of millennials follow brands on YouTube.
Humor them
The millennial generation values humor and laughter. Play to this preference. Humor doesn't just make a brand interesting; it makes it worth sharing.
A favorite example of mine in the realm of humorous digital marketing is the now famous Poo-Pourri campaign featuring videos such as "How to Poop at a Party" and "Girls Don't Poop."
The real deal
Not only are millennials the real deal in terms of buying power and sway, the best way to summarize where they're coming from is they want the real deal.
Reality. Honesty. Integrity. Meaning. Millennials deflect brand-centric marketing babble in favor of all things authentic.
I'll conclude with one of the most simple and succinct ideas I gathered while researching this post (from a post of millennial marketing tips on Inc.com).
"Be transparent and meet them where they are."