Find out how Skimlinks, a Taboola company, can help with your affiliate marketing strategy. Learn more here.
The next thing you'll think of after your SaaS generates revenue is to scale it fast.
That's a no-brainer.
There are several ways to do so, but most don't guarantee results like partnering with affiliates. 15% of digital marketing revenue comes from affiliate marketing.
That's proof you can get new leads by partnering with the right people.
The truth is, scaling your SaaS business with affiliate marketing isn't as easy as it seems. But if you follow the correct steps, expect to expand your influence and multiply your revenue over time.
That's why you need the best guidance. And in this guide, I will walk you through it. But before that, who's Adam?
I'm a writer and content marketer who teaches over 500,000 monthly readers how to start and scale profitable blogs over at adamenfroy.com. I'm also not a fan of bullet points, but I enjoy the strategic use of emojis.
So, let's quickly dive into our guide.
Get Buy-in
The first step to launch an affiliate marketing program is getting buy-in from executives. Here's what the process looks like:
Document how the affiliate program will skyrocket your company's growth.
Set your definition of success and obstacles you expect to encounter when pursuing the set goals.
Get a nod on.
Track key KPIs to show the executives how their investment impacts business growth.
After executive buying comes budgeting for the affiliate channel. Unfortunately, there's no definite cost for running an affiliate marketing program. The budget will depend on whether you run the program in-house or partner with affiliate networks.
Here are other factors that affect the budget:
Inventory: It includes text links, videos, banners, and any material your affiliates will use to market your software. You can use an in-house designer to create them or outsource the task.
Product feeds: These are files that list your product and attributes like name, price, ID, etc., and you need them whether you'll be doing in-house affiliate marketing or using affiliate networks.
Affiliate program management: After setting up your affiliate program, you need someone to create policies, handle recruiting, activating accounts, and managing campaigns., etc. And that's where hiring an affiliate manager comes in.
Another important thing is to choose your compensation method that matches your budget, whether it's cost per sale (CPS), cost per lead (CPL), Cost per click (CPC), Pay per call (PPCall)
Also, for your initiative to be profitable, you should get support from cross-functional teams. Why? Highly engaged team show 21% profitability. You'll improve coordination between marketing, sales, and your product team.
Find the right partners
It's a no-brainer that the right affiliate partners will help you get a continuous stream of leads for your business.
Start by reaching out to your current connections via email or social media. You can dig into your customer base and check if your existing customers are:
Blog owners.
Digital marketing agency owners.
Entrepreneurs.
And influencers who can promote your brand in exchange for a commission.
You can also find more partners through registering in reputable affiliate networks like Commission Junction, Clickbank, ShareaSale, and others featured in the image below.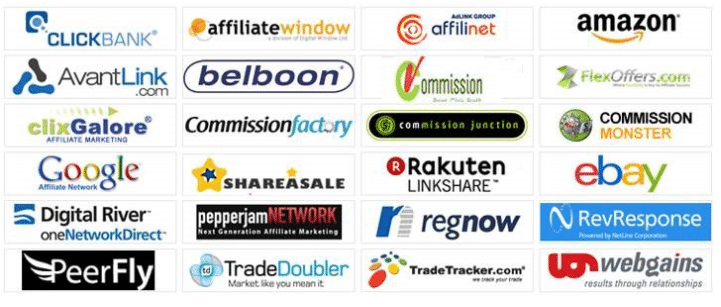 (Source)
The best thing about affiliate networks is the leads will come to you instead of hunting them out. So, you have to ensure your product is incredible and the payouts are lucrative.
Notably, you can land influential partners with a quick google search. For instance, if you own time tracking software, search for the "best time tracking software" and see the review guides. 
Note the guides ranking at the top, like Zapier, Toggl, and PcMag, then contact their webmasters to see if they're open to partnerships. You may be lucky to get free features on their sites, but expect most blog owners to ask for compensation.
Another promising tactic is to look at who's already ranking for your terms. You can search on Google or use keyword research tools like Ahref or Keywords Everywhere. Next, compile the list and direct your affiliate manager to reach out and inquire if they're open to collaborations.
I also recommend knowing who's working with your competition. You should connect with them, chat using the best video conferencing software to convince them to shift to your affiliate program. Of course, you have to give a better offer than your competition. You'll be lucky to get influencers or bloggers willing to partner with you. And they might even influence their close connections to choose your program.
Use software and tools to scale outreach
Finding the right affiliate partners takes time, but everything picks up fast after your brand starts getting traction. It's more of a game of numbers. And you'll need the right software and affiliate marketing toolsto scale your outreach and win more partnerships.
The first step is identifying your targets then gathering their contacts. Here are the tools you'll need:
Impact Radius and Media Rails: These two tools come in handy for growing and managing your partnerships. For example, with the partner manager solution in Impact Radius, you can track, manage and get more partnerships. Ensure you choose best project management tools to handle your projects.
SimilarWeb and Ahrefs: You need both to track and analyze strategies and grow your SaaS. Ahref will help you to research your competition and identify the partners channeling traffic to their sites.
Hunter.io: After you've compiled a list of your prospects, it's time to find their contacts. You only have to key in their URL in Hunter.io to get their details.
Next, you should draft your messages, personalize them, then do follow-ups like a pro.
Here are the tools that will aid you to do so:
LinkedIn Sales Navigator: You'll use its filters to find your target profiles. It has an advanced search option for tracking your prospects' contacts and personalizing messages to get high conversions.
Google Mail Merge: It's useful for sending a single or more personalized message to your list. You only need to write your draft and specify the list of recipients in a Google Sheet for Mail Merge to send a customized message at once.
HubSpot Sales and Calendly: With the HubSpot tracking code, you can monitor the activities of your prospects. You should combine it with Calendly to follow up on those who haven't responded. Calendly is ideal for scheduling when to do follow-ups.
Leverage with agencies and consultants
Running your affiliate program in-house is okay, but the problem is, you can't scale faster than partnering with agencies and consultants.
Why?
Agencies have experience, good technology, and expert advice, among others.
(Source)
They're well-equipped with contacts, tools, processes, and workforce to drive valuable partners and scale recruitments fast to skyrocket your program's growth. Most agencies will connect you to influencers and land you more powerful connections over time to expand your reach. Another awesome thing is, they will offload you tasks like:
Fraud monitoring
Reporting
Email communication
Compliance
And more!
If you don't prefer to go the agency route, then confront a consultant. They also have resources for scaling your reach. You'll also get insights on the strategies that work like a charm.
Bonus tip: there's no harm in supplementing your in-house program with agencies and consultants.
Increase influence with SEO
If you want profitable affiliate partnerships and SERP influence, don't ignore investing in SEO. You'll also build credibility with influencers and top affiliates.
SEO drives huge amounts of traffic to your blog if you do it right. You'll enjoy over 90% of search traffic when your blog ranks on page one.
(Source)
SEO entails:
Doing proper keyword research using the right tools like SemRush or Ahref.
Creating link-worthy content and updating it regularly. Your guides should be comprehensive enough and meet your readers' needs.
Growing your domain authority with link building to rank top on SERPs. If your DA is still low, target low competition keywords, then branch out to competitive ones as your influence grows.
Pro tip: If you want to boost your influence with SEO like I did for my blog, then start doing blog posts and link building at scale. Build a team of writers and scale your outreach. You can also consider working with a freelance SEO marketer.
The best link-building strategy so far is guest posting. Here's what the process looks like:
Find relevant sites accepting guest posts
Use Hunter.io to get their emails
Contact the webmasters to know if they're open to collaborations
Follow-up on your pitches
Give your writers the tasks
Rinse and repeat
Quick note: Guest posting is a game of numbers. You have to scale your outreach to land quality partnerships.
Don't ignore other link-building strategies like round-up posts, broken link building, and creating infographics.
Have a solid inbound strategy
A lot of education needs to be done around affiliate marketing. And it's achievable via inbound marketing that offers 10X better results than outbound marketing.
Well, inbound marketing drives massive results. Need some proof? During a survey among B2B marketing professionals in the USA and 55% of respondents mentioned that articles, blog posts are valuable when moving prospects through the sales funnel.
(Source)
Inbound marketing covers everything from blogging, social media to SEO. It has a significant impact on scaling your affiliate business if you do it right. You'll notice an increase in your traffic and affiliate sign-ups.
To build a solid foundation you should:
Define your target audience
Tailor your content to meet their needs
Ensure your affiliate sign-up page is catchy.
How? Highlight the benefits affiliates will enjoy upon joining your program, your commission rates, links to FAQ, and videos
Next, work on increasing your inbound traffic by scaling your affiliate blog posts and SEO content for your audience to find you through search engines. Like I mentioned earlier, start with targeting long-tail keywords you'll rank for fast as you grow your domain authority.
The next thing you should do is collect social proof to build trust with leads. Capture testimonials or case studies to show prospects the success they can get through promoting your software.
You can also consider scaling your leads through social media ads. Create a strong social media presence, run engaging ads that will channel prospects to your site.
Pro tip: Ensure you create a strong affiliate "hub" from content, banners, logos to welcome kits.
Leverage your tech partnerships
A significant percentage of growth comes from collaboration. That means that leveraging tech partnerships is an easy way to spread the word about your affiliate program and grow your revenue.
Partnerships create opportunities for new businesses, influencers, and affiliates. By collaborating with other tech giants, you tap into new markets and boost your sign-ups. How? Your partners will warmly introduce your brand to their audience. It's the same way you can recommend a store to your friend.
Here's an example of a partnership between BigCommerce and Printful Drop-shipping Integration.
 They've included an affiliate link on their site to earn a commission from every customer they refer. The partnership also boosts the credibility of Printful Drop-shipping Integration.
Here's what to keep in mind before you partner with other brands:
Determine if you're a good fit for each other. You can chat on Zoom or the best Zoom alternative of your choice.
Define your goals. What do you want to achieve? Is it getting more acquisitions or sales? Next, track the partners that perform well and replicate the success with other new partners.
One of the best ways to collaborate with other brands is through content partnerships. They will write about your program and promote it to their audience in exchange for commissions.
Be friendly with your competition
Affiliate marketing is getting more competitive. You'll be competing with several brands for the attention of affiliates in platforms like ShareASale and Clickbank. To stand out, you should offer lucrative payouts, whether it's commission based or earnings per click.
An easy way to cut through the noise is to befriend your competitors. Of course, it sounds counterintuitive to collaborate with them, considering that you want prospects to know you're the best around. But the truth is competitive collaboration works magic.
Here are its benefits:
Boosts brand awareness. You'll attract your target audience when your competitor makes them know about your brand.
It's your chance to share your knowledge to land new partnerships, expand your reach and grow your revenue.
You can acquire new skills and technologies from competitors
Reduces your marketing costs. You'll spend little to no money to be introduced.
A good example of a competitive collaboration is between YouTube and Vimeo. Vimeo once allowed content creators to publish their videos on YouTube. And that was a big win for them.
Bottom line: To cut through the noise, know your related verticals and focus on key differentiators. Your unique value proposition, strengths, and user base will set you apart from your competitor and win you more business.
Get your affiliates to act
Affiliates have joined your program. Awesome. It's time for them to spread the gospel about it. It's as simple as sending them tips and tricks on how they can earn money promoting your software.
You can also email them case studies to show that others are earning by promoting your tool.
Also, focus on making their lives as easy as possible by improving your program, offering easy cashouts, and paying them on time. You also can earn their loyalty by offering bonuses occasionally.
By using software such as Taboola for affiliates, you will be able to do the above and much more. In fact, with Taboola, you can:
Get started with no minimum deposits
Have your message in front of a massive global audience (over 1.4 billion users)
Have advanced targeting capabilities
Integrate with the top platforms via API
And much more
Conclusion
It's every business SaaS owners' dream to generate revenue and scale it. And as you've seen, partnering with an affiliate is the best way to do so. You can run the program in-house or register in affiliate networks of your choice. The good news is, I've walked you through all the steps you need to scale your business today.
Go through the points and implement them. You'll connect with powerful entrepreneurs and influencers. The result? Doubling or tripling your revenue. The next thing is you'll be wishing you could have started early.
So, what are you still waiting for?