All eCommerce business owners know that for their brand to thrive they need sales. Crucially, they need sales from new customers, but those don't always come easy.
This leaves many trying to answer the essential question: "How do I generate potential eCommerce leads to my website?"
Creating a bullet-proof lead generation machine that fuels business growth by attracting high-value leads, or those consumers most likely to make purchases, comes down to building and executing an eCommerce strategy.
Here, I explain exactly how to find your ideal customer. Then I cover ten eCommerce marketing tactics that will increase your site's traffic and drive sales.
What Is Lead Generation in eCommerce?
A lead is simply a person who's interested in your brand, products, or services and takes an action to demonstrate that interest. This could involve:
Clicking on your ad campaign
Signing up for your email list
Following your brand on social media
Downloading a piece of content
Signing up for a free trial
Each lead is a potential customer. Every action a lead takes provides valuable data. You can use this data to convert a lead into a paying customer and inform your overall lead generation strategy.
Who Is Your Ideal Lead?
Having a deep understanding of your ideal lead is the first step in streamlining your marketing efforts and bringing more qualified leads. You may have a general idea about your target customers' characteristics, behaviors, motivations, and pain points, but you must develop buyer personas based on data, not assumptions.
Start creating a buyer persona using qualitative data from your site analytics, industry reports, and competitor research. Combine this with quantitative research from customer interviews and online discussions around your brand and products.
Once you have all the data in front of you, map the characteristics of your ideal lead by looking at factors such as:
Household income
Age
Education
Gender
Location
Hobbies or interests
Pain points
And more
Having a clear picture of your ideal lead helps you improve the targeting of your marketing campaigns, create more impactful blog content and provide irresistible offers or promotions.
You might even discover that you should tweak your product inventory or services to better serve your customers' needs. After all, if you sell each customer three items instead of one, you're well on your way to skyrocketing profits without any additional lead gen expenses.
Here's an example of a buyer persona from Social Bakers:
10 Top eCommerce Lead Generation Tips and Strategies
Now, let's get into how you generate more traffic. Keep in mind that more traffic in and of itself doesn't equal leads. The goal is to make sure your ideal leads fill your traffic.
1. Optimize for Search Engines (SEO)
Hubspot reports that 75% of users never scroll beyond the first page of search results. Clinching one of those coveted ten spots is the holy grail. eCommerce brands have many digital assets. Optimize those assets with keywords and phrases and you increase your chances of landing on page one. A well-executed SEO strategy peppers search terms across product descriptions, blog content, and metadata, turning each one into a lead magnet.
Many businesses skip out on optimizing their image alt-tags. This is a mistake. Google found that 50% of online shoppers rely on images when deciding what to buy. Now that search results prioritize images, taking the extra time to optimize every product image can pay off with leads that are ready to buy.
The Chrome extension Keywords Everywhere is a handy SEO tool that provides trend data, lists of related keywords, and more.
Here's what a search for 'memory foam mattress topper' reveals:
2. Create Pay-Per-Click Campaigns (PPC)
Paid advertising empowers you to use the behaviors and characteristics you identified in your customer personas to target relevant users across various platforms. Compared to PPC display ads, Taboola reports that native ads deliver better results for brands, including a CTR 8.8 times higher, a 9% increase in brand affinity, and an 18% lift for purchase intent.
A Hubspot survey found 54% of consumers want to see more video content from brands. Leverage that and create native video ads for the best of both worlds.
When Adidas ran native video ad campaigns with Taboola, the company saw a 25% higher CTR than other video platforms.
3. Write Valuable Content
Content generates strong leads by piquing a user's interest. The more content you have, the more likely it is that a consumer will encounter it. Impact reports that 70% of people prefer to learn about a product from an article over an ad. While WordStream found that brands using content marketing have six times higher conversion rates than brands that don't produce content.
Take inspiration from Dollar Shave Club, a brand that has truly mastered eCommerce content marketing. The company creates platform-appropriate content across its communication channels. It entertain users, keeping them coming back for more.
4. Build Your Social Media Followers
Hootsuite reports that there are almost 4.2 billion social media users, and they spend an average of 2 hours and 25 minutes per day on social platforms. This makes social media a goldmine for eCommerce lead generation. Put your efforts towards a few select channels where your buyers spend most of their time.
When someone chooses to follow your brand on social media, you're a few clicks away from turning them into a customer. Facebook data shows that on Instagram, after seeing a product or service, 80% of users will research the product more, and 81% of users will make a purchasing decision.
Use your feed to showcase your products, brand values, content and promotions and collect user-generated content (UGC). Most platforms know eCommerce companies rely on them, so take advantage of integrated shopping features such as shoppable posts on Instagram and shoppable pins on Pinterest.
Here's a shoppable post from Anthropologie: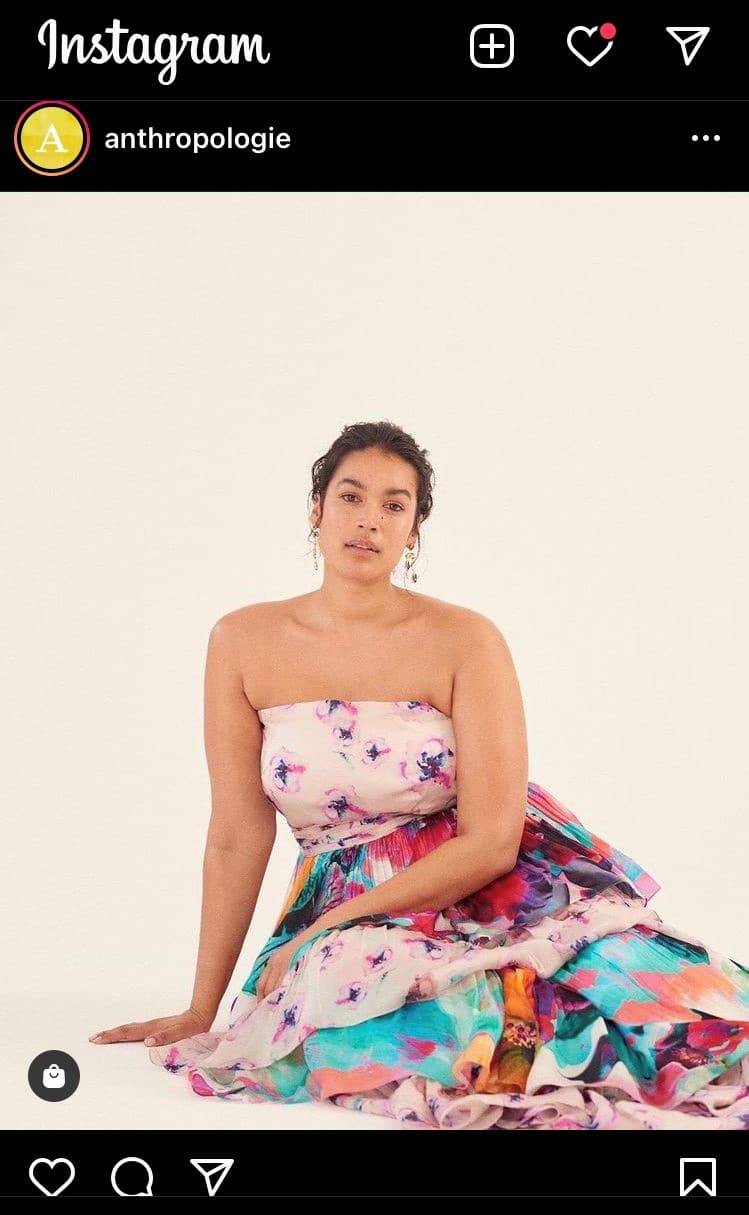 When the user clicks the icon, the brand creates more chances for making a sale by showing more products the user might be interested in.
5. Use Email Marketing
According to Campaign Monitor, email marketing is a relatively inexpensive eCommerce lead-generation technique. It delivers an ROI of up to 4400%, or $44 for every $1 spent on a campaign.
Consumers have become more protective of their email addresses over the past few years, so they may need some encouragement to hand them over. Entice them with a discount sent straight to their inboxes. You'll see leads convert to customers and sales roll in.
Drunk Elephant uses a simple popup with an attractive discount to tempt users to enter their email addresses.
6. Create Personalization
Personalization comes in many forms and can be executed across the entire customer journey. An eMarketer survey revealed that 50% of people prefer personalization in the form of products related to their interests, so make sure your site triggers that functionality. After a purchase, follow up with an email highlighting additional related products or a discount on items in the same category.
Old Navy uses this strategy, showing users complementary items and giving them the ability to place them in the cart with one click.
7. Optimize Conversion Rates (CRO)
If you're bringing traffic to your site, but leads aren't converting to sales, it's time to revisit your analytics and determine the causes leading to customer drop-offs. You can optimize every element of your site. Start by asking yourself questions such as:
How easy is it to navigate and search the site?
How quickly do pages load?
Are images high-quality?
Are there enough reviews?
Are buttons easy to click?
Once you identify an area for improvement, optimize it. Some changes can be cut and dried, while others A/B tested. Don't make changes solely based on assumptions. Continue to test one element at a time and check your data before making final decisions.
8. Take Advantage of Cookies
ReadyCloud reports that retargeting campaigns earn nearly 77% more clicks than other ads, and retargeted visitors have a 70% chance of converting. To implement retargeting campaigns that bring those kinds of results, you need cookies on your site.
Cookies collect and store information from a visitor's session, including the items they clicked on or added to their cart, even if they didn't check out. Use this cookie data to retarget past visitors and show them personalized ads featuring the products they viewed. You can launch your remarketing campaigns on social media channels or other sites using Google AdWords.
This infographic from Beacon Technology explains the process:
To comply with all international laws, include a cookie policy on your website.
9. Offer Discounts and Deals
You spent time and money bringing eCommerce leads to your site. The fastest way to convert leads into paying customers is to tempt them with deals or discounts. The incentive to buy needn't be enormous; it can be as simple as 15% off or free shipping.
You can also use discounts to increase your average order value (AOV) with an offer such as, Get $15 off a purchase of $75 or more. It sounds counterintuitive, but consumers will add extra items to their cart to take advantage of the deal, often exceeding the minimum purchase required.
Instead of offering everyone the same deal, create a sense of fun and anticipation using a discount wheel, as Patch Panel do here.
10. Optimize for Mobile
Statista projects that this year, m-commerce will generate 72.9% of all retail eCommerce sales. A surefire way to increase lead generation for eCommerce sites is to provide users with a stellar mobile experience.
Optimizing for mobile requires you to test your site on devices of all sizes. Ensure that buttons, menus, search bars, and forms are easy to use, content is the right size, and scrolling is a cinch.
Google's Mobile-Friendly Test tool tells you how your website performs on mobile devices, which areas need improvement, and which pages don't load properly.
I randomly selected cosmetics company Lush to test with Google's tool. Here are the results:
Conclusion
It's a challenge to establish brands in the eCommerce industry as it's a crowded market. To succeed, first you must have a deep understanding of who your ideal customer is. Then implement eCommerce lead-generation strategies to fill your traffic with high-quality, targeted users. Since eCommerce sales cycles are short, employ retargeting campaigns to close the deals quicker.
Every eCommerce business is unique. Continually check your data to see which strategies bring the most leads and sales. Think about how different user journeys impact your ROI to identify the most cost-effective lead-generation methods. And, to optimize your site for maximum conversions, don't forget the 'ABT' rule (always be testing).
If you're in the fashion or beauty eCommerce world, see our guides packed with tips and tricks to help you cut through the noise, generate more leads and close more deals in this particularly crowded space.