A great domain name is just as important as your company name. It's your calling card and online identity.
Yet, with over 1.94 billion websites on the internet, it's highly likely that your domain name with a .com at the end is already taken. Fear not, there are still a lot of great options out there and plenty of ways to get around the situation – or come up with a new name!
Is a .com still necessary?
This is one of the most common questions companies ask, and there's quite a debate around the topic. While a .com is still the most popular choice and accounts for 43% of all domains, there are over 1500 top level domain endings (TLDs) available today.
Some people believe that a .com reflects brand authority and trustworthiness, but others argue that some of the newer TLDs such as .news, .digital. or .buzz can be even more beneficial for a company. And, the idea that a TLD that's not a .com will affect your search rankings is simply not true. According to Google, all TLDs are equal when it comes to searches, and non-traditional ones won't harm your rankings.
TLDs fall into two categories: generic ones like .com and .net, and country-specific ones like .us for the United States or .ru for Russia. Choosing a country-specific TLD is beneficial for international SEO as it tells search engines and users the origin of the site. With all other things equal, a .us site will rank better in an American's search engine results page (SERP) than a .biz, for example. If your target market is global, choose a generic TLD; if your audience is local, consider a country-specific option.
The rules for how to choose a domain name
There are some significant factors to consider when picking a domain name, so be prepared to do some research and brainstorming sessions to find a domain that works well for your brand.
Be brandable.
When considering a domain and the name of your company, you want to make sure the name is easy to say and easy to spell. Choose a name that's catchy and memorable but also easy to understand, explain and type into a browser. Avoid using hyphens which can over-complicate things.
Be searchable.
Using a carefully selected keyword or two is just as important for your domain name as it is for your website content. The right keyword will reflect your brand and the service your offer, making it easier for users to discover your site.
Stuffing generic keywords into your domain is overkill and doesn't have the SEO benefit it used to because search engines now weigh many more factors than just your domain name.
Be social.
You want social media handles that are same as your domain and brand name so users can find and recognize your brand across the web. Namechk will tell you if the handle is available on over 80 different social networking sites.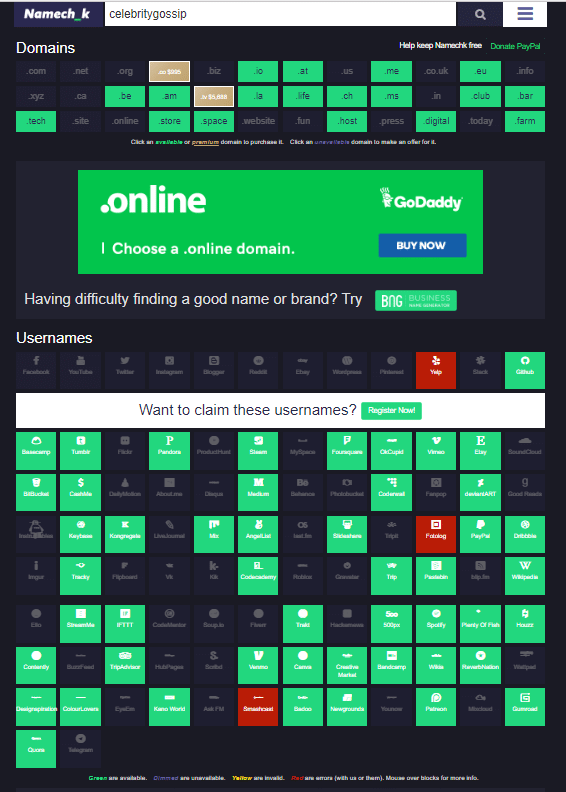 Trademarks matter.
Before you settle on any domain, head over to WIPO to see if another company has trademarked the name. This will help you avoid trademark infringements and lawsuits as well as give you insight into whether the name will be confused with another brand.
Test it out.
After you've narrowed down your list to a few names that pass the above requirements, talk to potential users, friends or anyone else. Say the domain name to them and their candid responses should give you an idea if you're on the right track.
Get inspired.
If you're stuck for a name, try out one of the many online name generators to get the juices flowing. You can enter a word or two, and they will spit out hundreds of suggestions with different word combinations. Some even check which names are available and with which TLDs. Popular ones include LeanDomainSearch, Name Mesh, Bust A Name and Impossibility.
Creative domain names that work
When it comes to your domain name, the sky is the limit. While you don't want to settle for a meaningless domain, it doesn't mean you can't create a new word and give it meaning with your brand.
Google is a perfect example. Before the search engine dominated our lives, who ever said the word Google? Now try to get through a day without saying it! Groupon smashed together two words and has become a recognizable, household name.
Companies like Reddit, Digg, Flickr and Lyft opted to play around with spelling so they could secure the domains they wanted. Because the names are short and the spelling changes are rather uncomplicated, even when the brands had to spell out the domain in the beginning, they were quick and simple to understand.
Scoop.It used a non-traditional TLD to help build its name. The owners of parisfashionweek.com switch their domain to parisfashionweek.buzz as they felt it more accurately reflected their content.
Buying a domain name
You can purchase your domain name from any of the Domain Name Registrar companies. They are all more or less the same, although some might offer perks such as a discount on hosting services or included security features.
Google Domains is pretty straightforward and comes with privacy protection, a DNS, 24/7 support and more.
GoDaddy is one of the biggest registrars out there and offers hosting services, a website builder and lots of website templates.
NameCheap is another popular option with average pricing and low-cost website hosting options. Like others, the company lists thousands of domain names that have already been purchased but are currently up for sale.
Domain Name Costs
The price of a domain name can vary from a few dollars to thousands, so you budget might limit your choices. It pays to comparison shop as some registrars might offer a discount or just a lower price.
Let's say you were going to have a site about celebrity gossip. You can see that celebritygossip.com is taken, but it offers a list of available domains at a variety of prices:
celebritygossip.network: $3.83/year
celebritygossip.world: $3.48/year
celebritygossip.media: $10.48/year
celebritygossip.news: $520/year (more expensive because it's considered a premium domain)
celebritygossip.club: $75.47/year (also listed as a premium domain)
Some options, such as celebritygossip.rocks, are "taken" but this indicates that you can make an offer to the current owner and purchase it for yourself.
Final thoughts on how to choose a domain name
Although the process can seem daunting, investing time in finding the right domain name will pay off in the end. Remember to:
Think about your brand offering and how people will interpret the name
Select a name that's easy to understand and remember
Be open to newer TLDs and use them creatively
Keep the domain short and play with spelling if necessary (but do it carefully!)
Make sure it won't be confused with competitors
Have keywords in mind but don't rely on more than one or two