Although it may feel like March 300th and one long Monday of a year, we've finally made it to 2020's winter holiday season.
With this comes a crucial opportunity to rethink the way you plan to reach out to consumers. In many ways, this holiday season will be different from holiday seasons of the past. But, in other ways, it'll be quite the same.
According to The National Retail Federation (NRF), 87% of consumers plan to celebrate the winter holidays this year, including Hanukkah, Christmas, and Kwanzaa.
They also share predictions like the fact that gifts, decorations, and food will areas with high spend. The following illustration breaks that spend down even further.
(Source: NRF)
NRF also shared that 96% of retailers expect their online sales to increase this holiday season, so don't miss out on the opportunity that eCommerce can bring you (as well as the opportunity to advertise about it).
The insights we'll run through today cover the aforementioned winter holidays and more, so no matter how your consumers celebrate, you can ensure you're reaching them effectively.
In other words, our ultimate holiday guide is all wrapped up and ready for you to open.
The Ultimate Holiday Marketing Playbook (Broken Down by 11 Industries)
We're going to cover a lot of ground today, so let's start with an overview. We'll talk about:
The key elements to consider as you plan your holiday marketing
Examples from brands who've already launched holiday campaigns this year
Creative best practices to make your campaigns merry and bright
Targeting strategies to help you connect with holiday consumers where, when, and how they're most likely to be receptive
Bidding best practices to make the most of every holiday dollar you spend
Examples to leave you off with a dose of holiday inspiration
Holiday Marketing Campaign Planning
As you map out your holiday campaign, there are several key things to consider, such as which consumers are you trying to reach and when, if you'll be providing any type of discount, and if you have to take shipping into consideration.
Big Shopping Days Lie Ahead—Plan Accordingly
This holiday season, eMarketer is forecasting that US retail eCommerce sales will jump 35.8% to $190.47 billion, with an emphasis on Cyber Monday (2020's projected biggest online spending day with sales of $12.89 billion) and Black Friday (2020's runner up online shopping day with $10.20 billion in sales). In other words, don't miss out on these massive online consumer moments to shout from the rooftops about your holiday offerings.
Plan For Promotions
Thinking of offering a promotion or sale ahead of the holiday? Don't forget to take that into consideration when mapping out when, exactly, your campaign will run.
Make sure that you're able to offer the promotion during the window in which you're advertising is and absolutely include your promotion's end date to create a sense of urgency.
Don't Let Shipping Surprise You
One of the biggest holiday eCommerce mistakes we see companies make is not taking shipping deadlines into account.
You run the risk of hurting conversion rates if you're running a holiday promotion without the ability to actually deliver your product or service in time for the holiday.
Carefully calculate your goals, plan ahead with your budget, and take timeline into account to make sure your holiday campaign goes off without a hitch.
Here's How Brands Are Getting Into The Holiday Spirit This Year
All of the above trends mean nothing if you don't know how to implement them. Based on the NRF projections we highlighted at the start here, we'll take a look at examples in the food, home/decor, and lifestyle verticals.
Holiday Food Marketing That's Good Enough to Eat
As people everywhere begin to map out what their celebrations may look like this year—be it virtual, socially distant, or solo—food still remains a central part of what the holiday season is all about.
Coca-Cola With a Harrowing Tale
It's no surprise that holiday heavy-hitter Coca-Cola came out with such a heartfelt spot.

They've also put together a holiday landing page that speaks to the relatable virtual holiday experience so many people will be having all around the world this year.
Walkers Crisps Has a Little Fun For a Good Cause
To properly introduce their newest flavor to holiday consumers, Walkers Crisp put together a video that's not only entertaining, but helps raise money for the Trussell Trust, working to end hunger in the UK.
They also double down on this messaging right on their homepage to further get their message across.
Home & Decor Marketing to Deck The Halls With
Even if just for a festive Zoom background, people are planning on filling their homes with holiday cheer. Create ads that spark creativity amongst consumers, and remind people that there's no one perfect way to be holiday-ready.
Shutterfly Helps Consumers Capture The Moment
Shutterfly is showing consumers how the little moments from a difficult year can be captured and serve as a reminder of the silver linings this holiday season.
Their website is holiday ready, too, with holiday items front and center.
Hobby Lobby Reminds People of The Value of a Good Neighbor
In this touching video, Hobby Lobby reminds consumers that the holiday season is, truly, what you make of it, especially at a time where people may feel more isolated than usual.
The sentiment is echoed on their very holiday-ready website featuring all kinds of creative ways to make home feel like the holidays this year.
Lifestyle Marketing That Really Hits the Mark
People will be approaching gift giving a bit differently this year—mainly online, and likely with an emphasis on sales.
It's more important than ever to be human in your advertising efforts, and remember that this year has brought hardships in many forms. Meet your consumers where they are, or where they might be.
Amazon With a Look Back at 2020
Take, for example, this beautiful video from Amazon, reminding audiences everywhere that the show must go on.
Amazon's website, not surprisingly, is decked out and ready to go with holiday features such as a "Holiday Dash" featuring daily deals, and a handcrafted gift section for those looking to purchase something a bit more rustic.
Lego With a Much Needed Reminder
And, take this inspiring video from Lego, reminding people to find some of the childlike wonder that the holiday season brings.
Lego's website is perfectly equipped to welcome those who see their holiday video and feel inspired to shop with gift messaging front and center.
Here's How to Duplicate Their Success With Your Own Campaigns
In an arena as saturated as holiday marketing, you'll want to be sure you're doing everything possible from a creative standpoint to set yourself apart.
When we talk about creative in this context, we're referring to two things: sponsored content and video. Sponsored content includes a photo and a title, whereas video stands alone with your brand tag.
Image-Wise, Opt For No Text, Animals Included, and Photos of People
Paying attention to the creative elements that are increasing click-through rates can help you better create and design ads that will work.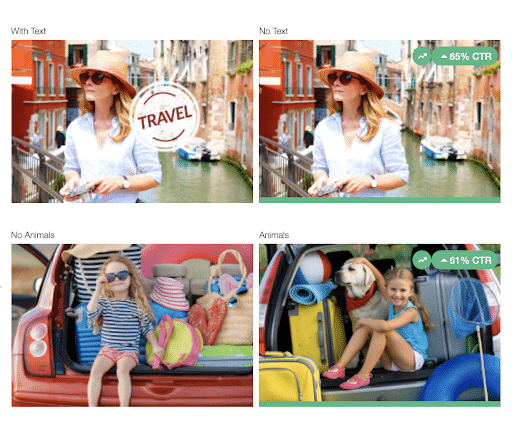 For Videos, Try Wintry Illustrations With a Male Subject and No Animals
These video trends are proving to increase completions—something you won't want to miss out on given the effort and resources it takes to put together a video holiday campaign.
Keywords to Try: 'Photo' and 'Remember'
When it comes to keywords, there are some that are just tried-and-true successful at increasing click-through rates, like the ones on this list:
Keywords to Skip: 'Game,' 'Business,' and 'Help'
On the other side of the keyword coin, there are some you'll want to avoid in order to keep your holiday campaign clicks where you want them to be, while avoiding being drowned out in the noise. These keywords have becoming overused, and if you use them you may have to bid more for consumer attention.
Opportunity Keywords: 'Exceptionally' and 'Loving'
We feel it's important to highlight some opportunity keywords here. These are keywords that don't yet have a ton of spend behind them, but are already showing promising click-through rate impacts, meaning you won't have to bid high for them.
With That in Mind, Let's Test Some Titles
To help you imagine how you could apply these keyword trends into real titles, we created a list and inputted the options into our Title Analyzer tool.
The titles we tried out were:
Your Guide to Gift Wrapping (With Photos)
Remember These 19 Classic Holiday Gifts?
12 Exceptionally Unique Virtual Holiday Party Ideas
The Dress Fashion Bloggers Are Loving This Holiday Season
Take Professional Photos at Home This Holiday
Here's how they ranked:
'Tis The Targeting Tactics
Even the most thoughtful use of our holiday creative best practices won't land if careful targeting isn't considered, too.
To determine where opportunities can be found with targeting, we look at two things: supply and demand. We define supply as the percentage of spend seen across our network, and demand as click-through rates.
Where there's high demand (many people clicking) and low supply (not a lot of ad spend) is exactly where your best opportunity lies to meet interested consumers who's needs aren't being met.
Reach Holiday Consumers at Night
If you want to get in front of consumers in holiday shopping mode, the nighttime hours are the time to do it.
Sundays and Thursdays Are Ideal For Holiday Consumers
Catch consumers right as their week begins and then again as it winds down––both these days hold demand that isn't yet being met with supply.
Tablet Devices Are Where It's at This Holiday Season
In the past, mobile has been a huge device to target for holiday marketing. But, perhaps after a much more device-heavy year with working and operating out of the home, people are most often finding themselves in shopping mode when they're on their tablets.
Give Video a Go
Capture the attention of holiday consumers by directing them to video content. It's easy to consume, interesting to watch, and leaves quite a bit of creativity open for you to work with.
Bring Your Very Best Bidding
A time of year as important as the winter holiday season calls for foolproof bidding best practices you can rely on.
A few of the best practices we consistently recommend are:
Opting to modify bids on individual sites before blocking publishers when CPAs are high
Increasing bids by 25%-50% for top-performing sites to increase their competitiveness
Considering always-on campaigns if budget and offer parameters allow
And, of course, using Smart Bid
Smart Bid can help you get more value out of Taboola, especially around these big, important consumer holidays where you just can't afford to fall flat.
Winter Holidays, We're Ready For You
As different a year as 2020 has been, so many elements of what makes the holiday season special are more prevalent than ever.
People want to feel connected, inspired, and a sense of togetherness. Remember to remain human in your advertising efforts, to follow best practices, and to not lose sight of what the holidays mean to consumers.
It's been a long year, but we've made it to the holiday season, and we can't wait to see the incredible campaigns you put together.