It's that time of year again. Twinkle lights are adorning rooftops, ornaments are coming out of boxes, and consumers are grabbing their plastic cards, ready to charge up a storm on in-demand gifts.
So, advertisers and publishers — listen up! We have the inside scoop on which US consumer categories and trends dominated last year, what products are topping wish lists this year, and the creative trends you can leverage in your holiday ad campaigns to catch consumers' attention.
2020 Trends: A Look Back at a Year Unlike Any Other
Last year was a challenging time, to say the least.
However, stimulus checks infused bank accounts with cash, and holiday retail performed better than expected. The National Retail Federation (NRF) reported sales topped $789.4 billion, an 8.3% increase compared to 2019. Even merrier news arose for online and non-store sales, which increased 23.9%, totaling $209 billion.
Before we dive into the trends that drove these numbers sky high, I want to make a quick point about how to use all the insider secrets and trends included below. Native advertising is content-driven, so knowing what types of content readers are interested in puts you in a powerful position to beat the competition. In addition, we've added insights from our Skimlinks network of commerce content publishers. Working with 60,000 publishers around the world, Skimlinks enables publishers to earn commissions when their articles about sales drive ecommerce transactions for retailers.
Advertisers, how you leverage the data is pretty straightforward. Focus your ad campaigns on the types of products mentioned and follow the creative trends to improve CTRs.
Publishers, you can use these insights in two ways. First, make sure you develop articles that reflect the top content to engage readers. Second, grab a bigger piece of the Christmas pie and raise your Q4 revenues further by becoming an affiliate marketer and earning a commission for all the sales your readers make.
2020 Q4 Content Themes: Holly, Jolly Guides
Just as the lion will always be king of the jungle, content will always be king of the internet. People are hungry for it and consume it if it answers their most pressing questions. But the type of content you choose to produce could be the difference between driving engagement, clicks and sales, or falling flat and short of your Q4 goals. Leveraging the data and insights collected last year to help you create a winning content strategy is a smart move.
Let's take a look at 2020's top 100 articles across several categories.
Top Performing Black Friday Content
Almost half of the top-performing Black Friday articles were evergreen gift guides. Content-focused on best deal round-ups accounted for 31% of the top articles, while the remaining 21% featured store-specific deals.
Top Performing Cyber Monday Content
Cyber Monday articles looked pretty similar. Earning the top spot were evergreen guides (55%), followed by last-minute deal round-ups (28%) and store-specific deals (17%).
Top Performing Holiday Content
When looking at a breakdown of general holiday-themed content, 60% of the best-performing articles were again evergreen guides. 24% of the top content pieces were about gifts for women, and 16% were food and drink guides.
Top Performing Devices on Black Friday
Let's take a deeper look at the results here.
Clicks & Sales by Device Type
Mobile reigned supreme when it came to the top devices, accounting for 59.6% of clicks. However, desktop edged out mobile in terms of driving sales, earning 49.6% versus 48.3%.
Top Performing Merchants
There is some crossover among the top merchants for Black Friday, Cyber Monday, and the holidays in general. What's clear is that retailers in the home goods, home improvement, fashion, and tech industries did the best.
Black Friday: Top performing merchants include Anthropologie, Best Buy, Brooklinen, Glossier, HP, Kohl's, Lululemon, Nordstrom, Nordstrom Rack, and Parachute.
Cyber Monday: Top brands on Cyber Monday include Anthropologie, B&H Photo, Best Buy, eBay, Etsy, Everlane, Huckberry, J.Crew, L.L.Bean, and Nordstrom.
The Holidays: The graphic below shows a direct correlation between the top-performing merchants and the top-performing holiday articles themes. The merchants that 'won the holidays' included men and women's fashion retailers, home goods sellers, beauty retailers, and the top learning destination, Masterclass.
2020's Top Performing Products
With the pandemic still raging, home for the holidays took on a new meaning (think: stuck at home!) in 2020. That heavily influenced consumer purchases, and retailers that sold feel-good products and pandemic-related goods crushed their sales goals.
Q4 Top Products (Overall)
Overall top products were spread across several key categories including cozy and comfy home goods, cookware and lifestyle improvements products.
Consumers opted for cozy and comfy home goods, cookware, and lifestyle improvement products. Mattresses were strong evergreen performers across brands like Saatva and Casper, while comfier pieces like bathrobes performed well in home goods, and appliances like Dyson Vacuums proved popular as consumers seized seasonal deals.
Top Beauty Products
There was a definite theme for beauty products: advent calendars offered bite-size beauty, and self-care items allowed people to pamper themselves and indulge across brands including GLOSSYBOX and ASOS. Skincare was popular too with lip masks and face rollers performing well for brands like Sephora and Nordstrom.
Many of these products topped holiday wish lists thanks to their popularity on TikTok. The hashtag #GlossyBoxAdventCalendar amassed a whopping 1.7 million views.
(Source)
Top Fashion Products
No one was shopping for glitzy holiday party outfits or warm-weather cruise ware, but they were buying clothes. The fashion vertical highlighted expected themes of comfort and protective masks from brands including Ministry of Supply. Other leisurewear top products like leggings, coats and booties came from brands including Lululemon, Nordstrom and Ugg. 
(Source)
Top Fitness Products
With gyms shuttered, consumers looked to enhance their at-home workouts. Recovery products such as Theragun Pro were popular, with traditional top products like running shoes from top brands like Nike and Adidas doing well, and more high-tech items from retailers like NordicTrack and MIRROR also standing out last year.
(Source)
Top Home Products
The overarching theme again was at-home comfort and convenience across brands including Saatva, Layla, and Bed, Bath & Beyond. The most popular purchases were mattresses, sheets & bath towels, weighted bankest, and a mattress topper from Bed Bath & Beyond.
(Source)
Top Technology, Gadgets & Gaming Products
Fitness gadgets were a popular category, especially high-tech items from brands such as Theragun and Mirror, while gadget accessories like touchscreen gloves were als on demand, as well as speakers like Sonos and games consoles such as the latest Xbox.
(Source)
Top Travel Products
Travel obviously looked a little different last year, but suitcases and suitcase organisers remained popular as people planned weekends away or eyed future travel, while the mainstay of products for the travel category focused on safety. Masks and hand sanitizer performed strongly in this category
(Source)
Now that you have a good idea of what happened last year, let's see what this year holds.
The 2021 Q4 E-Commerce Outlook
Despite clogged ports and inflation reports, consumers are prepared to spend big this year on festivities and gifts to make up for last year's lackluster celebrations amid nationwide lockdowns.
Consumer Behavior, Top Products & Consumer Trends
The NRF predicts holiday spending will increase between 8.5%-10.5% from last year, ringing in somewhere between $843.4 billion and $859 billion. The company expects online sales to increase between 11%-15%, accounting for $218.3-$226.2 billion.
The best way to ensure you surpass your Q4 goals is to know which products consumers are already searching for and the creative trends that will inspire them to click on your campaigns. All of the image and video creative trends below were pulled on November 16th, but as the days go by and you update and optimize your campaigns, check Taboola Trends for the latest data.
Top Performing Products
Taboola's data shows many of the trends we saw last year are reemerging this year.
Items in the home goods category are already leading the pack, but possibly for different reasons. With travel restrictions lifted, many people are planning larger get-togethers, which means more house guests to impress. Other highly coveted products fall into the fitness and consumer tech categories.
Skimlinks' data shows several important takeaways for the season.
First evergreen categories like mattresses and bedding are already off to a strong start from brands including Saatva, Brooklinen, West Elm and Parachute. On top of that gadgets seem set to perform well, such as a cat-litter box robot, while in advent calendars an early success appears to be alcohol-focused calendars, like a 24 days of wine.
Overall Creative Trends: Photos with animals and without food
Photographs will increase CTR 37% when compared to illustrations. Boost CTRs further by including animals (+28%) and images without food (+28%).
General Video Trends: Go for winter backgrounds, men, and food
Across all categories, many video trends are similar to their static image counterparts. Increase video completion rates by including winter scenes (+100%) and animals (+6%). Opt for real images (+5%) and use color instead of black and white (+18%).
Some creative differences that increase video completion rates include featuring men instead of women (+33%) and using videos with food (+20%).
Top Beauty Products
The beauty vertical shows a theme similar to last year's, with advent calendars in high demand, including options from Look Fantastic, Net-A-Porter, and George & Viv via Anthropologie. Rounding out this category are anti-aging products and high-end perfumes at discount prices.
(Source)
Beauty Creative Trends: Outdoor photos in color
Increase CTRs by including the outdoors (+108%), photos over illustrations (+38%), and pictures in full color (+33%).
Top Fashion Products
When it comes to fashion, comfort is still top of mind, but there's also the addition of "back to the office" styles and bras. Products drawing a lot of attention include lifestyle pieces like leggings, hoodies and crop trousers from Lululemon, Alo Yoga and Free People.
(Source)
Fashion Creative Trends: Photos of women
Photographs, as opposed to illustrations, will increase CTRs by 23%. An image with a person will increase CTRs by 30%, and featuring a woman instead of a man will increase CTRs by 47%.
Top Fitness Products
Even though many gyms and fitness centers have reopened, consumers are still highly interested in products that allow them to work out at home and the best fitness attire. Top products here include yoga mats and sweat pants, sneakers, and workout equipment like rowing machines.
(Source)
Fitness Creative Trends: Indoor images without food or animals
For this category, increase CTR by 55% by choosing images without animals, 26% by using indoor photos, and 24% by adding food-free images.
Top Home Products
Consistency is the key with the home category. There's little change in the top products, with mattresses and bedding sets that performed well last year leading the way this year powered by evergreen content. That said home gadgets, like the cat litter robot, a home aqua spa, and bedding accessories like mattress toppers are proving hot products as well.
(Source)
Home Creative Trends: Include women and food but skip animals
Drive CTRs by including women (+78%) and food (+49%) in campaign images but leave the animals out for a 35% increase.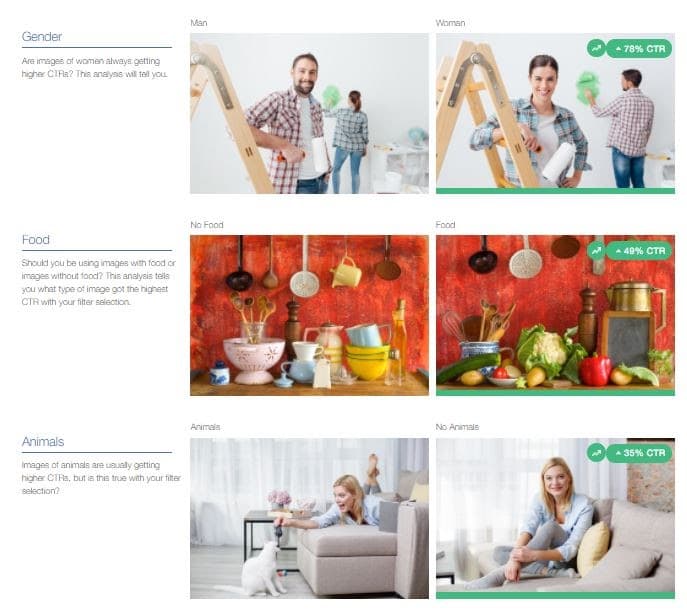 Top Technology, Gadgets & Gaming Products
Like last year, gadgets and gaming are high on lists.
Coveted products in this category suggest people are looking to get their kids connected with smartwatches for children popular. Consumers are also led by new product releases like the latest Samsung cellphones, with big ticket items for the home like new TVs popular and gamers taking advantage of promotions around gaming computers.
(Source)
Technology Creative Trends: No close-ups, animals, or food
Boost CTRs by using images without animals (+131%), without food (+36%), and taken from a distance (+33%).
Top Travel Products
Suitcases look set to steal the show for a second year, with luggage from Rimowa, Away Travel, Briggs Riley and more performing well from travel content. Smaller items like toiletry and belt bags are also making a comeback, reflecting travel increases this year versus last.
(Source)
Travel Creative Trends: No food or people but add in animals
Creative images without food items will increase CTRs by 81%, and using pics without people will boost CTRs by 66%. Include animals to see a 57% CTR increase.
Wrapping It All Up in a Bow
Although we're in a different year and many things have returned to pre-pandemic status, it appears that consumers are still mainly in the same mindset as last year.
Life these days is all about comfort and convenience, fitness and lifestyle improvements, and creating the most inviting home environment possible.
Publishers and advertisers can create winning strategies this holiday season by following content trends and pushing out content that readers want – gift guides. Publishers, consider including affiliate links, and you'll be well on your way to significantly increasing revenue.
There's a lot to cope with when creating campaigns. Taboola's semi-automatic campaign bidding strategy, SmartBid, can help lighten the workload.
Powered by historical data, SmartBid identifies the most likely to convert impressions and increases your bid on those while decreasing bids on the ones less likely to convert.
Remember that consumers are ready to spend this year, and they are spending earlier than ever to make sure they nab the products they want. Don't wait any longer to launch your holiday marketing strategy because consumers are already making their lists, checking them twice, and buying everything on them!