On April 22, over 1 billion people will join together to celebrate Earth Day. Some consumers will attend environmental rallies; others will plant trees or take some time to marvel at the beautiful planet we all call home.
Although not considered major holiday to all, Earth Day gives advertisers and publishers a unique opportunity to create relevant and relatable marketing campaigns that win over niche audiences and drive business forward.
In this post, we'll take a look at how you can use data-backed research, insights, and trends to build brand awareness and create click-worthy campaigns.
What Is Earth Day?
In 1969, a massive oil spill in Santa Barbara, California, ravaged the coast, spurring Wisconsin Senator Gaylord Nelson to take action. He leveraged the power of student anti-war demonstrations with the public's emerging consciousness about water and air pollution to create a dedicated day to raise awareness about environmental issues.
The following year, Earth Day was supported by the masses, leading the US to create the Environmental Protection Agency (EPA) and pass laws including the National Environmental Education Act, the Clean Air act.
Fast forward to today. Living through the COVID pandemic has renewed consumers' concerns about the environment and reenergized the public to take a stand and protect the planet.
Data from Skimlinks (a Taboola-owned company), shows the changing consumer mindset.
From 2019 to 2020, online searches about the environmental impact of online shopping increased by 2250%.
Publisher articles that featured sustainable brands and products generated 172% more order value (OV) in 2020 than in 2019.
Today, 65% of consumers want to buy from purpose-driven brands that advocate sustainability.
Merchants with sustainability at their core have experienced 40% greater year-over-year (YoY) OV.
56% of US consumers stop buying from companies they view as unethical.
Publishers that create guides highlighting retailers with fair trade practices have generated 95% greater YoY OV.
Unearthing Last Year's Trends
Last year, when Earth Day rolled around, we were still in the pandemic's mighty grasp, but spring's warm weather allowed us to socialize more comfortably, and outdoor areas became social spots.
Throughout 2021, consumers invested in home goods, buying eco-friendly products that made their indoor and outdoor areas more cozy, convenient, or luxurious. Statista reported household goods and home improvement is one of the fastest-growing e-Commerce retail sectors. Furniture and homeware e-Commerce generated $2.7 billion, accounting for 17.28% of online retail sales.
With that in mind, let's look at some examples of the best-performing content according to Skimlinks data.
Top-Performing Q2 2021 Articles: Outdoor Living
Articles focused on outdoor living and furniture generated high commissions for publishers.
Top-Performing Q2 2021 Wayfair Way Day: Outdoor Furniture Deals
Publishers that promoted Wayfair's Way Day outdoor furniture buying guides cleaned up, earning high click volumes and commissions.
Top-Performing Merchants by Q2 2021 Event: Earth Day
Merchants that earned the highest commissions, click volumes, and OVs included eco-centric and sustainable brands like Allbirds, Cariuma, Uncommon Goods, Nordstrom, and Disney+.
2022 Trend Predictions: Pollution Isn't a Solution
There's no doubt that the pandemic fundamentally shifted consumer behaviors. Many of those are here to stay, as is a focus on sustainability from both the consumer and business perspective.
At NRF 2022: Retail's Big Show, sustainability was front and center. CEOs from mega-retailers, fashion brands, and other industries spoke about using clean energy and redesigning supply chains to align with consumer demands for sustainable companies and sustainable products.
The takeaway is clear: advertisers and publishers should shift course if they haven't already and look to promote sustainable brands.
News Trends: Earth Day Every Day
Consumer search trends act as a magnifying glass for the consumer thought process, showing how popular terms are evolving. Integrating them into your campaigns and articles will help ensure the right audiences see them at moments when they are likely to engage (thank you, contextual targeting!).
As of March 2, 2022, Taboola's US publisher network shows the following search trends:
Earth Day: 3,850 pageviews in the last 90 days, up 350%
Sustainable: 218,040 pageviews in the last 90 days, up 34%
Green: 2,208,850 pageviews in the last 90 days, up 60%
Publisher News Articles: Fresh Inspo for Your Campaigns
Now let's look at some examples from publishers who successfully put these news trends into practice. When crafting your own Earth Day ad campaigns or content strategy, use them for inspiration.
POPSUGAR published a fantastic guide that taps into customers' desires to upgrade their interiors with sustainable furniture.
TODAY.com created an article that helps people make their lives greener while supporting small businesses.
Marie Claire produced a gift guide packed with sustainable gifts.
Business Insider took an opportunity to review Allbirds' newest sneaker.
Targeting Best Practices: Plant Campaigns in the Right Places
Following Taboola's best practices helps ensure that you maximize your advertising budget and exposure opportunities. Here are some of the top recommendations:
Automate with SmartBid: SmartBid is a semi-automatic bidding strategy that prioritizes conversions. It uses historical data and deep learning to increase or decrease impression bids based on the likelihood of conversion.
High Impact Placements: If you want to boost brand awareness by displaying your campaigns in the most valuable areas on premium publisher sites – the homepage, section front, mid-article, Taboola Feed, and more – and guarantee they are surrounded by brand-safe content, Taboola's High Impact Placements is the way to go.
Motion Ads: Motion Ads use looped videos or GIFs instead of static images to capture more attention. This format yields higher CTRs and CVRs, and lower CPAs. Just remember to use an A/B test strategy to improve performance.
Reaching the right audience requires a targeting strategy that includes choosing the correct ad format and device type.
As of March 1, 2022, Taboola's data for US advertisers in the Environmental vertical shows these are the best options for higher CTRs with lower spend:
Performance by Content-Type: Choose Video over Photo and Text
Performance by Platform – Leads: Select Desktop over Mobile and Tablet
Performance by Platform – Purchases: Opt for Mobile over Desktop and Tablet
Performance by Platform – Brand Awareness: Pick Desktop over Mobile
Creative Best Practices: Rock Your Campaign Creatives
Taboola Trends is a free data tool that analyzes image, video, and keyword trends based on billions of campaign clicks and impressions. It's updated regularly, and there are many ways to filter the data so you get precise insights.
Let's look at the creative trends US-based advertisers in the Environment vertical should consider when planning their campaigns as of March 7, 2022.
Image Trends: Increase your CTR with outdoor images (+111%) that include women (+39%) and are taken from a distance (+39%).
Video Actions: See higher completion rates by including people eating (+210%), air travel (+68%), and marriage-related content (+64%).
Video Characteristics: Other elements that can improve your completion rates are using winter scenes (+100%), animals (+16%), and color (+12%).
Campaign Headlines: We created and tested three different title options using the news trends we covered earlier. The Title Analyzer eliminates guesswork and shows "25 Green Products to Make Every Day Earth Day" has the highest predicted CTR.
Here's how your campaign might look if you combine the news trends and creative practices we've covered:
Case Studies: Brands Saving the World
Hoaluz is revolutionizing the energy sector by connecting people with energy that is 100% green. Using Taboola's Attentive Audiences, CTA Button, and description ad formats, Hololuz decreased CPL by 26% and CPL by 50%, plus increased CTR by 30%.
New Atas produces content that celebrates innovation in the science, technology, and design fields. The company grew its newsletter revenue by 100% using Tabola's Mailbridge monetization solution.
Knowridge Science Report (KSR) publishes stories about science, technology, medicine, the earth, and more. When KSR wanted to increase engagement and revenue on traffic coming from news apps and social media channels, it implemented a continuously scrolling Taboola Feed and features like Next Up and Read More. The publisher saw a 480% increase in CTR and a 240% increase in RPM in just two months.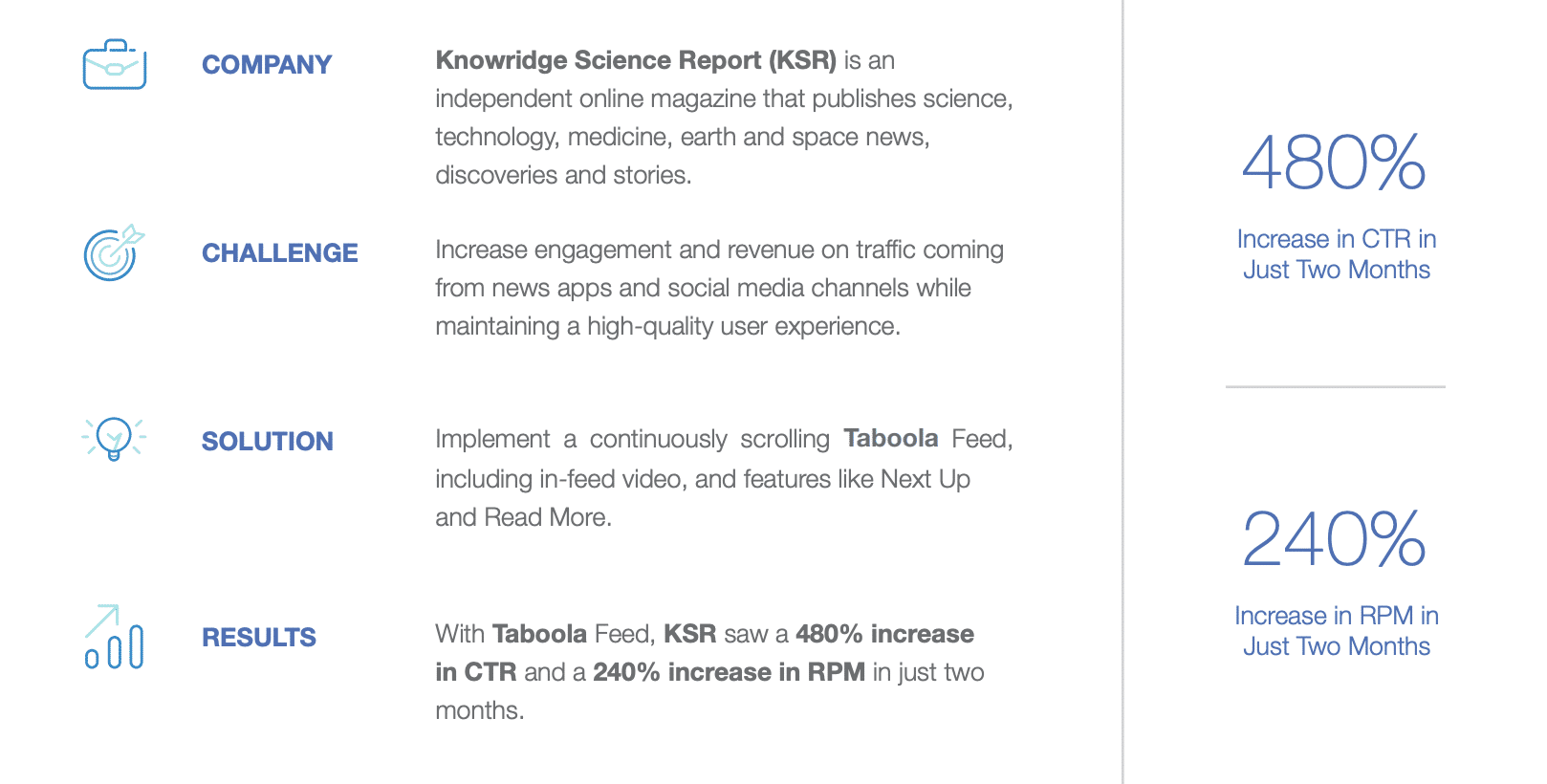 Clean Up with Your Earth Day Campaigns
You can create engaging ads and articles now that you know the trends that drive consumer clicks and purchasing decisions. Make sure that when you launch your campaigns, you use the creative and targeting best practices discussed here, and you're sure to see brand awareness, engagement, and sales blossom.