There are a lot of tools out there that you can rely on for your content marketing function to run smoothly—but there's so many it can be overwhelming.
These are some of the best, hand selected tools to support everything from content creation and your lead generation efforts, all the way to helping you measure your content marketing ROI. With this list, you don't have to wade the murky waters of building a tech stack from scratch.
Taboola's Sponsored Content Checklist
While there's no substitute for a knowledgeable team, choosing a smart combination of these tools will ensure your content marketing strategy is executed faster, better, and with a little more ease than it did without.
Content marketing can cover a lot of ground—everything from managing the team, creating the content, hosting content, generating leads, distributing content and measuring success. This list of tools is broken into groups so that you can navigate easily to those you need the most.
Content Management Tools
These tools can provide a broad overview of your content marketing function, helping you manage creation, optimization and measurement in one platform.
WordPress is the most popular content management system (CMS) out there, used by about 75 million websites. With WordPress, you can host your webpages, blog, and landing pages all under one roof.
It's an easy-to-use platform for nontechnical professionals and is designed to be flexible for individual needs. It powers both the backend of your website (where you login to make changes), as well as the frontend (the visible, public part that people see when they visit).
Here's what the dashboard looks like:
Source: WordPress.org
There are two versions of WordPress:
WordPress.com: this version hosts your website for you. There is no software download, website hosting or managing of a website server on your end. You'll pay for WordPress to manage these things for you.
WordPress.org: this is free WordPress software that you can download and install on your own web server to create our own website.
What's the damage?
WordPress.org is free. WordPress.com has a free option, often with the stipulation that the word 'WordPress' remain in the URL of your website. If our blog used this version, for example, the URL might be blog.taboola.wordpress.com.
Contently is a content marketing management platform that facilitates planning, creation, publishing and measurement of your content marketing efforts. Contently's main focus is article writing—the platform is highly focused towards the creation and publishing of articles—but they support all types of content creation from video to podcasting.
The platform organizes the publishing of content in a calendar:
Source: Software Advice
Tasks in the platform are organized as stories. These stories are created by the user, pitched by Contently's pool of professional freelance talent or from internal team members.
Source: Software Advice
Finally, their analytics suite provides information on content and production costs, performance metrics, distribution channel metrics and how well your content is converting:
Source: Software Advice
Unlike other platforms, Content brings content production under the same roof as publishing, distribution and measurement, allowing more advanced content marketing departments to manage internal writers and freelancers all in the same place. They also provide access to high quality talent, and hand select professionals that are the best fit for your company.
What's the damage?
HubSpot reports that Contently charges companies a subscription fee to use the software. Prices range from $3,000 to $25,000 a month. There is also a 15% fee taken when payment is made to freelancers on the platform.
HubSpot is a leading marketing automation system, but started as a system to help organizations execute their inbound marketing strategies (mostly using content marketing tactics). Today, they're a full platform that can be used for marketing, sales, customer service and customer resource management (CRM).
HubSpot allows content marketers to easily publish and distribute content, but also directly link that content to the sales funnel. With HubSpot, marketing and sales happen under one roof, making the process of proving content marketing ROI much easier.
HubSpot's unique take on the union of sales and marketing, often referred to as "smarketing," bring marketing in direct contact with sales goals
What's the damage?
HubSpot has transparent pricing, ranging anywhere from $40 a month for startups to $3,200 a month for enterprise features.
Content Marketing Research Tools
When you're doing that all-important step in your content creation process where you verify whether or not your content will be useful and engaging for your potential customers, these tools are a good place to start.
Buzzsumo takes social listening to another level—they find influencers in any topic area, identify the names of writers and publishers relevant to your space and surface content and articles currently resonating with your audience. It's a gold mine of content ideas and a great way to keep your finger on the pulse of what's actually important for potential consumers.
They help to surface what content and which influencers are actually engaging versus those who just have the most followers. This is vital information when it comes to picking and choosing influencers to partner with (of course), but is also vital during the content research process.
What's the damage?
There is no free version of Buzzsumo, but they do offer a free trial. Pricing starts at $79 a month.
Search volume should be one of your biggest signals for determining whether a topic is of interest to your target audience, and Google Keyword Planner is a great tool to keep your finger on the pulse of which keywords are attracting searches right now.
There are a few specific tools within the tool that are top-notch for content brainstorming.
Discover new keywords: if you enter keyword related to your business, it spits back out other terms with a high search volume for you to consider.
Search volume and forecasts: here, you can gut-check whether or not keywords that you think might be good inspiration for content by checking whether or not people are actually searching for them.
Here's what their keyword recommendations look like in action:
Source: Ahrefs
What's the damage?
The keyword planner is included as a part of your ads dashboard. You don't need to purchase Google Ads to use the keyword planner, but you do have to set up a free account.
Social Animal is a top-notch content marketing tool used by 15,000+ content marketers across the globe. You may not take our word — please feel free to sign up for yourself and evaluate Social Animal.
(Source: Social Animal) 
Writing Tools
These are the best tools to help beat the blank page and make sure your copy comes out clean and snappy every time.
Grammarly is a writing tool that automatically checks for all types of errors in your writing, no matter where you're writing. It's downloaded as a browser extension and auto-checks everything from your emails to your social media posts. They offer premium and business plans starting at $11.66 a month.
If you download the app natively on your computer, you can also use it to check your writing in tools like Microsoft Office, Pages and native email apps. Basically, in all places you might find yourself writing, Grammarly can be activated in the background to make sure your copy is clean.
Source: TechCrunch
What's the Damage?
Grammarly' Chrome extension is free for anyone to use and corrects basic spelling, grammar and punctuation. Their premium and business plans start at $11.66 a month and offer this, plus recommendations on fluency, readability, word choice, plagiarism detection, formality level and complete advanced corrections.
We're going to cover the whole G Suite later—but Google Docs specifically are one of the easiest ways to collaborate and share writing projects while they're still in the works.
They absolutely nail collaboration. Multiple people can edit and make updates to a doc at the same time, track their changes, make comments and have conversations, all while right in the doc.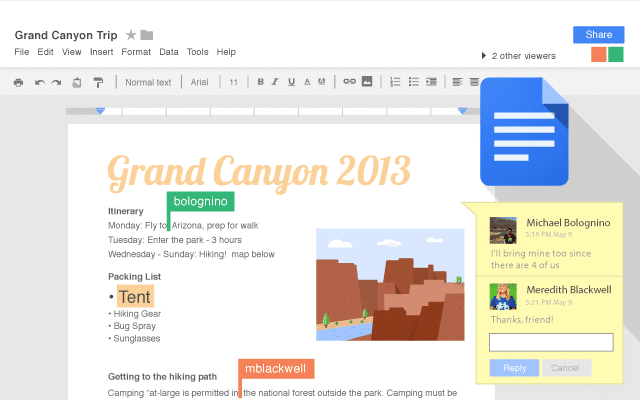 Source: Chrome Web Store
What's the damage?
Google docs are free to use, but you must have a Gmail account in order to access them. You can store up to 15GB in your Google Drive, where your owned Google Docs will remain, for free. After that, plans rans from $1.99 to $49.99.
Collaborate with Team Members
Content rarely goes live without a team behind the wheel—even if you're a one-person content marketing show, there are likely other stakeholders in the business helping you ideate on content or signing off on the final product before it ships. These tools make that process easier.
This suite of tools includes the aforementioned Google Docs, as well as a host of other products to make your entire business run more smoothly. We'll cover the tools that make content marketing operations work better here.
Calendar: keep track of what content is getting published, when.
Drive: store, share and host copy documents, photos, media assets and more.
Sheets: keep track of analytics and project manage your efforts
Forms: host surveys and get feedback from your audience
Source: Google
What's the damage?
Google has transparent pricing for their 'Basic' and 'Business' plans, which start at $6 and $12 a month respectively. For pricing on the Enterprise plan, which includes advanced security features, you'd have to contact Google's sales department directly.
Monday.com is today's hottest project management tool. Known for their snappy advertisements, Monday.com has won the way into the hearts of many marketers for its versatile workflows and easy collaboration tools.
This tool allows you to organize your day-to-day content production with projects nested in boards, and workflow steps that can be assigned to different people across your organization, for seamless content creation and distribution from ideation to finish.
What's the damage?
Monday.com pricing starts at $8 for the most basic package and $16 for the pro package. There is also an enterprise option, for which you'd have to contact the sales team.
Trello is another project management tool, similar to Monday, that focuses more on the steps to complete a project rather than the people that need to complete it. Depending on the way your organization is structured, it may be a better option for you.
The tool works by breaking down a project into different steps, or cards, and moving each of those steps from ideation all the way to completion. It's easy drag and drop functionality makes it easy to use and a favorite for many marketers.
Source: Trello
What's the damage?
Trello's pricing ranges from free to $17.50 a month for the enterprise, which may increase depending on how many users you need.
Content Marketing Keyword Tracking Tools
You're likely creating content to rank for certain search terms organically, in the hopes of increasing your site's traffic over time. These tools tell you which of those content pieces are working and which are not, and set you up for effective content optimization.
SEMRush is a leader in search engine marketing (SEM), and provides a suite of tools for content marketers to track the performance of articles and landing pages meant to rank for certain search terms.
The tool allows you to manage search engine optimization (SEO), search ad campaigns, content and social media marketing all in one, but their expertise really lies in search.
This is an example of their dashboard:
Source: Seer Interactive
What's the damage?
They offer three plans—Pro, Guru and Business—which are priced at $99.95, $199.95, and $399.99 a month respectively. If you're just getting started, the Pro plan is a great option for track your search performance.
MozBar is a free SEO toolbar for research wheny ou're surfacing the web. It provides you with instant link metrics across pages while viewing any search engine results page, or SERP.
Here's what it looks like in action:
Source: Moz
What's the damage?
The tool is free, but is part of Moz Pro, a larger suite of search-related research and tracking products that perform keyword research and track and crawl webpages for insights. The Moz Pro plan ranges from $99 a month to $599 a month depending on the depth of tools needed.
Alongside SEMRush and Moz, Ahrefs is another strong competitor in the keyword research space. They provide an SEO toolset that helps you optimize your website, analyze competitors, gain insights into what your customers are searching for, learn from your industry's top performing content and track your ranking progress.
Here's what the dashboard looks like:
Source: Ahrefs
What's the damage?
Much like its competitors, Ahrefs' plans range from $99 a month to $999 a month depending on the tools you need. If you're just starting out, their smallest plan should suffice for your keyword research and analytics needs.
Email Marketing Tools
Email marketing tools allow you to automatically nurture new subscribers and leads as they come through the funnel. For instance, is your blog collecting subscribers? These tools will allow you to nurture them each month with a newsletter.
MailChimp's roots are in email marketing—they disrupted a space dominated previously by Constant Contact with a new, fresh user experience for email marketing.
Today, they've expanded as a full marketing automation tool, but are still a great option for those looking to get started with just email marketing as well.
Here's what the dashboard looks like:
Source: Software Advice
What's the damage?
You can use MailChimp for free, but they also have plans ranging from $9.99 to $299.00 a month if you're in the market for some more advanced automation features, or have a bigger list of contacts to manage.
Snov.io is another excellent email marketing tool. It provides an array of products to attract target website visitors, engage and capture leads, nurture and convert them into customers.
You can pick from a broad spectrum of email marketing templates that fit your business needs. The best part is that you can also use pre-designed templates or customize one to meet your requirements. Utilize their drag and drop interface to make a template that suits your needs—craft and design incredible email templates with rich text formatting.
Constant Contact is a veteran in the space of email marketing, and now allows marketers to do things like host their websites, sell products online with e-commerce tools and manage social media marketing.
Here's what the dashboard looks like:
Source: Make A Website Hub
What's the damage?
They have two plans for their email marketing services—Email and Email Plus—which are priced at $20 and $45 a month respectively. Email Plus has more advanced automation features and allows you to manage a bigger list.
SendinBlue is a complete sales and marketing toolbox—which of course includes email. They're centered around the size of your contact list and the amount of emails you want to send each month.
Here's what the dashboard looks like:
Source: SendinBlue
What's the damage?
You can manage unlimited contacts with a free plan, but would need to consider their 'Lite,' 'Premium,' or 'Enterprise,' options starting at $25 a month if you're sending over 100,000 emails.
GetResponse is a tool for marketers to send emails, create web pages and automate marketing. They can also help manage your conversion funnels.
Their email marketing tools include the ability to send newsletters, autoresponders for gated content downloads, automated emails to customers, segmentation of contact lists and automated blog digests.
Here's what it looks like to create an email with them:
Source: Get Response
What's the damage?
They have three plans to consider—their 'basic,' 'plus,' and 'professional,' plans—which range from $15 to $99 a month. You might end up paying more than these list prices if your contact list is over 1,000 subscribers.
Content Marketing Analytics Tools
A lot fo the tools we've discussed already have analytics solutions built in, but they're not all created equal—trying to compare analytics across different platforms can be frustrating and inaccurate. These are the market leaders for tracking your efforts
This tool is the market leader for tracking website performance, whether we're talking about a static website, landing pages, a blog or an e-commerce site. Google analytics can provide metrics on website visitors, conversions, traffic sources, the cost of acquiring new customers, and much more.
Here's what the dashboard looks like:
Source: Antevenio
What's the damage?
There is a popular, standard free version of Google Analytics that provides more than enough insight to successfully guide your marketing efforts. Google Analytics 360, their enterprise solution, is reported by iMPCTbnd to cost $150,000.
This tool provides insight into how well your content is performing within the search tool itself. You can see metrics on how many people viewed your article in their searches and clicked on the link.
Here's what the main analytics dashboard looks like:
Source: Google
What's the damage?
There is none. Google Search Console is a free service that helps you monitor, maintain, and troubleshoot your site's presence in Google Search results. You don't have to sign up to be included Google's search results, but the console helps you understand and improve how Google sees your site.
Hootsuite is the market leading social media management tool that can help you publish, monitor and track your social media efforts. You can easily use their campaign functionality to measure how well the content you're creating solely for your social media channels is performing, but also use it to see which content types drive the most traffic and chatter from and on your social media channels.
Here's what it looks like in action:
Source: Mike Khorev
What's the damage?
There are four plans available for Hootsuite users—professional, team, business, and enterprise—and they range from $29 to $599 a month depending on the number of users you need. The price goes beyond $599 for the enterprise option.
If you're looking to monitor your brand's sentiment or how people are talking about you online, Mention is the best tool on the market. They monitor websites for news mentions as well as social media channels and forums for any "mention" of your brand and analyze it's sentiment—good or bad.
You can also use the tool to draft and schedule social media posts, if you desire.
Here's what the dashboard looks like in action:
Source: Mention
What's the damage?
There is a free option for a very limited amount of alerts and mentions. After one user and three social accounts, the price goes up ranging from $25 a month and upwards of $450 a month depending on your needs.
Content Optimization Tools
There are two ways we most commonly optimize content—for search value, and for conversion rates to feul your content marketing funnel. You can also, of course, optimize for other things like engagement, social media shares, and more, but we'll stick with t
Clickfunnels is a tool for marketers to build landing pages that help move customers down the funnel more effectively. With this tool, you can guide users step-by-step through the sales process and follow up with those that didn't end up making a purchase. These efforts work from the top of the funnel to the bottom, and can help you optimize your content if conversions are your goal.
Here's what the tool looks like:
Source: MARKINBLOG
What's the damage?
This service is not free, and ranges from $97 a month to $2,497 a month depending on how many funnels and pages you need to build to make your sales efforts work.
When we're talking about search engine optimization, there's no better option than Yoast. It's a popular plugin for WordPress, allowing you to specify things like your web page's meta data, readability and social media card for easy sharing.
Here's a screenshot of what it looks like in the dashboard:
Source: Wired Impact
What's the damage?
The plugin is free to use, but there is an option to upgrade to their premium plan for $89 a year, for more internal linking suggestions, content insights, redirect management and 24/7 support.
Trendemon is a tool that measures content marketing impact on sales, and automatically serves the most effective content to users on your site. It integrates with your marketing automation and CRM to map customer journeys from your site down to deep business goals like won sales opportunities and revenue.

(Source: Trendemon) 
Online Advertising Tools
These are the best of the best when it comes to distributing your content with paid advertising. These recommendations go beyond traditional search and social media organic reach, and require you to reach into your wallet to gain more customers.
Pricing for all of the tools we mention isn't fixed. You can choose to spend however much you want on advertising based on your budget, and optimize as you go to reach the largest number of consumers you can for the smallest amount.
We're the world's largest discovery platform. Companies use Taboola to reach consumers on top sites around the globe—including some popular editorial sites like CNBC, NBC, MSN, The Weather Channel, USA Today and more.
Advertisers create campaigns with Taboola that end up on the article pages of publisher sites. Here's what that looks like in action:
Our ads dashboard provides the capability for advertisers to see metrics by audience, site, campaign, context, platform and much more. Here's a screenshot of our dashboard from our help center:
Using Facebook's ad platform, you can reach consumers on Facebook, Instagram and Whatsapp with sponsored social media posts that appear in their social media feeds.
They provide similar audience and performance insights for your campaigns:
Source: Wordstream
We've talked a lot about SEO in this post, but you can also buy advertisements on search sites to reach your customers. Google is the market leader in this category, and also offers display advertising across the web.
You can manage your advertising campaigns in your ads dashboard, where you can also access the keyword planner we discussed previously.
Source: Martech Today
Like Trello and Monday, Teamwork is a project management tool that fits ideally into a content marketers toolbox. They've got a number of features that are ideal for content marketers such as Kanban boards and Gantt charts. As well as this they have a number of ready made templates, which include a content plan template.
For content marketing agencies, Teamwork is a fantastic choice, particularly because its client permissions feature allows agencies to manage client permissions and access to things such as invoicing and time tracking.
What's the damage?
Teamwork has a free option with a limited amount of projects and users, the paid plans start from $10 per month."
Some Final Thoughts
These 28 tools are a good place to start when it comes to building your content marketing tech stack—set yourself up for success when it comes to internal collaboration, publishing, and tracking your most important goals based on the list we've provided above.