As the Black Lives Matter movement continues to sweep the United States, brands have attempted to take a stand against systemic racism and show their solidarity.
The origins of the Black Lives Matter movement was a grassroots organization that rallied in response to the death of Michael Brown in 2014. Six years have passed and the movement is no longer a grassroots effort, but considered to be possibly the largest moment in US history, in part due to recent events in 2020.
2020 has been a trying year for many, but it's also brought visibility to many people and brands to the racial injustice that continues to prevail in the US.
More than ever, consumers are holding brands accountable and asking them to do better and take action—and we want to help shed light on how you can do so.
To make a significant impact as a brand, do more than post a black square on social media, which is performative activism, but also open your wallet. Yes, I did not mince my words—provide capital if you want to support the fight for the actual change many are demanding. To really fight systemic racism in this country, the organizations and community leaders who have always championed for change need equity and capital to operate.
In addition, you should produce content and creatives that embody diverse and inclusive practices, or seek to make change internally before joining the conversation and wanting a seat at the table.
We cannot expect brands to have all of the answers and there is so much work that has to be done, but we can start somewhere.
Here is how 12 brands are trying to do that:
Ben & Jerry's: Nuances in Ice Cream Flavors
This popular ice cream brand has shown support and solidarity for causes they strongly believe in, including Black Lives Matter. They've been supporting the movement since before today's wave of brands demonstrating their solidarity.
Ben and Jerry's creative and business model has always informed consumers that their consumer dollars go to supporting the numerous organizations and causes they strongly support.
They are known for naming their ice cream flavors after a cause providing subtle nuance, but manage to get the message across to consumers. For example "Justice Remixed" flavor that is calling for criminal justice reform, educating consumers on the matter.
Here are some examples of how they've spoken on their social platforms in support.
Tomorrow is #Juneteenth! Learn more about the origins of the holiday and why we need to stand together and continue the long march toward justice: https://t.co/Z3baQD7mm8 pic.twitter.com/k0M7MbvMfq

— Ben & Jerry's (@benandjerrys) June 18, 2020
Their values flow in the overall structure of the company which values equality for all marginalized communities. They understand that addressing issues of injustice means providing capital to organizations who want to eradicate injustice and provide equality. They recently enacted a four point plan to guide corporations and leaders on how they can champion for change.
Glossier: Black Owned Businesses Deserve Better
Glossier is a direct to consumer beauty brand that has built content and a community with a diverse consumer base.
Glossier has been a massive success, raising $100 million in series D funding. This year, VC funds that flowed to startups founded by women have accounted for only 2.7% of total investment, which Glossier wants to help solve.
We often recognize collectively as a society the gender inequality gap that still persists, but often fail to understand that it's even more devastating for minorities, especially for Black owned startups.
Black women startups only account for only 0.0006% of total investment. With black women entrepreneurship on the rise, oftentimes they don't have the privilege of receiving funding, and spend their own savings to fund their business.
Glossier now recognizes they have the foot in the door that many do not have access to—they have to put in the work to help those who are not afforded the same opportunities.
With recognition should follow action. The beauty brand recently announced on their social media their plans to fund $500,000 in grant money to black-owned beauty businesses, as well as providing $500,000 in donations to organizations fighting racial injustice.
Netflix: The Power of Storytelling
Netflix has forever changed the media landscape, disrupting on how we traditionally consume television and film with their original content. With their original content lineup comes along original storytellers.
Netflix has allowed creators like Ava Duvernay, Michael Cole, Mati Diop, and many others to bring stories to life and to educate and entertain the masses. For the longest time Hollywood has failed both behind the scenes and in front of the camera, not lending the way for creative expeditions to occur, and most importantly not pushing for proper representation.
Netflix and other streaming platforms are following suit, saying goodbye to Hollywood's old ways and allowing for diverse content to have visibility on their platforms.
The aftermath of George Floyd's murder prompted Netflix to dedicate their entire hompage hightlighting the Black Lives Matter collection of 56 shows, film, and documentaries, including Ms. DuVernay's mini-series on the false convictions of the Central Park Five, "When They See Us" and her documentary on systemic racism and mass incarceration, "13th."
Netflix recognizes the power of storytelling, and that such work educates their audiences. They've donated $5 million to organizations dedicated to creating opportunities for Black creators, Black youth and Black-owned businesses, including Ghetto Film School, Black Public Media and Colin Kaepernick's Know Your Rights Camp.
Additional funding from Reed Hastings the co-founder of Netflix donated $120 million to HBCUs (Historically Black Colleges and Universities). Supporting institutions that have historically provided educational equity where we are still in a time that educational disparity continues.
View this post on Instagram
Reebok shared their support of the black community by expressing how impactful they've been on the Reebok brand, as well as the country.
To the black community:
We see you.
We stand in solidarity with you.
This can no longer be the status quo. pic.twitter.com/LpE7HHp3qU

— Reebok (@Reebok) May 30, 2020
Reebok also extended their partnership with Pyer Moss by Kerby Jean-Raymond, a Hatian American designer who's spent 11 years in the fashion industry building a label that demonstrates a narrative that speaks to Black heritage and activism.
Through his solo collaboration, Reebok has allowed Raymond to have creative control and do what he does best with fashion. His recent capsule collection is a timely social experiment pushing the industry forward to examine itself.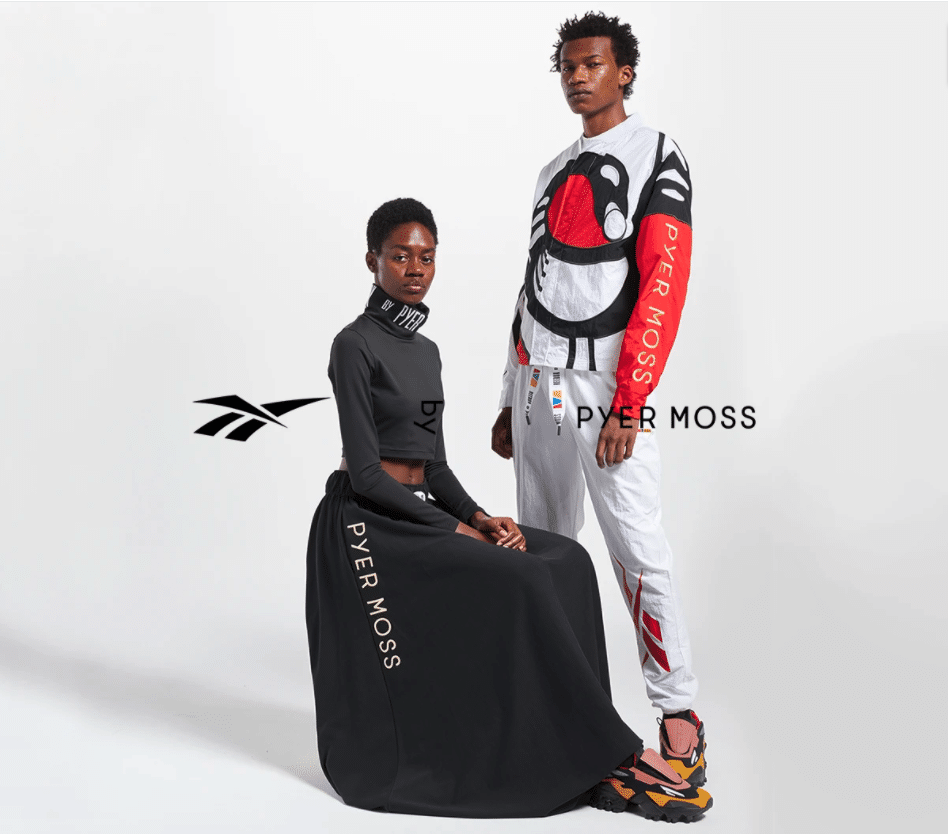 Black designers have not had the visibility in the industry until recently where the resurgence of New York Fashion has been invigorated by the likes of Pyer Moss, Teflar, Lukhanyo Mdingi, and others.
The Reebok By Pyer Moss Collection 3 is inspired by the Ghanaian word Sankofa, "go back and get it." The collection reclaims a cultural heritage. The undeniable heritage is an inspiration that combines history and goes beyond just fashion, but a collection that ultimately showcases stories that need to be heard.
The Honey Pot was founded in 2012 by Beatrice Dixon and is among a group of surging startups, including Lola, Cora, and Love Wellness.
The Honeypot challenges the status quo of standard feminine care, with little diverse product options to choose from. This feminine wellness brand is black owned and is sold in Whole Foods and Target, which is rewarding as an emerging CPG brand that is minority owned.
In March she was featured in Target's ad "Founders We Believe In," and took that opportunity to vocalize the difficulties she had starting her brand, and how she wanted to pave the way for the next black girl who has a great idea not face the same obstacles she encountered.
Her feature in the ad drew racist backlash from some, which prompted the discussion of the equity and visibility gap that many black owned businesses encounter. The Honey Pot gained recognition and Dixon was praised for using her voice in Target's ad.
She was asked if she would have said anything different if she had known the backlash she would receive prior to making the ad, and her response was simply no, unapologetically.
With recents events, it's raised the question of how retailers could do more for black owned brands, paving the way for visibility which will generate equity back in the black community.
Aurora James, known for her shoe brand Brother Vellies, started the 15% pledge asking retailers to commit to 15% percent shelf space to black owned brands. The 15% represents the percentage of Black in the United States.
So many brands are built on Black consumer dollars. Her pledge campaign gained massive support. Big retailers like Sephora, which saw success with Fenty Beauty, signed on. West Elm also committed to joining the pledge and announced it on their social media accounts.
Old Navy: Ads Amplifying Activism
Old Navy is known for its ad featuring happy individuals singing while promoting their products and brand. Their new ad went a different direction, having five activists Marley Dias a 15 year old author of #100BlackGirlBooks and Ja'Mal Green a civil rights activist in Chicago for a 30 second commercial called "We are We."
The ad debuted on all of their social media channels, and on TV. In it, Dias narrates a poem calling out the current state of the country, and ending the poem with optimism. She's optimistic that the work of unification and equality that's dependent on everybody to forge better outcomes and possibilities for all will be done.
The ad was created by the Martin Agency, and also included Sara Mora, an immigrant activist and co-founder of the Women's March Youth Empower, Dawn Bozeman a community activist in Dunlap, and Sharene Wood, founder of 5001 Flavors based in Harlem.
The world's largest advertisers, Proctor and Gamble, have used their platform numerous times to put a lens on racial injustice and bias. Their current ad created by Grey and Cartwright shows a close up of both black and white skin, and poses the question, how are Black Americans to respond "when we are shown over and over and over that our lives do not matter?"
It then points out that "being white in America is not needing to state your life matters, and when your life matters, you have power." P&G communications officer Damon Jone wanted the ad not to just come off as just an informative piece, but as an invitation to challenge white people to do more to fight against racism.
In 2019 Procter & Gamble's "The Look," they explore the bias that Black men encounter in America. The CPG conglomerate has explored this topic before with a video on Black parents having "The Talk" with their children about the racial bias they will encounter throughout life.
The creative group Saturday Morning, lended their creative direction to shine a light on these important issues. Saturday Morning is a creative group that creates ideas that drive awareness and shift the perception on racial bias and injustice, so this collaboration with Proctor and Gamble was ideal.
The Talk won an outstanding commercial Emmy award, and in the same year, the company's "My Black is Beautiful" campaign asked dictionaries to rethink their association of negative terms with black, as it relates to skin color. Oftentimes positive words are associated with the word white.
P&G knows the power of advertising and continues to explore creative partnership to expand the narrative.
Skittles: Support Is Not Seasonal
Oftentimes we see brands take a stand when it comes to inequality, but the question arises, will brands continue their support long term? Pride month was last month and after that, we rarely see brands extend the conversation past a seasonal event.
Skittles is not following that pattern. Instead, they partnered with Todrick Hall, an influencer and LGBTQ+ community member, to donate $100,0000 to the National Black Trans Advocacy Coalition.
The Black trans community is a marginalized community that is further marginalized even in queer spaces, and often excluded from mainstream discussion about inequality they encounter. Hall took this opportunity to create a call to action for brands to do more to extend their support and advocacy past pride month, all year long. He advocated with his partnership with Skittles that his Black LGBTQ+ brothers and sisters deserve more visibility and support
London Piccadilly Lights: BLM Is A Global Movement
Although Black Lives Matter started in the states, this movement has become a global, highlighting the sad reality of that racism is not limited in the confines of America. London's Piccadilly Lights billboard showcases powerful images of Black Lives Matter protests taking place.
The Piccadily light billboard is the iconic central London Billboard that often advertises brands, but took the time devot space to showcase powerful compilation of photographs and quotes from the Black Lives Matter movement. Piccadilly Lights is operated by Ocean Outdoor, a boutique media company that specializes in outdoor advertising, the billboard featured photography by Misan Hairman.
Hairman is the founder of a diversity focused organization in media What We See, which captured a series of events taking place and the marches happening in London.
The billboard visuals raises the question "Why is ending racism a debate?" Considered the most high profile and iconic public media platform Piccadilly Lights is showing support for the community and calling for unity.
REI: Power in Partnerships
REI released numerous statements on their platform announcing their continued support to fight against inequality, through partnerships across the country. They have championed for years to bring greater equity and inclusion in the outdoors.
REI has published content with messages to support the movement in general, as well as partnered with Black Girls RUN!, a community for black female runners. With this partnership, they've promoted several talks run by Black Girls RUN!, which shed light on some of the racial injustices in the U.S. today.
As a cooperative, REI is built on a set of ideals that we hold dear—we are stronger when we come together. #BlackLivesMatter

1/6 pic.twitter.com/sFHvyNfWnU

— REI (@REI) May 31, 2020
"We as a family have really tried to listen to the different views and have an understanding of what is going on outside of our own bubble in our homes."

Eight panelists discuss talking to their kids about racism in a roundtable moderated by @blackgirlsrun CEO @jayellalexander.

— REI (@REI) June 29, 2020
CLIF: Investing In Organizers
CLIF bar donated $100,000 to Color Of Change and their partner, the African People's Education and Defense Fund. They also produced a message of support and solidarity with the Bllack community to publicize the donation.
CLIF is showing the importance of aiding community organizations and community leaders who are putting in the good work. Brands should recognize that you may not have the answers but investing in organizations that do will help fight against inequalities and address the problems of systemic racism that continues to persist and harms communities when it comes to education, housing, healthcare, and other pressing issues they face.
Doordash: Cuisine Exploration
DoorDash devised a plan to support Black owned business, creating and investing in a revolving loan fund starting at $150,000 to match loans for Black owned, U.S based restaurants approved for loans by Kiva.
DoorDash reported a sharp rise in searches for Black owned businesses in the month of June, and in response, started this loan fund. Doordash and Caviar are both putting a spotlight on Black owned restaurants in their apps and waiving delivery fees on those businesses through the end of 2020.
DoorDash announced that independent Black owned restaurants when they sign up will pay zero commission for 30 days. Oftentimes Black people in the food industry do not get proper recognition and are overlooked.
The spotlight is long overdue, Black culinary has historically impacted cuisine not just domestically, but even globally. Their techniques are often co-opted and are given little to no credit of their influence. Doordash and Caviar is aiding equity for Black owned restaurants across the states.
These examples all come from well-known brands and emerging brands. It's important to note that any campaign authentically and genuinely supporting the movement, donations of any size, and campaigns on a smaller scale also make an impact. Whether internally or externally, we encourage all companies to strive for education and racial equality.